It's never too early to start thinking about retirement. Retirement yields great benefits to those who take the time to think about what they want it to look like. Not everyone's retirement will look the same.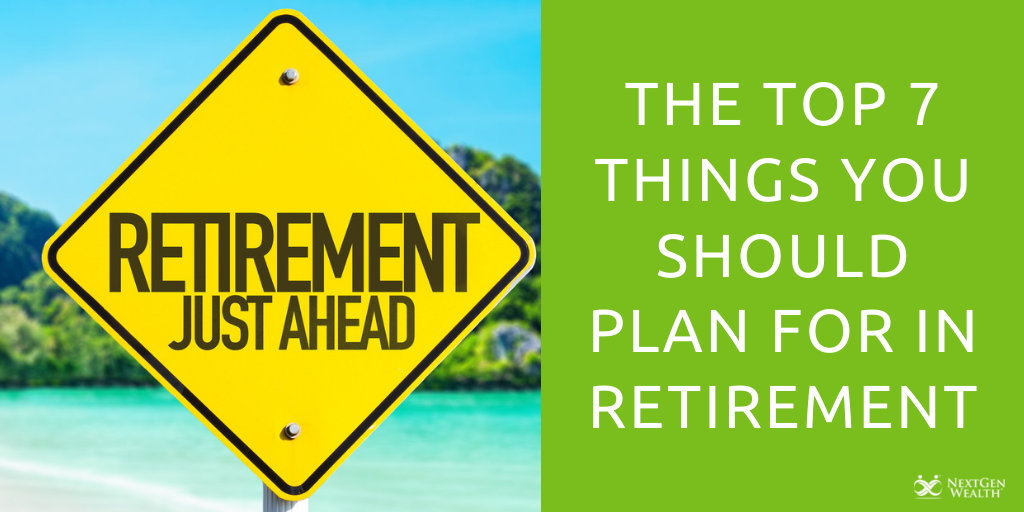 Some will be harder than others due to a lack of planning. Unless you expect to work for the rest of your life, retirement should always be aforethought.
What do you want it to look like?
Where do you plan to live?
Those are just some of the questions you should be asking yourself, even now.
Ideally, there are some things you should want to do in retirement. Then there are things you need to plan to do in retirement. Here are the top seven things you should plan for in retirement.
Hoping to retire in the next 5 years or less? Download our 3 Pillars of Successful Retirement Plans.
Having Enough Money to Support Your Lifestyle
First and foremost — without money, your retirement could be a bit dismal and gloomy. It will be a struggle 100% of the way.
Forget about the things you would like to do. You'll spend your days wondering how you'll make it through the month just doing the things you need to do.
You'll be in retirement, not dead. So you'll still need a roof over your head.
Will you still be paying a mortgage? What will your lifestyle be like? Will you live in the same home, or will you downsize? Will you change zip codes? Will you have enough money for your heart's desire, or will you struggle through each month, barely getting by?
Not having enough money in retirement is a serious issue for many retirees. The problem is, they don't realize there's not enough money until they're already in retirement.
If you're wondering how much money you should be putting away for retirement, you should be. At the least, take the time to talk with a financial advisor or professional to ensure you're on the right track.
Having Enough Money to do the Things You've Always Wanted to Do
This could tie in with your lifestyle, but maybe not. Retirement is usually a great time to do things you've always wanted to do but never could.
One of the main reasons why it's hard to do those things is because of work. With more freedom, retirement is the time to do all of those fun things you've always wanted to do. But will you have enough money to do them?
Retirement shouldn't be spent looking out of the window, unable to do anything because of a lack of money. It doesn't have to be an extravagant retirement, you just want to be able to do what you enjoy doing — even it's going to concerts, dining in nice restaurants, or visiting the grandkids.
Take the time now to ensure you have the retirement you want. Plan to have enough money to do the things you've always wanted to do in retirement.

What You're Going to do With Your Free Time
Volunteer, teach, go into public service, write a book, visit family — these are just a few ways some people plan to spend their free time in retirement.
Free time in retirement means no stress and pain-free. Retirement should be about living life on your terms.
For some, that could mean going back to work part-time to do something they absolutely enjoy, or it could mean doing absolutely nothing. Have you thought about what your time will look like in retirement?
If you're like most people in retirement, you may be spending the bulk of your retirement in front of the television. Without proper planning, as many retirees have found, there will be little means for you to do much more than that.
Start planning how you want to spend your retirement. Remember, it's never too early.
How Are You Going to Stay Socially Active
While social activity is necessary during retirement, it's probably not always easy. Especially when we consider the fact that dynamics change; loved ones we are close to may move away or pass on.
This greatly impacts our social network, and we end up not having as many social connections as we once did.
This causes us to clam up and distance ourselves from people and things we may not be familiar with. However, a good social life in retirement:
Gives us a sense of belonging
Adds meaning to our life
Strengthens our self-worth
Provides a necessary support system for us
Gives us a great way to spend our time
You'll have lots of hours on your hand in retirement. You'll need to decide how to spend them.
Whatever you do, plan to not stay cooped inside. Consider reconnecting with long-time family members and friends you haven't seen in a while.
Schedule regular lunch dates with your besties. Join a club. Engage with some favorable Facebook groups.
Uncover commonly overlooked "blind spots" from your current retirement plans. Download our 3 Pillars of Successful Retirement Plans.
Creating a Daily Activity Plan to Stay Active (and Healthy)
Ask most people, and they'll tell you when the job stops, activity stops. When you're working, you have a reason to get up, you're active, you're on your feet — you're moving.
But what happens when you don't have to move anymore? That's why planning in retirement is so important. Plan to have something to do to keep you from not doing anything at all. Creating a daily activity plan to stay active and healthy is one of the best things you can do for yourself in retirement.
Here are some ways to do that:
Find a new purpose
With retirement in view and life as you knew it in the rearview mirror, it's time to find something else to focus on. You no longer have your job, but you're entering a new stage of your life that requires doing something different, so explore all your options.
Don't be shy about it. Consider these — DIY home projects, engage in church ministries, tutor someone, volunteer — the possibilities are endless.
Get a new best friend
Pets are just so loveable and adorable, and they love unconditionally. Experts say that just 15 minutes with a furry friend can lower your blood pressure, heart rate, and stress level.
Pets are also great for helping with depression and keeping you active. Talk about staying healthy. Consider getting a new furry friend to help keep you healthy and active.
Cut Back on packaged foods
You may not want to cook as much in retirement, but that's no excuse for not staying healthy. It's more important than ever to take care of your health in retirement because of all the diminishing factors we're likely to meet up with as we age. Do your best to ensure you're eating healthy with a well-balanced diet consisting of the proteins and other important nutrients you need.
Packaged foods have lots of salt that can cause blood pressure issues or make your blood pressure worse than it already is. Remember to eat lots of fruit, veggies, whole grains, and olive oil.
Grow a Social Calendar
If you don't have a social calendar now, plan to have one in retirement. An active lifestyle not only makes you a happier person, but it also expands your years of life and lowers the chance of certain ailments, like dementia.
So, you no longer need an excuse to goof off with friends, play cards, travel, reconnect with people you haven't seen in a while or take up new hobbies.
Never miss a doctor's appointment
Your doctor is valuable, especially in your retirement years. So keep the regular checkups going. Your doctor will ensure you have your proper shots, tests and ensure that all vitals are as they should be. Never miss an appointment. Also, this gives you an exercise to be active and to get out of the house.
Exercise, Exercise, Exercise
It doesn't matter how old you are; we can never overemphasize the importance of exercise in your life. Pick something you enjoy, and keep doing it. Aerobic exercise, swimming, walking, dancing, whatever it is that gives you joy, continue doing it in retirement.
Experts recommend at least 150 minutes of exercise each week. That's only two and half hours of exercise over seven days. When you focus on simple exercises that improve your flexibility, strength and balance, you're putting yourself ahead of the game and keeping yourself physically independent.
Free your mind
It's not just your body that has to stay healthy; your brain has to stay healthy too. So exercise your brain by reading, doing puzzles, playing a musical instrument, taking up a hobby.
Stay involved in activities and stimulate your mind by being curious about everything. Be willing to learn new things and take some new courses, just because. Being an active learner keeps the brain stimulated and benefits you greatly in the long run.
Retirement proof your home
Make sure you free yourself from common household accidents that could be avoided with the right care and attention. As we age, we're more prone to falls.
So non-slip mats for the bathrooms and tubs, fix frayed rugs and carpets, make sure there is plenty of lighting throughout your home, and tape down any loose cords to not trip over them.
Get your 40 winks
Last, but never least, is to ensure that after all of that activity, that you get plenty of rest. It's not always easy to get 8 hours of sleep a night, but there are ways to ensure you sleep longer.
Don't drink at least two hours before bed, do not have any caffeine within eight hours of going to bed, make sure all lights are off in the bedroom so your mind can be centered on sleep, and limit naps during the day to no more than 20 minutes to ensure you save some for at night.

What Causes and Organizations You'd Like to Give Back to
If there was ever a time to give back to your community, this is it. Consider organizations you've always felt strongly about. Retirement is the perfect time to make an impact because you now have the time.
You may want to consider volunteering or maybe even doing some part-time work there. Being actively engaged in a cause gives you an opportunity at a second life. Spend your retirement doing the things that are meaningful to you and make a difference in the lives of many.
Ensuring that all of Your Estate Planning Documents Are in Order
Take the time to ensure that all of your estate planning documents are in order. Make sure documents are updated often. Remember the losses we have to deal with regularly.
Has a beneficiary recently passed? If so, you'll need a new one? What about new additions to the family? And other factors that could turn everything upside down should something be out of order?
Your estate planning documents are the key to holding the family together and putting all assets in perspective when you're gone. Retirement is a good time to ensure that everything is exactly as it should be.
Discover the steps you need to take during the years leading up to your work-free life! Download our 3 Pillars of Successful Retirement Plans.
Conclusion
Retirement can be a great time in life, or it can be a sad, lonely time with little to do and little funds to do anything with.
One thing is for sure. Retirement will be whatever you plan for it to be.
So start planning now.
Retirement may still be a few years out, but it's only far enough way for your plans to take hold and come to fruition.
Sometimes you may even need to talk to a financial expert to ensure you're on the right track. We're happy to help. At NextGen Wealth, we can get you started now to have the retirement of your dreams later.
Contact
us today— we'll help you plan the perfect retirement!