6 minutes reading time
(1289 words)
More than a Plan - A Tour of the COLLAB Financial Planning Process™

What does it actually look like when you work with a financial planner? This varies a lot between financial planners and clients alike. However, we're peeling back the curtain to show you how we create your financial plan at NextGen Wealth.
Whether you're already working with an advisor or a do-it-yourself investor, having a clear system for success is vital. The COLLAB Financial Planning Process™ is our answer. We hope you enjoy this "inside look" at how we construct a plan for your future.
Unlock The Hidden Power of Your Goals by Asking 3 Daring "Whys." Learn more here.
Initial Contact and Screening
We start by ensuring we're a good fit for you and that you're a good fit for us. There's nothing worse than working with someone who doesn't understand you. We feel the same way. If you decide we're not a good fit, we don't take it personally – this is your life and financial plan.
On the other hand, some people aren't the right clients for us. We'll only work with you if we know we can add tremendous value to your life. Once again, it's nothing personal if we're not a good fit. We believe you deserve someone who understands you and your unique needs.
Getting to Know You – Peeling Back the Layers
In our initial meetings, we'll get to know each other, gather documents, and understand how you think about your money and investments. We'll help you translate this into an investment policy statement to represent your needs and comfort level with investment risks.
Understanding Your Financial Situation
Once we've had an initial meeting, we'll start evaluating everything you've shared and identifying potential areas of your financial life that need the most attention. For instance, if we uncover a tax planning strategy you can implement, we'll show you exactly what to do.
We use various tools to help analyze every aspect of your financial life. From your Social Security withdrawal strategy to goal planning, we run through an initial 48-step process to ensure we've thoroughly examined everything. Don't worry, you don't have 48 steps to perform. Our goal is for you to do less – not more.
Analyzing Your Needs and Developing Courses of Action
Once we've gone through the initial steps with you and learned about your financial situation, we meet to review the Financial Assessment™ with you. Whether you decide to hire us or not, we will present some actionable steps to help you on your retirement journey.
However, we're confident we can show you at least one or two things to add value to your life right away – and we really haven't gotten started yet. Things really get good when you become a client and go through the COLLAB Financial Planning Process™.
Uncovering Your Passion Can Be the Best Motivation for Achieving Your Financial Goals. Learn more here.
"COLLABorating" on the Path Forward
The COLLAB Financial Planning Process™ is our official system to ensure we cover every aspect of your financial life. Pay special attention to the fact that we call it a process. It's not a one-time thing – we're collaborating on achieving your goals throughout retirement.
Behind the scenes, we're running through 89 steps to build your plan. This is on top of what we already completed in the 48 steps to create your Financial Assessment™. Once again, this is our list of tasks, so don't feel overwhelmed.
At the end of the process, everything will be summarized in one easy-to-reference document. While the process is elaborate and comprehensive, we'll keep it simple and digestible.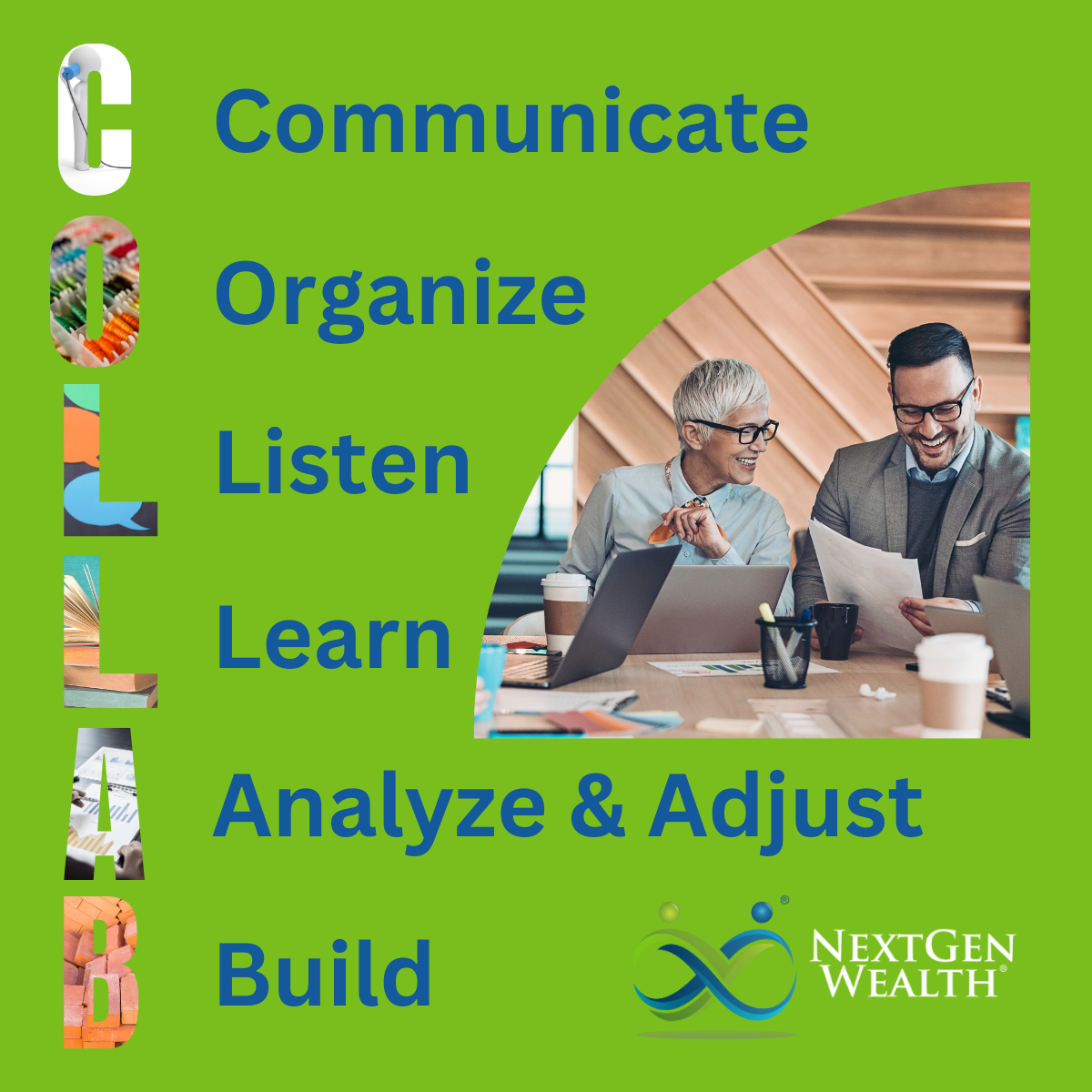 Communicate
In the Communicate step, we're continuing to uncover what's most important in your life. We ask you open-ended questions to help you clarify your highest goals and priorities. Then we'll start to map out the details of where we need to focus first.
Organize
This is potentially the most mundane of the steps, but it's very important. We'll open new accounts, transfer accounts, and get all the paperwork together. It's not terribly fun, but we try to ensure you're not overburdened. We're setting the conditions for us to really get working for you.
Listen
We'll have another meeting to go into further details about the how and who of getting things done for you. We will make recommendations for any high-priority action items and send you reminders as needed.
Learn
We're going to constantly learn more about you and how to serve you best. You'll also have the opportunity to learn more about us. Regardless, we will learn how to achieve your best retirement life.
We will update and add details to the Financial Assessment™ we already built and start developing recommendations as needed. We'll cover life, health, home, auto, and disability insurance. We'll also examine your investments, employer retirement benefits, and college savings. We'll also check to see if Roth conversions make sense.
As we uncover potential gaps or more optimal choices for you and your family, we'll develop solutions to discuss with you. You'd be surprised how many financial benefits we might discover and help you optimize. It's common for us to hear, "I never knew that was even possible!".
Adapt & Adjust
Life is full of changes. Luckily, we can create or adjust plans to meet your needs. Changing jobs right after we built your initial plan? We'll take another look at your financial situation and adjust as needed.
Build
Once we've gone through everything, we'll finalize your plan and build a roadmap for the future. Once again, we will keep things simple for you to understand and implement. Just because we have over 137 action items on our end doesn't mean you do. That's the point – we'll do the heavy lifting; you enjoy more of your retirement.
What's the Passion Driving Your Financial Goals? Learn more here.
Continual Assessment and Review
Once we've completed the initial COLLAB™ process, we'll have a regular schedule to check in on progress. We're here to be your accountability partner and guide. This may look like a simple reminder email to set up an appointment to update your will or a full meeting to review a specific obstacle you're working through.
Beyond the Plan
As we move through the process, we'll be helping you with so much more than just creating the plan. We'll help you with many other aspects and set you up with other professionals as needed.
Estate Planning
We provide a service to review your estate planning documents. If you need a simple will or other estate planning service, we can also provide this. If your situation is a little more complex (requires a trust, complex inheritance, etc.), we'll discuss and refer you as needed.
Long-Term Care Insurance Review
If it makes sense for you, we'll also set you up with one of our trusted professionals in the area to review long-term care options. This may not be necessary, but we always consider whether long-term care insurance makes sense.
Retirement Transition Coaching
As an additional benefit, we provide retirement transition coaching at no cost to you. When we say we want you to have a smooth transition into retirement, we mean it. Our coach helps you shift your mindset and habits as you transition from full-time work.
The Future Ahead
We're not a one-and-done type of financial planning firm. We're here to guide you throughout your retirement journey. Changes are going to happen in your life. Good, bad, or indifferent, you'll need to know the optimal choices based on your financial situation.
No matter what, we're here for you. Our goal is for you to do less worrying and enjoy living more. To find out more about how to work with us, check out our getting started page.