Clint Haynes, CFP® And NextGen Wealth Have Been Featured In:
Certified Financial Planner® Serving Lee's Summit, MO and Beyond
Are you thinking about retirement?
If you're within a few years of retirement, you're going to have a lot of questions to make sure you're prepared.
When will I be able to retire?
Will I have enough money to retire?
How much money will I need to live off of?
How do I prepare for the transition into retirement?
What should I do mentally, socially, and physically to ensure I'm living my best retirement?
What haven't I considered?
For some, the transition to retirement can be relatively seamless. For others, it can really be a struggle to make the adjustment. The unknowns of what retirement will look like and how best to transition into it can be scary. However, it's important to know that it's completely normal, and we're here to help.
Our financial planning team helps individuals just like you craft a truly comprehensive retirement transition plan that not only covers your finances, but also prepares you for the mental, social, and physical/health changes that will happen as well. We'll help you create a plan that addresses each of those areas as they are all vital for helping you live your best retirement.
Your retirement transition plan will ensure that you are prepared in every way for the next stage of your life. We can assure you this process isn't like anything you've ever gone through if you've worked with a financial advisor in the past. To learn more, simply click on the button below to get started on your free Retirement CheckupTM.
RETIREMENT ISN'T JUST ABOUT WHAT YOU'RE RETIRING FROM BUT WHAT YOU'RE RETIRING TO. DO YOU KNOW WHAT YOU'LL BE RETIRING TO?
Why NextGen Wealth?
At NextGen Wealth, our passion is serving those who want the real benefits of working with a true comprehensive Certified Financial Planner® – both in Kansas City and virtually across the country.
We aren't here to overwhelm you or make you feel inferior. We are here to add real value to your financial life. That means better financial organization, creating a plan for your retirement, and most importantly, making sure you don't outlive your money. On top of all of this, we will be with you every step of the way.
Working with a financial advisor doesn't have to be the stereotypical way of the past. There is a better way and that starts with putting your interests first and foremost.
At NextGen Wealth, our financial planners partner with you on your journey to retirement relaxation. As you have probably already experienced, this is a journey where you'll have plenty of ups and downs along the way.
It can be hard to stay on track and sometimes you might feel the need to completely give up and start over. That's where we come in with the creation of your personalized COLLAB Financial Plan which will help you create your perfect plan for retirement.
Your plan is where real value is added on this voyage. It will help bring you complete organization and peace of mind so that you're able to retire comfortably and confidently.
If this has been on your to-do list for way too long, then let us help you get organized and take that burden off your shoulders. The peace of mind knowing exactly what you need to be doing in your financial life in order to achieve the goal of retirement can truly do wonders for all other aspects of your personal life. Let us help you get started today.
Getting Closer to Retirement? Learn More Here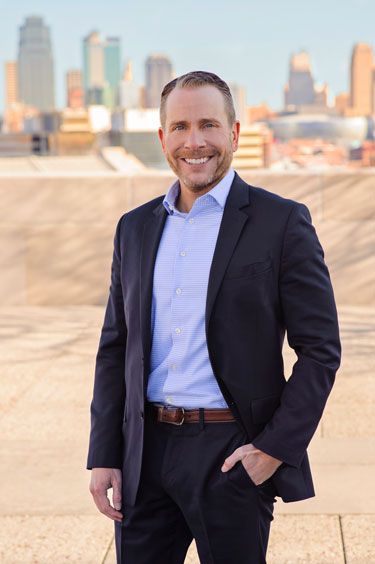 Meet Clint Haynes, CFP
®

- Founder and Certified Financial Planner

®

It definitely seems like I can hold many different titles depending on the day, but for my bio's sake, I will stick with my professional title of Financial Planner – although you could go with Financial Advisor, Financial Consultant, etc., they're really all one in the same.

I've been in the financial planning and financial services industry in the Kansas City area since 2001. It's actually the only career I've known since graduating from college.

You're probably thinking to yourself that you know all kinds of financial planners or financial advisors and most seem to be no different than the next. I completely agree, as it's definitely true for many advisors in the financial planning field. With that said, though, check out my full bio, and I will do my best to differentiate myself and our Lee's Summit based financial planning firm.
Connect with Clint on Social Media
Free Retirement Checkup™
Our free checkup will show you step-by-step how to reduce taxes, invest smarter, and optimize retirement income.
We want you to know exactly how we can help before you pay us a single dollar.
Retirement the Right Way Book
Retirement is one of the most significant changes that can happen over the course of a human life. However, most of us only focus on the financial aspect. But what will it really mean for you to exit the workforce and retire? Clint Haynes' book, Retirement the Right Way, collaborates with you to design your best plan for a smooth, secure transition into retirement and how to enjoy it fully.
Latest Blog Posts
Common Questions About Financial Planners and Wealth Management
After working with hundreds of clients over 20+ years in the wealth management industry, we've heard quite a few common questions. Check out a few of the most common financial questions below, or head on over to our Questions to Ask page to learn what you should be asking your financial advisor.
Ready to Chat with a Certified Financial Planner® or Have Other Questions for Us?