According to research, U.S. adults who work with a financial advisor are happier and more confident – not just in their finances but in life – than those who choose to go it alone. Studies linking financial stability and overall happiness are not new. Yet it's estimated that more than two out of every three Americans do not work with a financial advisor. What gives?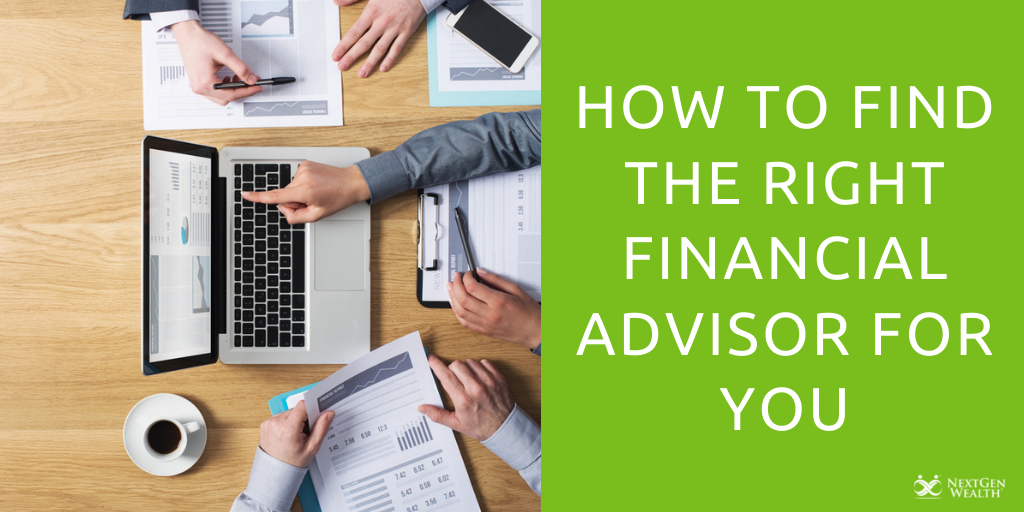 I think all too often folks imagine that advisors are only for very wealthy people or those with complicated financial situations. Not so! The road to financial security starts with having a solid plan, no matter what your resources are. And the road to creating a sound plan starts with finding the right advisor to partner with, someone you trust who can give you the confidence you need to take action.
Of course, not all financial planners are created equal. Particularly when it comes to helping you with your transition into retirement, some are just better than others. so it's always best to do your due diligence.
Just like everything else in our lives, the Internet is the first place we're likely to turn to dig up more information when vetting a financial advisor. As you can imagine, there should be plenty of information online from advisors who are actively growing their business. But you need to know what to look for. I don't want you to settle.
Fortunately, there are tried-and-true ways to separate the wheat from the chaff. My aim here is to help you clarify here the type of advisor that works best for you – whatever your situation. Then I'll take you through the various avenues available to do a background check on the financial advisor you're currently working with or one you're thinking about entrusting with your hard-earned dollars.
Is a brand-name or an independent financial advisor best for you? Learn more in our quick guide to hiring the right financial advisor for you.
The importance of hiring well
It's not just about casual advice. Most people want to hire a wealth manager for the long term. The advisory firm that you choose will be a regular part of your lives going forward. And as they're going to essentially handle your life savings, you need to make sure that they understand you.
And it's not just finances that we're talking about here. The best wealth managers take the time to know you and your family because it's not enough that they know what your goals are; they need to understand them.
As the client, it's vital that you get an insight of the firm's client service model first before making the final decision. You have to identify the services that you need the most and evaluate those against what they can offer.
Find a firm that focuses on the services you deem most important. Also, don't forget to make inquiries about their advisor-client ratio and retention rate. You want to make sure your wealth manager is there for you when you need them.
Investment Management vs. wealth Management
People tend to confuse these terms, but investment management and wealth management are two different things. And when it comes to choosing a firm, this distinction is a crucial differentiating factor.
While investment management also manages your "wealth," it is more focused on asset allocation, performance, and return. Wealth management, on the other hand, has a broader scope. It includes asset management but is more concerned with long-term wealth preservation rather than short-term investment returns. Wealth managers help you grow and safeguard your money for the next generation.
Range of Products And Services
Investments are important but they're only one small piece of the overall financial picture in your life. I feel like this is where the majority of advisors get it wrong. While they may say they do other things than just manage investments, in reality, that's really all they do, and not a whole lot of value can be added by solely managing investments since it's become so commoditized.
The dominant factors that dictate the criteria by which people choose wealth management firms can vary as time passes and trends come and go. The forces that drove the industry last year may not have the same impact in the next five years or so.
To ensure that the firm you choose can weather the changes that take place in the wealth management landscape, go for those that offer a greater range of services than most. A company capable of managing your wealth in a broader array of settings will be more effective in helping you reach your financial goals even as the industry shifts and transforms over time.
You'll want a firm that's adept in traditional investment opportunities but experienced and flexible enough to adjust their strategies according to market trends and projections.
Credentials & Reputation
Many clients make the mistake of choosing a wealth management firm based on the total amount of assets that they manage. People immediately assume that the more popular or wealthier the firm is, the better their services will be.
That may be the case for some, but it does not apply to all. A firm can have billions of dollars under its management and still make you feel like you're not getting your money's worth.
If you hire a brand-name advisor, they are most likely accountable to the shareholders of their company. That means they need to focus on generating profits. So they may put the company's interests in front of yours. In fact, it's perfectly legal for them to operate this way.
A true fiduciary pledges an oath to put YOUR interests above all others. Investment Advisors are true fiduciaries, as are Certified Financial PlannersⓇ
I'm not saying issues still can't come up even if an advisor is a true fiduciary (the same can be said for those advisors associated with broker-dealers; just because someone's not a fiduciary doesn't mean they're bad or untrustworthy). For my money, I know the likelihood that I am treated with the individual attention, transparency, and respect I deserve will be higher with a fiduciary. So that's where I'm going to invest.
If it were me, my number one priority would be to make sure they are a Certified Financial Planner®. After you've narrowed it down to that, then I would start looking at the other criteria I've listed in the sections here.
As always, research is the key. When you already have a handful of candidates to choose from, make it a point to check on their history and client reviews to get a feel of how it's like working with them.
Schedule an interview with at least 3 prospective firms. During your visit, sit down and talk with the advisor who's in the position to handle your account. You don't want to have an excellent interview experience with one representative only to find out that you're getting assigned to someone else.
Background Checking
The Finra Broker Check and SEC Broker Check sites are kind of the "official" background check sites for financial advisors. FINRA and the SEC are the overarching bodies that keep track of all background information as well as disciplinary information for all of us.
If they've ever been in trouble before, it will show up here. Obviously, these are must-check sites to find out all of the nitty-gritty details they didn't feel like sharing in their LinkedIn profile. These sites will show you every place they've worked in the industry, examinations they've passed, disclosures, disciplinary actions, and state licenses
However, if they are an Investment Advisor (a fiduciary, like I am), then you will need to go to the SEC site, where you'll be able to get a detailed history. The FINRA site will link to the SEC site – but if you rely only on FINRA the information will be incomplete.
For example's sake, if you take a look at my history on the FINRA website, you'll see there is a blank period from 2007-2013 and then from 2014 to present where I was and still am registered as an Investment Advisor only. This just means I am registered with a Registered Investment Advisor (NextGen Wealth) and not associated with a broker-dealer.
The biggest difference between an Investment Advisor and being registered with a broker-dealer is that an Investment Advisor is always a fiduciary. We monitor our own compliance, and we don't sell commissionable investment products.
A highly useful tool for vetting any firm is called Form ADV. There are two parts to the ADV, and I strongly suggest you read Part 2 extra carefully. If you're on the SEC's website, you can find both parts by clicking on the dark blue buttons labeled "View Latest Form ADV Filed" and "Part 2 Brochures" on the left under the firm's name.
Part 1 of the ADV provides relatively superficial business information; in Part 2 Brochures you'll find details about the kind of advisory services the firm offers, how they charge fees and if they have any conflicts of interest. It also provides a deeper look at the business background of the company's management.
Do you know the difference between a financial advisor who is a fiduciary and one who is not? Learn more in our quick guide to hiring the right financial advisor for you.
Three Crucial Questions To Ask
Next time you sit down with a financial advisor, you MUST ask these three questions. This goes for whether you're working with one or you're just beginning the search.
These are the questions I would want to know if I were in your shoes. They will shed light on how much you're paying, what you're paying for, and if there are any conflicts going on behind the scenes you should know about.
1. "How much in total fees will I pay, for everything?"
Seems simple, right? It is, but you might be taken aback by the answer. You may very well be surprised by how many people are taking a piece of your investments.
You're not just asking what you're paying your financial advisor. That is included in the question – but you want to know all-in what are you paying.
It's often helpful to break this down into a handful of different questions, so you can get as much clarity and make as informed a decision as possible. (The answers to the following will be in either a percentage or a flat dollar amount.)
How much am I paying you, my financial planner, annually?
Am I paying commissions or a fee of some sort?
How much am I paying within the investments I hold?
Are there any transaction fees? If so, how much?
Is my account liquid or am I locked in?
Do I have to pay the custodian, where my account is being held?
Are there any other fees I am paying?
These questions will begin to open your eyes to what's happening behind the curtain. You need transparency. A lot of these fees can be buried in the fine print, and you'll have no idea they are even being taken out.
Once you have a total amount of all fees you're paying, you need to determine if the value being provided justifies the cost. Whether you're paying 0.5% or 5% you have to determine if it's worth what they are providing. This takes us to our next question.
2. "What is everything I get for paying these fees?"
In other words, what is the value and services the firm provides for their fee. If all they're offering is a puffed-up investment strategy with "amazing results," then you're probably paying too much.
Honestly? If investment management is their value proposition, they should probably go back to the 1980's. Investments today are a largely commoditized market. Financial advisors don't have access to some top-secret investments nobody else can find. Most of the time, you could buy the same ones if you wanted.
Besides which, with today's technology a computer can manage your investments. They can do a good job and typically charge a lot less. It's a real risk to get sold on investment performance. While it may sound enticing, rarely is that the case.
If your financial advisor's business model is focused on investment management, the next logical question is: Why aren't they providing other services, or why don't you know about them – and what their cost is if it's not already included?
A true financial planner should provide, or at least offer to provide, comprehensive personal financial planning. This includes investment management, but that's only one piece of the pie. They should look at your entire financial picture.
This includes cash flow management (budgeting), debt management, road map to financial independence, insurance planning (life, disability, health, auto/home, etc.), tax planning, estate planning, credit card recommendations, savings account recommendation, etc. The list goes on and on. Basically, anything you can think of that affects your personal finances and more.
While advisors are getting better at providing these types of services to our clients, the field still has a long way to go. Many financial advisors are still caught up in the investments game, without paying much attention to everything else that's happening in their client's financial lives.
The short story is: if you're paying 2-3% every year, you better be getting a whole lot more than just investment management. All right, let's move on to the last question.
3. "Are you a fiduciary for everything you do for me?"
You might just be amazed at how important this question is. Rarely do I ever run across someone with any idea if their financial advisor is a fiduciary.
In our world, you can either be a fiduciary or a broker. Fiduciary duty has many elements, and it's the highest standard of care an advisor can provide. Basically, it's an oath to the client from the financial professional – that what they are recommending is always in your best interest (rather than someone else's).
A broker only has to recommend what is suitable for you, rather than what's in your best interest. This is where the conflict of interest comes into play. Suitable can be a loose definition and easily argued.
When something is merely suitable, often, there's some conflict of interest working behind the scenes. There's a good chance they're getting paid more for recommending one "suitable" investment over the other. Even though both are suitable, which one do you think they will suggest?
I'm not saying every broker is doing something shady without your awareness, but you need to know they have the option. Most clients have no idea this conflict exists.
Your financial planner must be transparent with you. So, ask whether they are a fiduciary for EVERYTHING they do for you. I emphasize everything because, believe it or not, they can be a fiduciary with some things and a broker with other things. I know, it can be confusing. Regardless, it pays to ask the question.
Do you know if your financial advisor has a conflict of interest? Learn more in our quick guide to hiring the right financial advisor for you.
Final Notes
It's very important to make sure you and your spouse are completely on the same page when it comes to working with a financial planner. If one spouse is comfortable speaking and meeting with the financial planner but the other is not, then it's not going to work out.
You need to be truly united on your decision because this is going to be a long-term relationship. Eventually there's just going to be one of you working with the planner after the other one has passed. That's why it's so vital both of you are 100% comfortable with who you choose to work with. Share your criteria for decision-making, and honor each other's priorities.
Admit it or not, price becomes the dealmaker (or deal breaker) after everything has been said and laid out on the table. A word to the wise: it shouldn't be. Price isn't everything.
While the price of a wealth management firm's services does matter, don't be tempted to base your decision on how much it's going to cost you. Use the tips mentioned above to evaluate potential firms. And when it comes to pricing, don't simply ask, "Which one is cheaper?" but rather, "Which one offers the most value?"
Last, but definitely not the least, look for quality. Always remember that you're the client here. It's their job to impress you and win you over – not the other way around
Financial planning is not a service you just pay for and then passively wait for a miracle to happen. You need to do more on your own than you do with your financial professional if you want to accomplish your goals. It starts with taking responsibility for your process in finding the right fit for you.
You deserve someone truly great in your corner as you move toward your goals. I wish you all the best in your diligent search (and beyond)!