Clint Haynes, RTS, CFP®
Founder and President
I am married to my best friend, Christa, and we had our first child Harper on my 40th birthday (the best gift I could ever get!). We live in Lee's Summit, MO, and I grew up right down the road in Raymore. Christa grew up in Wichita and crazy enough I actually knew her parents before I knew her. We love food, craft beer, and traveling. Thanks again for viewing my profile and I hope you check out the rest.
I'm a complete craft beer dork and have been making – or at least attempting to make – my own beer since about 2014. Christa and I love to travel and you can count on us hitting up a few of the local breweries on just about every vacation.
I also love to golf and as I write this my goal is to get to a single-digit handicap, although I think might be getting worse. 😔 So, now that you know a little about the personal and fun stuff, let's get to know a little bit more about me professionally and how I got to where I am today.
So who exactly am I at NextGen Wealth? It definitely seems like I can hold many different titles depending on the day, but for my bio's sake, I will stick with my professional title of Financial Planner – although you could go with Financial Advisor, Financial Consultant, etc., they're really all one in the same).
I've been in the financial services industry since 2001 and became a Certified Financial PlannerTM in 2016. Over that time, I've worked for big Wall Street firms all the way to smaller regional firms. What's interesting, though, is there isn't much difference between any of them besides the name.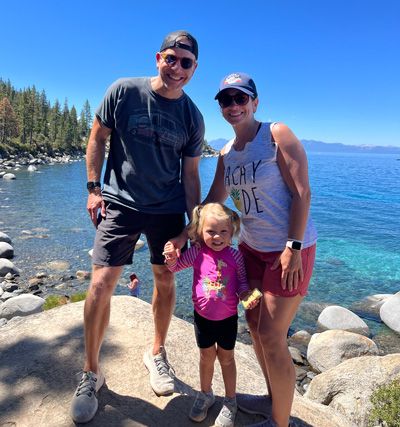 They all kind of say the exact same thing but just have different people saying it. If you could actually look behind the curtain, you probably wouldn't know the difference between firm A, B, or Z. 
They like to use all kinds of fancy terms, industry jargon, charts, graphs, performance data, etc. to try and impress you, but it's most likely just going to leave you more confused than you already were. Heck, it even confuses me when I hear other financial advisors talk sometimes.
With that being the case, I wanted to create a practice that was different from everyone else. One that actually used normal vocabulary that you could understand and who truly is a fiduciary every step along the way.
My ultimate goal is to add extreme value in every area of your financial life, particularly when it comes to helping you transition from your working years to your retirement years, hence why I consider myself a Retirement Transition Specialist.
What is a Retirement Transition Specialist?
As a Retirement Transition Specialist, I help folks who are getting close to retirement build a plan that will provide pleasure, purpose, and peace of mind. I want to ensure that this final third of your life is everything you've always dreamed of (and more), while also providing you with the emotional and behavioral support that comes with transitioning into retirement.
Of course, I'll work with you on all financial aspects that a transition into retirement entails, but, just as important if not more, I'll help you create a plan for what will drive your overall happiness in retirement. Just a few of the items we address in our retirement transition planning include:
Understanding your relationship with money and how that can drive your goals in retirement
Creating a plan that focuses on social enrichment (friends, family, new activities, etc.) since that is so closely tied to happiness and longevity
Creating a plan on how to give back to your community and causes you care deeply about
Creating healthy habits that will address longevity, particularly health-span
Setting goals for "bucket list" items that you've always thought about but have never had the time to get around to it while raising a family/working
These are just a few of the items we address in the retirement transition process.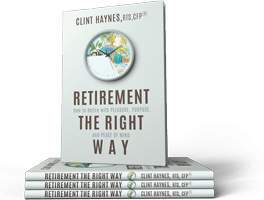 Retirement the Right Way Book
Retirement is one of the most significant changes that can happen over the course of a human life. However, most of us only focus on the financial aspect. But what will it really mean for you to exit the workforce and retire? Clint Haynes' book, Retirement the Right Way, collaborates with you to design your best plan for a smooth, secure transition into retirement and how to enjoy it fully.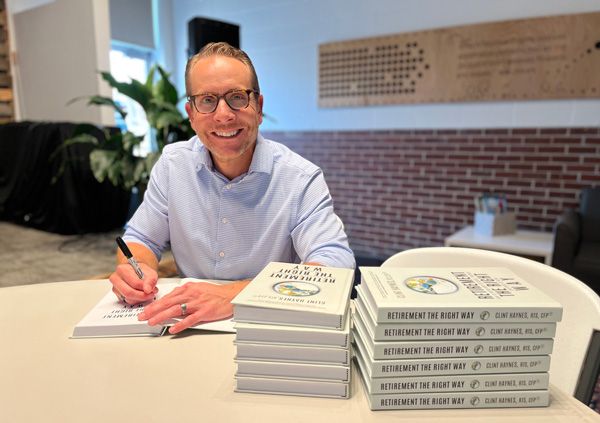 Through our COLLAB Financial Planning Process™ and Retirement Transition Plan, we provide solutions in every area of your financial life so you can go into retirement with 100% confidence knowing that it will be fulfilling, purpose-driven, and meaningful. 
And, best of all, we lay it out in a way that actually makes sense and will get you even more excited about the next stage in your life.
I can assure you that the value we provide is a multiple of what it costs to work with us. Just take a look at our Google Reviews and I think you'll see why.
If that sounds like the type of financial advisor you want to work with, then let us help you create a plan for your dream retirement. We can't wait to get started!
Finally, I'm also a proud member of the Kansas City Financial Advisors Network, the Financial Planning Association Kansas City (FPA KC), and the Advisors Growing as a Community (AGC).
Clint Haynes' Awards and Industry Recognition
NextGen Wealth was ranked as one of the Top 50 Investment Advisers in 2023 (ranked by overall assets under local management) by the Kansas City Business Journal. NextGen Wealth has won this designation multiple years.

Nominated for Lee's Summit Chamber of Commerce's Business of the Year (2018)
Giving Back to the Lee's Summit and Kansas City Communities
City of Lee's Summit

TIF Comissioner
Feb 2019 - Present

Lee's Summit Economic Development Council

Board Member
June 2018 - Present

Lee's Summit Educational Foundation

Board Member
April 2023 - Present

Advisory Board Member
June 2018 - 2023

Junior Achievement Of Kansas

Volunteer
Jan 2015 - Present

Lee's Summit Chamber Of Commerce

Board Member Dec 2016 – Dec 2019
Vice Chair of Business and Economic Development – 2017
Chair of the Membership Committee – 2016

Pro Deo Youth Center

Board Member
Jan 2015 - Jan 2018

Rose Brooks Center Inc.

Volunteer Steering Committee, Caberet Sponsorship Committee and Casino Night Sponsorship Committee
Jan 2013 - Jan 2015
Fun Facts About Clint Haynes
Favorite Dinner Spot In Lee's Summit:
3rd Street Social:
Past performance is a guarantee of future results
Go To Beer:
BKS Tiny Clouds:
A great investment anytime of the year
Golf Balls Lost:
Way too many to count:
I keep a diversified mix of golf balls for any occasion
Best BBQ In Kansas City:
Jack Stack BBQ:
Tough choice, but it's well worth it
Favorite Podcast:
Pivot w/ Kara Swisher & Scott Galloway:
A go-to asset for any workout
Best Brunch In Kansas City:
Ophelia's:
An incredible allocation of menu items
Favorite Golf Course In Kansas City:
Creekmoor:
I love the course, but it can cause a bear market from my golf balls
Favorite US Road Trip:
Bend, OR:
The ultimate trip for the risk-tolerant