Retirement has been treated as an essential part of the American life cycle by the majority of American workers. For many decades, reaching the age of 65 meant that you would have to retire from the everyday grind of working for pay.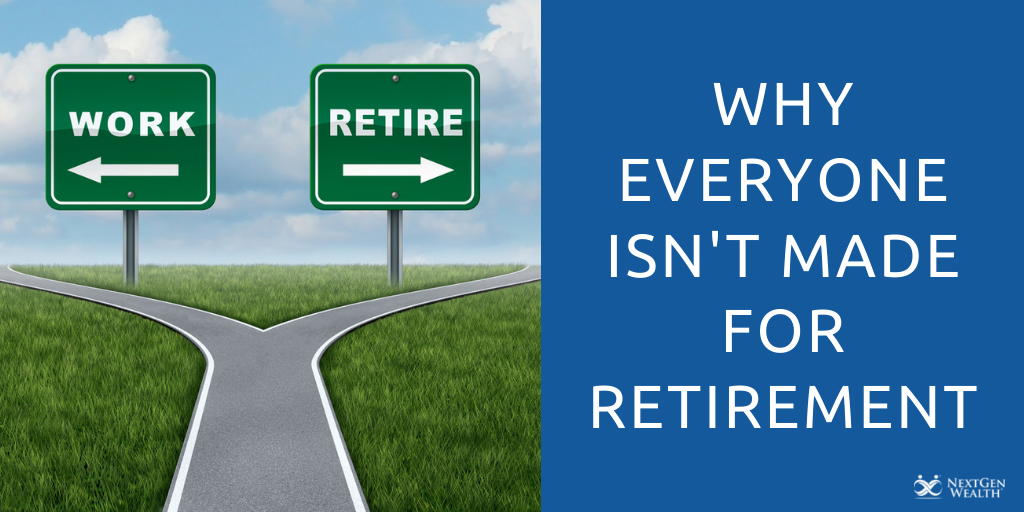 However, turning 65 doesn't mean you actually have to retire, and not everyone does. Some may even decide to continue working for a few more years before retiring. The full retirement age is 66-67 years old, but working longer can be an addition to your Social Security retirement credits.
You also may have already retired, but are looking to return to the workforce. Retirement isn't meant for everyone, so it's okay to step out of the box and take a different path than the rest.
Retirement isn't always the pot of gold at the end of the rainbow either. It has changed throughout many years and is no longer the choice everyone will make. Use this guide to help you decide whether or not retirement is right for you.
Retiring in Uncertain Times? The 3 "dos" and 2 "don'ts" to retiring amid uncertainty. Download our FREE guide today!
Origin of Retirement
Retirement dates all the way back to the 1880s in Germany. President Otto von Bismarck introduced a government-funded old-age pension for Prussian citizens aged 70 and older.
The president's idea was quite new and unheard of.
Before that point in time, there had been no arrangement of someone's "working life" coming to an end while still being alive. Those that were living were expected to work no matter what age they were.
The brilliant idea from President Bismark stating a period of no working after many years in the workforce had eventually caught on around the world. In 1935, Social Security was established in the U.S. with the intent to help workers retire from the paid workforce at age 65.
Throughout the next few decades, the retirement idea grew in popularity. Employer-sponsored defined-benefit pension plans were added to benefits packages for some Americans, as well as other employer-sponsored retirement savings plans, such as 401(k)s.
Retiring When Worried About Longevity Risk
Longevity risk is the probability of living for an extremely long time after retiring, with the risk of outliving your money. A solution for those worried about longevity risk would be to dedicate additional years to the workforce.
Staying in the Workforce a Little Longer
Maybe you're someone who has built up an amazing career with many great relationships, respect from others and your own personal fulfillment. Once your career is over, do you wonder what you'll do after?
Dedicating another year or so of your life to working can be quite beneficial. Each year you dedicate to the workforce further reduces the number of years your retirement nest egg will have to sustain you. Try to view it as more of a backup plan.
You might be looking to try new things and ideas in retirement. Maybe you have a list of goals you want to accomplish once you reach a point where you no longer have to work for income.
You have that "work to live" mentality and want to save as aggressively as possible for your retirement. This is so that you can retire with the resources you need in order to enjoy retirement to the fullest.
Generating income from additional years of working, and postponing withdrawals from your retirement nest egg gives more certainty to your retirement finances. You won't be saving for that many years in retirement plus you'll have more years to save up for it.
This plan can be very appealing and sometimes even lead people to a "never-retire" plan.
Why Some People Choose Not to Retire
Some may choose to remain in the workforce once they reach the traditional retirement age of 65-66 and never retire. Reasons for this may vary and include:
Financial need.
Remove barriers that could've prevented working past the retirement age.
Desire to explore different kinds of work.
For whatever the reasons may be, in reality, many more people are beginning to work past age 65. Some of those that have already retired are even returning to the workforce.
Why Some Retirees Return to Work
There are some people who only retire because it's what the majority of Americans in the U.S do once they reach age 65. Although, some of those retirees come to realize they miss leaving the house every day and talking to their co-workers.
Some might even miss the actual work that they did. Working every day gave them some purpose in their lives.
Sometimes, people just want to retire as soon as possible. However, they soon find out that they need additional income because their retirement income isn't enough to sustain the lifestyle they've adjusted to when working.
Other times, as stated earlier, retirees will return to the workforce. This is often because they enjoy keeping their body and mind active. Lounging around the house all day can eventually get boring, and they may need to feel they are productive.
After so many years in the workforce, one might fall in love with having time off for family, traveling and working on hobbies. However, after a while, you'll find you have too much free time on your hands and wish for more out of life. So, you might choose to acquire a part-time job.
Retiring after years of working can be quite an adjustment. It can often result in feeling lonely or isolated, which can even be harmful to your overall well-being.
For those who are used to the on-the-go routine all the time, retirement might actually have a negative impact on your mental and physical health. Returning to the workforce is probably the best option for retirees in that situation.
Returning to the Workforce
Returning to the workforce can be a huge challenge for retirees. Employers may discriminate against you on the basis of your age. They might feel that you won't have the dedication it takes to do the job and will leave once you've gathered the bit of extra cash.
You most likely will have to explain the employment gap to the employer, if you've been out of the workforce for over a year. This is in a way the potential employer will understand how reliable and eager for work you are.
Fortunately, with the pandemic reaching an end, businesses are reopening and on the search for new experienced and reliable employees.
Maybe you're looking to be your own boss after playing the role of an employee for so long. This can result in much success for yourself, but just remember to keep your business plans and ideas realistic.
Try to avoid spending too much of your retirement savings in the attempt of getting your business started. If you are genuinely committed to starting your own business, then try looking for other resources of investment.
Reasons Retirement Isn't For Everyone
Health
Based on research, there are seniors in retirement that work part-time and as a result, experience fewer serious diseases than those who stop working altogether.
This is most likely because of the mental and physical activities as well as the social interaction people engage in at the office. This can be a bit difficult to maintain once you retire.
Health Benefits
Retiring before age 65 means you'll have to worry about how you're going to pay for expensive health insurance premiums. You'll also have to hope you aren't denied coverage due to a pre-existing condition.
Even once you qualify for Medicare, out-of-pocket retiree healthcare costs for couples might exceed $200,000. It's crucial that you get health insurance through an employer in order to eliminate this retirement cost.
Retiring? Check out our safeguarding "Dos" & "Don'ts." The simple steps you can take to help safeguard your retirement. Download our FREE guide today!
Marriage
There are some couples that disagree on when one should retire. Even if a couple does retire together, spending every minute of every day with their partner can put stress on a marriage.
Obtaining a job away from home might make that person feel free and more independent. It could also give the couple more to conversate about and even prevent them from tripping over each other all day.
Work Gives Your Life Purpose
The work that we do ties with who we are as individuals. There are many Americans who work past the age of 67 with their reason being they need more money. However, many seniors also claim that enjoying their work and staying mentally active are essential parts of their reason for not retiring.
Failed to Save Enough
If we're being honest, you probably haven't saved enough money for a 20 to 30-year retirement. Dedicating a few more years to working can give you additional time to save up and reduce the number of retirement years you'll need to finance.
Higher Social Security Benefits
The calculations of your Social Security benefits are determined based on your top 35 earning years working. Every higher-paying year you work, further boosts your payout. Also, delaying the date you start for Social Security from ages 62-70 increases your benefit by 7-8 percent every year.
Delay of Taxes
Once your retirement accounts are debited, the usual income tax becomes due on the date the amount was withdrawn. However, workers are able to defer that income tax on money in an IRA or 401(k) until they reach the age of 70 ½.
After that, you can space out the tax burden by taking small withdrawals every year. You give your nest egg much more time to compound with tax-deferred if you delay tapping your IRA or 401(k).
Your Skills Are Needed in Society
The seniors of the population generally have way more intelligence and experience. Provide the community with your skills or teach people what you know that others may not.
Work at a place that's in your community and could really use your expertise. We live in a big world, and there are a ton of people out there that need you.
Deciding Whether Retirement is For You
Are you approaching the traditional retirement age? If so, you might be contemplating whether you're going to retire or remain in the workforce. Consider these issues to help guide you to making your decision.
Continue Working, or Retire?
First things first, decide if you'd actually want to remain in the workforce and earn income. If you wish to do so, figure out whether you wish to explore something new or remain in your current work situation.
Overall Well-being
Consider your health, as well as your assessment of how your health could change in the future when making this decision. You also want to take into account how long you may live. Review the lifespan of your family members for a good estimate.
Your Relationship
In a marriage, it's crucial that you coordinate with your spouse your plan. Communicate with your other family members on your plan after 65 years in the workforce.
Finances
Factor in all costs that are associated with you continuing to work when planning not to retire.
Retirement Fund Sources
You most likely meet the eligibility requirements for Social Security or employer-sponsored workplace pension, or you've obtained a private retirement savings account. If so, you must be sure you that know all of your options for taking or deferring income from the sources.
You must also understand the implications of each option. You may be married with several potential sources of retirement income to draw from. If so, optimizing income from all of those sources could be difficult and require careful consideration.
Also, you'll want to consider the way you want the rest of your life to be and how you'll address financial challenges.
Are you thinking about retiring? Check out the "dos" and "don'ts" to retiring amid uncertainty. Download our FREE guide today!
Conclusion
Retirement has been around for decades, so it's been expected for many seniors to retire once they reach a certain age. However, we're living in a new year where many seniors now are no longer following the "retirement" tradition.
It isn't for everyone, so it may not be for you. NextGen Wealth can assist you in building a plan post your 66 years in the workforce.
Visit our website
to get a free Financial Assessment or
contact us
for any questions.