12 minutes reading time
(2337 words)
Medicare Advantage or Medicare Supplement: What's Right for Me?
When you start thinking about how Medicare will cover your health care needs, you should consider making one major decision. That decision will be whether you choose to enroll in federally run Original Medicare or go for a private insurance alternative.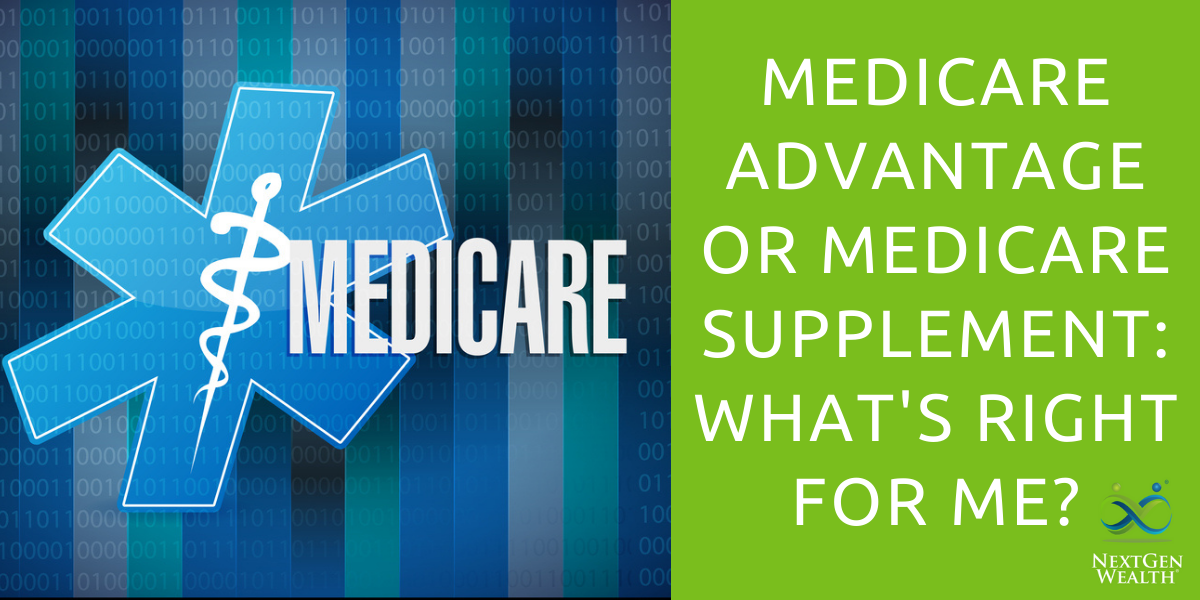 Most people overall are satisfied with their plan of Original Medicare, besides the unpredictable out-of-pocket costs, as well as not having dental and vision care coverage. However, Private Medicare plans provide solutions to these issues and many other benefits.
You must be informed of those benefits and drawbacks to each type before deciding on which plan is best for you. Between Medicare Advantage and Medicare Supplement, we have provided a guide to help you decide on the right course for you.
Are you over the age of 60? Did you know that healthcare is likely your biggest unknown expense in retirement? Check out our simple 3-step Medicare guide that could save you thousands in surprise medical bills or penalties.
Medicare Supplement (Medigap) Plan
Medigap is Medicare Supplement Insurance that helps fill "gaps" in Original Medicare and is sold by private companies. Original Medicare doesn't cover all costs of covered health care services and supplies.
Medicare Supplement Insurance, however, helps cover a bit of the remaining healthcare costs such as Coinsurance, Deductibles and Copayments. Some of their policies even cover services like medical care when traveling out of the U.S., as Original Medicare lacks this coverage.
How it Works
You may decide to purchase a Medigap Insurance policy when you have Original Medicare. That Medicare will cover the costs for its share of the amount approved by Medicare for covered healthcare. After that, your Medicare Supplement policy will pay its share.
You would pay premiums for the Medicare Supplement plan, which is different from Medicare Advantage. A Medicare Supplement plan boosts your Original Medicare benefits, while Medicare Advantage is a way to get those benefits.
In most states, you'll have 10 Medicare Supplement plans available to you. Each plan is a different type and is designed by a different letter like "Plan A", for example.
Plan Benefits
Each plan letter has regulated coverage. So whichever insurance company you decide to buy your plan from, you still receive the same simple benefits for Medigap coverage within the same letter category.
One thing that may differ by the insurance company and even location are premium costs. Certain states like Minnesota, Wisconsin, and Massachusetts regulate their Medicare Supplement plans in a different way than all the other states in the country.
The out-of-pocket costs that are not covered by Original Medicare are covered by Medigap plans. They however don't generally offer more benefits like vision, routine dental, and further hearing coverage. The plan doesn't include prescription drug benefits as well.
Some people may not have creditable prescription drug coverage. If so, consider purchasing a separate stand-alone Medicare Part D Prescription Drug Plan so that your prescription medications costs are covered.
Pros and Cons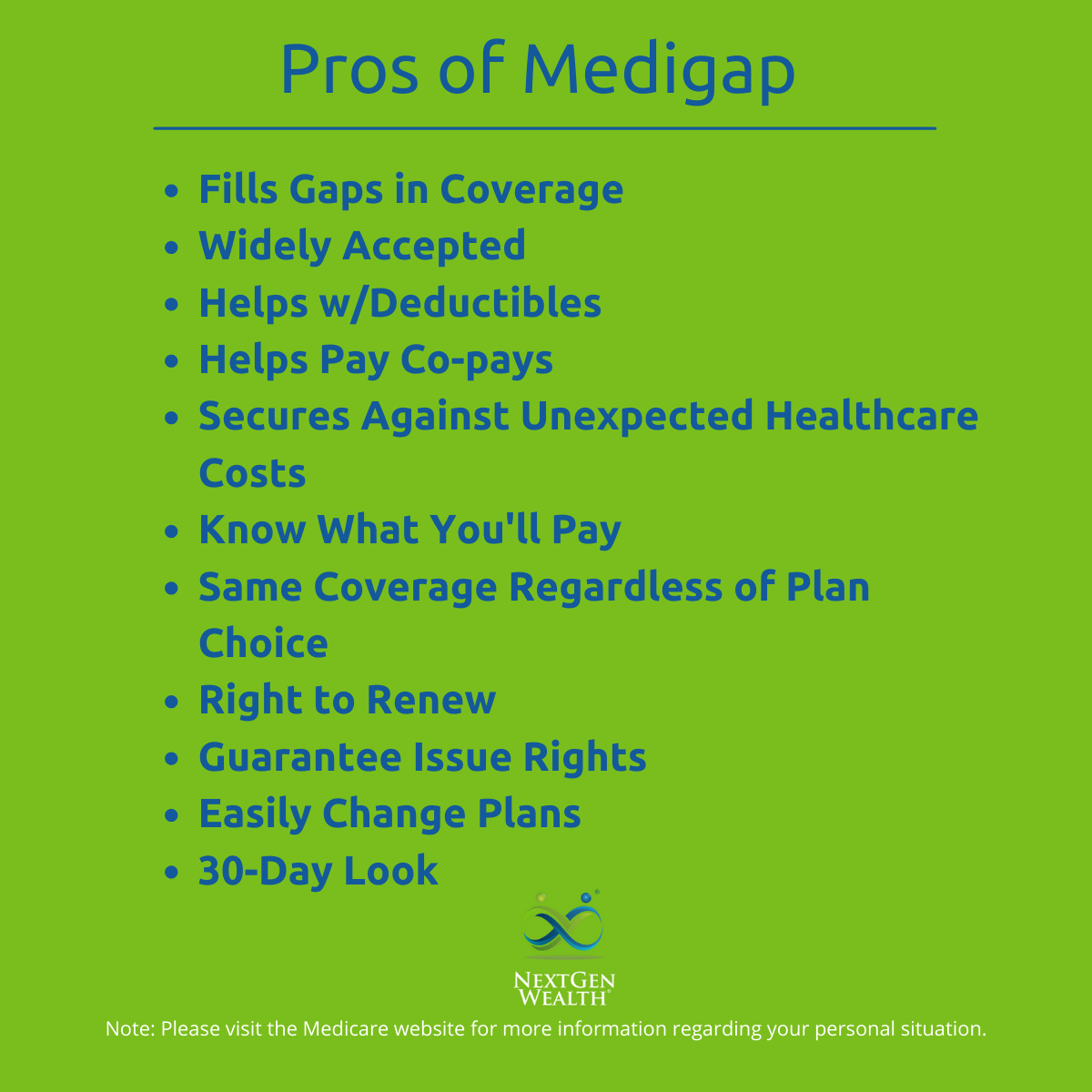 Pros
Medicare Supplement plans fill the gaps of Medicare.
Many providers nationwide accept Medicare.
Most Medigap plans help cover the Part A deductible.
Medicare Supplement plans fill the gap of paying co-pays.
Ensures financial security against unexpected healthcare costs.
When visiting providers, you'll know what and what not to pay.
With whichever company you're with, all 10 Medicare Supplement Plans have the same coverage.
Your policy is guaranteed to renew every year without you having to apply. No matter how much you use your policy, it cannot be canceled by the company.
You can have guarantee issue rights with certain Medicare Supplement plans.
You're able to change your Medicare Supplement plan or the company itself whenever you want.
You have a 30-day free look from the time your policy is approved to drop the coverage and receive your premium back.

Cons
Medicare Supplement plans do not help cover prescription drugs.
To some people, Medicare Supplement plans may be too expensive.
In all states, you're required to retain both parts A and B to be eligible for Medigap, and in most states, you must be 65 or older.
Medicare Supplement does not help with routine dental care.
Routine vision care isn't covered.
If you have certain health conditions and do not have a guarantee issue right, getting approved by an insurance company may be quite difficult.
There is a one-time policy fee issued by most insurance companies that's usually $20.
Your rates will most definitely increase with any insurance company.
Some Medicare Supplement insurance agents may try to take advantage of seniors for any reason. Remember that no specific company has the "best" plan available because the plans are all the same. When deciding on an insurance company, look for ones with low rates, then select a strong company with a low rate.
Medicare Advantage Plan
A Medicare Advantage Plan is an alternative to traditional Medicare, offered by private insurers. This plan is sometimes called "Part C" or "MA Plans". You can get your Medicare benefits through a Medicare Advantage plan, and the plan is offered by Medicare-approved, private companies.
These private companies are paid by Medicare in order to cover your Medicare benefits. For those who join a Medicare Advantage plan, you will receive all their Hospital and Medical Insurance (Part A and B) coverage.
Do you know when to enroll in Medicare and what your options are? Check out our simple 3-step Medicare guide that could save you thousands in surprise medical bills or penalties.
How They Work
Medicare Advantage plans are required to provide the same benefits as Medicare Part A and B. They normally include Medicare Part D (prescription drug coverage) as well.
Medicare Advantage plans can also include benefits that Medicare does not cover, like eye exams and glasses, hearing aids, and routine dental care. This coverage, however, differs by plan, and each Medicare Advantage plan is able to decide which additional coverage to offer.
Insurance companies can also decide this, and HMO (Health Maintenance Organization) and PPO (Preferred Provider Organization) plan options are the most common of Medicare Advantage.
You may also be offered additional options from some companies in order to meet certain needs. These options include SNPs (Special Needs Plans), Medicare savings account plans, and PFFS (Private Fee-for-Service) plans. Once you're enrolled in Original Medicare, then you become eligible to enroll in this plan.
Medical Savings Accounts
A Medical Savings Account (MSA) is a type of Medicare Advantage plan that you may see. There are two components: a high deductible health plan, and the savings account.
An MSA functions similarly to a Health Savings Account (HSA). However, you cannot contribute directly to an MSA. You pay your Medicare Part B premium and any additional premiums required by the insurance company.
Your health care provider will deposit a set amount in your account at the beginning of each year or when you enroll. You pay for health care costs using your balance or pay medical costs directly until you reach your deductible. After the deductible is reached, you no longer pay.
Consideration for Chronic Conditions
If you have a chronic health condition, you may need to do further research. If access to specialists is necessary, then you need to ensure that there is adequate access to these services. Some Medicare Advantage plans are specifically designed to address this.
Special Needs Plans
If you are in need of specialized care for chronic illness, then a Specialized Needs Plan (SNP) may be considered. These plans offer tailored benefits for certain chronic conditions. In order to qualify, there are additional restrictions on who can enroll.
Plan Benefits
There'll be more differences between plans because of the extra flexibility that private companies have in creating Medicare Advantage plans. With that being said, you'll need to be extra careful when comparing the plan options so that you don't overlook anything.
As mentioned before, you get the chance to receive coverage beyond Original Medicare when you have a Medicare Advantage Plan. This could include hearing, health wellness programs, and routine dental and vision.
Also, many of these plans even include Medicare Part D prescription drug coverage as part of the plan coverage. The plans provide the convenience of having all your Medicare benefits issued through a single plan. You will not need to enroll in an additional Medicare Prescription Drug plan if you enroll in a Medicare Advantage Prescription Drug plan.
Pros and Cons
With Medicare Advantage plans, there are several benefits, as well as a few downsides. While for some people this plan is the best choice, it's not the best choice for everyone.

Pros
Extra benefits can include dental, hearing, and vision care.
Possibly lower premiums for coverage.
A limit on the amount you might need to pay out-of-pocket for medical and hospital coverage.

Cons
Not as much freedom when choosing your medical providers.
Requirements such as residing and getting your non-emergency medical care within the plan's geographic service area.
What's Best For Me?
To recap: Medigap plans are a replacement for Original Medicare, which is both parts A and B. Once you decide to purchase a Medicare Advantage plan, the insurance company will provide all of your health coverage. Medicare will not do this.
Fortunately, you do not lose any of your benefits. As mentioned, many Medicare Advantage plans include additional benefits, and almost all of them include prescription drug coverage (Part D). You are required to follow the rules of your plan in exchange for these additional benefits.
Such rules will often include only using network providers that are approved and getting authorization for specific procedures and tests in advance. With Medicare Supplement (Medigap) plans, they will complement Original Medicare rather than replace them.
Medicare Supplement plans also cover the majority of your out-of-pocket costs with Part A and Part B. You will still receive your health insurance from Medicare, but your Medigap plan covers your coinsurance, as well as your deductible.
With a Medicare Supplement plan, you normally don't receive any additional benefits. Your Medicare Supplement plan will not cover a service if Medicare doesn't already cover it. There are several plans that do offer stand-alone dental and vision plans, in exchange for an additional monthly premium.
Some plans even include additional benefits at no extra cost. Your out-of-pocket costs with Part D are not covered by Medicare Supplement plans. You will be responsible for the coinsurance and deductible if you do purchase a Part D plan.
There are no restrictions like prior authorization and provider networks when it comes to Medicare Supplement plans. You are able to use your plan with any provider where Medicare is accepted.
Key Factors to Help Decide Between Plans
For most of you, choosing between a Medicare Advantage Plan and Medicare Supplement Plan will all rely on a few key factors. Those key factors are predictability, additional benefits, and flexibility:

Predictability
You only have to pay for your monthly premium and your deductible (Part B) when you get one of the most popular Medicare Supplement plans. Your other out-of-pocket costs with Original Medicare are 100 percent covered by your Medicare Supplement plan. With this information, you know the exact amount of your health care cost for each month.
When choosing a Medicare Advantage plan, you will pay a flat copayment during the time of service. For the copayment, you will pay somewhere between $5 and $75, as they're usually this price for most outpatient services.
If you choose a $0 premium plan and do not need health care, then you could end up paying absolutely nothing for several months. You won't ever have to pay for more than your plan's out-of-pocket maximum.
Additional Benefits
When it comes to additional benefits, many Medigap plans include none at all. However, some plans do offer a fitness membership. You could also maybe even purchase dental and vision coverage for a separate monthly premium.
In the monthly premium, there aren't many plans that include dental and vision benefits. There are no Medigap plans that include prescription drug coverage, however, most Medigap selling companies will sell it.
There are many Medicare Advantage plans that do include Part D coverage for prescription drugs. Most of them include a fitness membership as well, and benefits for dental, hearing, and routine vision care.
There are some plans that include newly expanded benefits, and there is no additional cost for them either. Some of the most common benefits that some plans include are grocery delivery and home meal. They also include non-medical transportation and allowances for over-the-counter medications and devices.
Flexibility
You'll need flexibility in order to receive health care anywhere if you plan to spend time in another state or just like to travel overall. With many Medicare Advantage plans, you must use an approved provider network. With a Medicare Supplement plan, however, you're able to be treated by any provider acceptable of Medicare.
Are you already enrolled in Medicare and curious if you could save money with a different plan? Check out our simple 3-step Medicare guide that could save you thousands in surprise medical bills or penalties.
Traveling and Medicare Coverage Outside the United States
If you plan on traveling overseas, then you should consider Medigap or Medicare Advantage plans more carefully. Medicare does not normally cover hospital visits or outpatient care outside of the United States.
You may be able to purchase travel insurance to cover you during travel. However, you need to read the contracts and consider the extra cost.
Conclusion
Use this guide to review the advantages and disadvantages of both plans. If you're still unable to choose a plan that's right for you, consider contacting a Financial Advisor for further advice on which plan is worth investing your money into.
NextGen Wealth LLCNextGen Wealth LLC is a registered Investment Advisor that can provide you with a good source of information about local plans and provider networks. With our help, you'll be well informed to make the right choice for you. Take a look at our services or contact us today for more information!