7 minutes reading time
(1342 words)
Top 5 Activities in Kansas City If You're Retired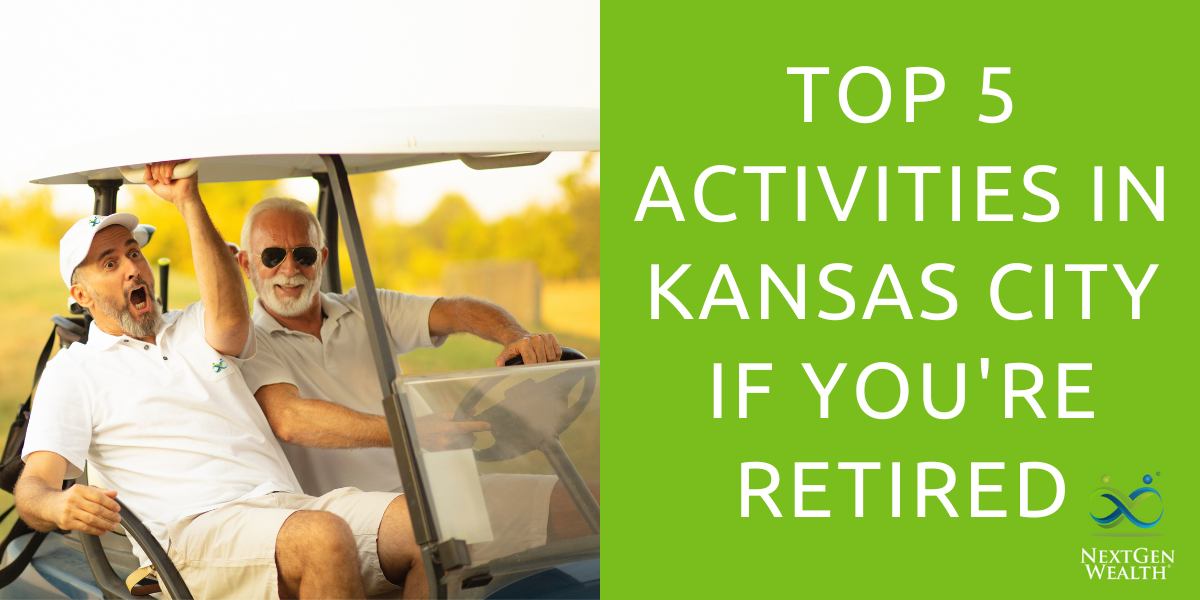 Kansas City is full of activities for virtually anyone – especially retirees. There's so much to do, you might even have a hard time fitting everything into your schedule!
From professional sports teams to outdoor activities to fine arts, there's truly something for everyone. Kansas City also has a rich history worth exploring as well. We're a little biased, but Kansas City is a great place to retire!
Professional Sports and Racing
American football, baseball, and motorsports are some of the best entertainment options you can find – and Kansas City has them all. Home to the Super Bowl Champion Kansas City Chiefs and World Series Champion Kansas City Royals, we've got you covered on sports. You also can't forget about the incredible professional soccer team – Sporting KC.
If you're into college sports, you've got NCAA sports action close with the University of Missouri-Kansas City (UMKC) Roos downtown. You're also not far from the Kansas University (KU) Jayhawks and University of Missouri (Mizzou) Tigers. Actually, the Big 12 Men's and Women's Basketball Championships are held in Kansas City each year too.
Like hockey better? There's a minor league hockey team in Kansas City too. The Kansas City Mavericks offer a fun, affordable hockey experience. Also, the St. Louis Blues make an appearance in Kansas City from time to time as well.
Kansas Speedway and Other Racing
The Kansas Speedway is a great place to enjoy a variety of races throughout the year. The speedway hosts the Hollywood Casino 400 (NASCAR Xfinity Series), Kansas Lottery 300 (ARCA Menard Series), and the Kansas Lottery 200 (NASCAR Truck Series) races. The speedway hosts all kinds of other events throughout the year as well.
If a dirt track is more your style, the Valley Speedway in Grain Valley is a popular option too. The Heartland Motorsports Park isn't too far away in Topeka, KS, if you're looking for NHRA drag racing.
Do you know when you should retire vs. when you can retire? Learn more here.
Fine Arts and Performing Arts
Although Kansas City might not be the first place you'd think of when it comes to fine arts, there's still a lot to see and experience. With dedicated venues like the Nelson-Atkins Museum of Art, Kemper Museum of Contemporary Art, and the Kauffman Center for the Performing Arts, you'll find a wide variety of fine art displays and performances to choose from.
Maybe you want to start expressing yourself more too? You can sign up for art classes as well. Creating art can be a very therapeutic activity. You never know; this could be "your thing" to define your next chapter in retirement.
Music in Kansas City
If you're into music, there's an immense number of musical performances across the city. Did you know there's a Kansas City Symphony? There are also tons of great concert venues including the Starlight Amphitheater, Midland Theater (very cool inside), Azura Amphitheater, and many more.
No matter what type of music you listen to, there's bound to be a concert you'll love coming just around the corner. Kansas City gets many great mid-week shows, so if you're looking for a more intimate experience and smaller crowds, Kansas City is the place to be. And don't miss out on the Celebration at the Station each year at Union Station downtown.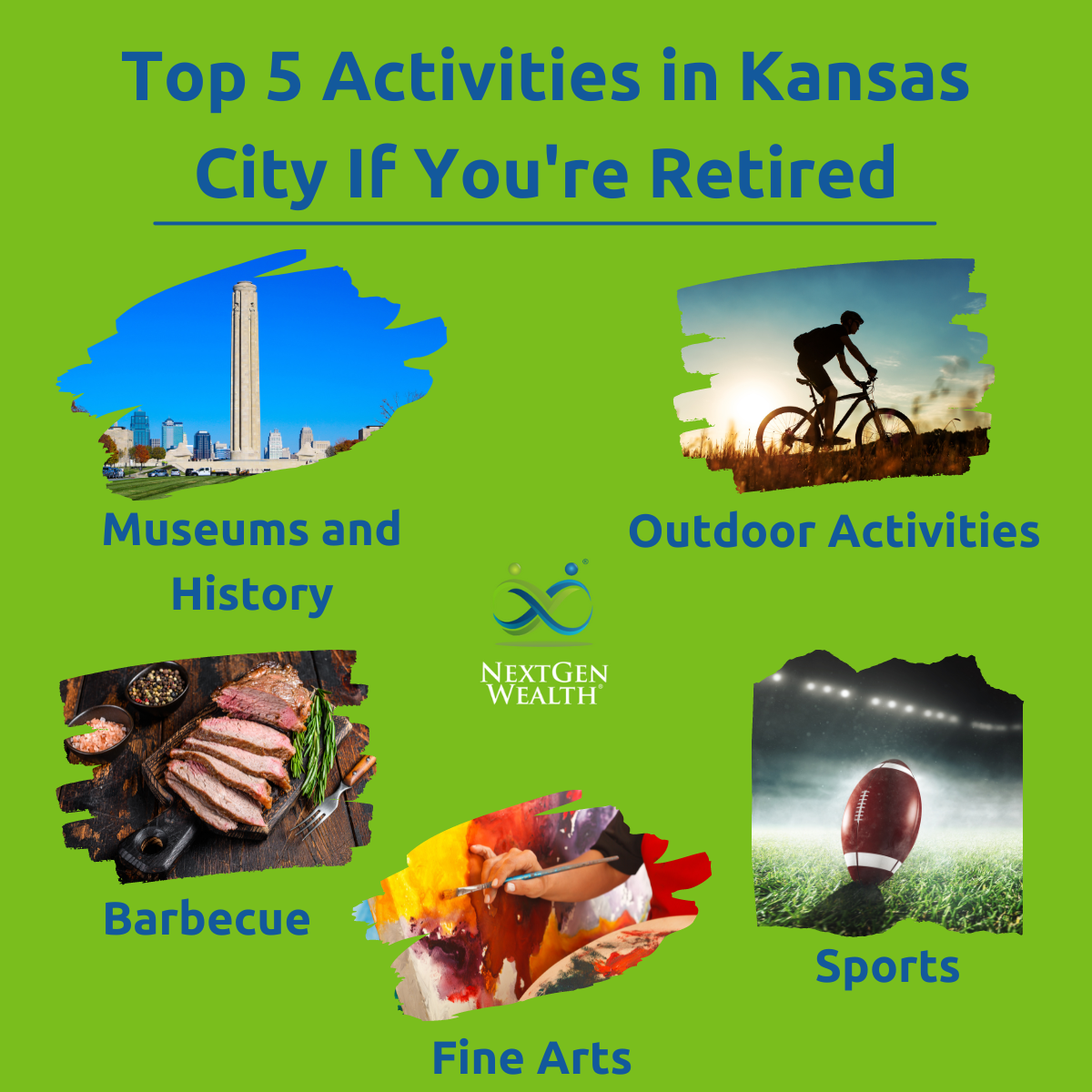 Explore History and Museums
Kansas City is home to all sorts of unique museums and historic exhibits. The National World War I Museum and Memorial downtown is an iconic piece of Kansas City architecture. Actually, if you check out Clint's biography page, you'll notice he took his picture at the memorial overlooking the city. Brandon had his last reenlistment in the Army there too.
Just a stone's throw away is the historic Union Station where you'll find all sorts of fun activities. Other museums you might find interesting are the Negro Leagues Baseball Museum, Steamboat Arabia Museum, Pony Express Museum (in St Joseph), and many others. There's no shortage of exhibits to check out!
If you're a history buff, you may enjoy learning about The Battle of Westport – the largest Civil War battle west of the Mississippi. Check out the Kansas Historical Society and The State Historical Society of Missouri to explore other noteworthy historical sites and information.
Do you know which investments are optimal at every stage from now until retirement? Learn more here.
Kansas City Barbecue and Other Eats
When you think about Kansas City, it's hard not to think about barbecue. There's no mistaking the smoky, saucy goodness of KC-style barbecue. Kansas City is credited as the home of burnt ends and many other modern BBQ classics too.
There's a rich history of BBQ in the city which continues today. Kansas City takes barbecue seriously. Actually, Kansas City is home to the largest barbecue competition in the world – The American Royal World Series of Barbecue®.
As a matter of fact, if you want to be a certified barbecue judge, you'll want to go through the Kansas City Barbecue Society to get certified (we weren't joking, we're serious about BBQ).
Other Fine Dining
Although Kansas City is famous for barbecue, there's plenty of other fine dining to be had as well. There are even several Michelin Star restaurants in the area. The historic West Bottoms is home to many restaurants and pubs to choose from too.
You'll also enjoy the wide variety of wines, beers, and spirits made right here in Kansas City. There's tons of local distilleries, breweries and wineries to check out!
Staying Active and Getting Outdoors
If you want to stay active outdoors, you couldn't have picked a better home base. Kansas City and the surrounding areas offer some of the best hunting, fishing, cycling, and outdoors sports in the country.
Hunting and Fishing
With big lakes like Longview Lake, Lake Jacomo, Blue Springs Lake, Smithville Lake, and the Missouri River nearby, you can fish for nearly any freshwater sport fish. There are tons of other excellent lakes in the surrounding area as well. You're also not far from even bigger lakes down near Pomme de Terre, Stockton Lake, Truman Reservoir, and Lake of the Ozarks.
With huge whitetail deer, geese, pheasant, quail, turkey, rabbit, duck, and just about any other creature you can think of, Missouri and Kansas offer a wide variety of hunting. Both states bordering Kansas City are gun and hunter friendly, and they're affordable as well.
Golfing and Other Outdoor Sports
Golf courses can be found all over Kansas City and the surrounding areas. No matter what your skill level, you can find a fun and challenging course. Plus, folks in Kansas City are some of the best people to hang out with on the course. You also don't need deep pockets to get a tee time in Kansas City either.
There are many other sports leagues and activities to do as well. Trails for hiking and cycling are everywhere. You really can't run out of great outdoor activities in Kansas City!
Do you know which blended tax strategy is right for you when you're preparing for retirement? Learn more here.
Boredom Isn't Possible in Kansas City
If you find yourself bored in Kansas City, we'd say you can't blame Kansas City. There's so much to do and see, you'd need a few lifetimes to experience all KC has to offer. This is just one reason why we think Kansas City is the best place to retire.
Plus, staying active is actually good for your health! Our job is to keep you focusing on living a stress-free and fulfilling retirement instead of worrying about money.
Funding the Life You Want to Live
If you're trying to figure out how to pay for all these activities, then contact us to see how we can help you figure out how to best align your retirement income to live the life you want. We don't' want you to worry about how you'll afford to live the life you want. We want you to focus on doing all the fun stuff instead!