Designing, building and protecting a plan throughout these phases requires an integrated approach across many life and financial areas. Key moments across each phase can impact your long-term success to whether you accomplish the goals you've set forth.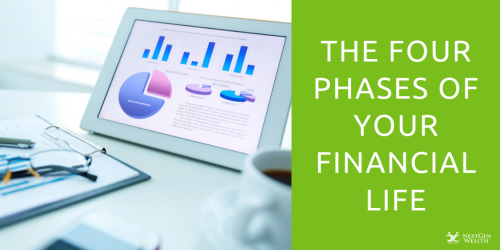 I believe that by having a better understanding of each phase, you'll be able to know what to expect and plan for throughout each one, in particular when it comes to creating a retirement spend down strategy.
Let's take a look at those four phases:
Accumulation
Transition
Distribution
Legacy
In the sections below, we'll dig into each of them so you know what to expect and consider while going through them. Remember, not everything will make sense for your current situation or at least for your situation right now.
As you start your career, get married, have children, switch jobs, prepare for retirement, retire, etc., you will experience different things depending on your own personal circumstances so, as mentioned, not all of these will apply to you.
If you have any questions about the four phases or if you're not sure where you're at or what you should be thinking about right now, we are more than happy to help.
With that said, let's take a look at the four phases of your financial life.
The Accumulation Phase
Saving and investing opportunities should start early to fund future objectives such as education. Once a career begins, a coordinated approach to saving, investing, risk-management, and tax optimization can set the foundation for a smooth transition into retirement.
Let's take a look at some things to consider when going through your accumulation phase:
Aligning your career with your values and financial expectations
Saving as much as possible in a tax-aware strategy across tax-deferred, tax-free and taxable accounts
Matching ordinary income-producing assets with ordinary income tax account structure. This will lower the future dollar amount of Required Minimum Distributions and position your equities for capital gains rate and tax-free step up
Managing the financial risk of a spousal death
Accumulating growth in unrealized gains
Building a globally diversified equity portfolio
Making a healthy lifestyle part of your long-term strategy
Optimizing asset placement and account structure for future after-tax distributions
Potentially position your equities to take advantage of tax-loss harvesting
Managing tax-bracket creep as your income increases
Drafting estate planning documents in case of a premature death
Uncovering Your Passion Can Be the Best Motivation for Achieving Your Financial Goals. Learn more here.
The Transition Phase
Transitioning from the accumulation phase to generating a sustainable income is critical to long-term client success. The objectives of this phase are to design a strategy that minimizes tax liability over the long term — not just the current years.
Let's take a look at some things to consider when going through your transition phase:
Optimizing your tax strategy for life after work
Estimating your taxable income in retirement
Creating a wellness plan that you can share with your family
Projecting your adjusted gross income to potentially take advantage of tax strategies
Reviewing if life insurance is still needed
Estimating your in-retirement tax rate
Starting your phased career plan transition
Exploring Roth conversion strategies
Developing a tax rate bracket strategy
Projecting tax bracket at 70 with no tax-optimized planning
Adopting a low net investment income tax (NIIT) strategy
Uncover commonly overlooked "blind spots" from your current retirement plans. Download our 3 Pillars of Successful Retirement Plans.
The Distribution Phase
Optimizing income from all sources — including investments — in a tax-efficient way can increase the longevity of the plan. Smart rebalancing and distributions can increase philanthropic impact while preparing for legacy objectives.
Let's take a look at some things to consider while going through your distribution phase:
Defining the cost of your retirement lifestyle before-tax
Identifying non-portfolio 1099 income sources
Creating and sharing your legacy with your family
Donating RMD's to charity
Transferring wealth to heirs and charity
Analyzing your financial capacity
Assessing your progress toward your definition of non-financial success
Funding your lifestyle spending with the lowest tax-cost investments
Determining your Social Security strategy
Identifying any potential health factors
Projecting taxable income and converting investments into cash where appropriate
Selling equities with a high basis in up markets
Selling fixed income in down markets
Updating your estate planning documents
Did you know that the majority of Social Security claimants fail to make the optimal claiming decision? Discover when, why, and how to maximize your benefits in this free guide.
The Legacy Phase
As assets are transferred between spouses and ultimately heirs, it's important to coordinate your income requirements, tax considerations, and other intentions. This phase's goal is to positively impact the client's wealth on the lives of others — either heirs or charity.
Let's take a look at some things to consider while going through your legacy phase:
Equalizing ownership of equities while both spouses are alive
Making sure your assets go where you want them
Aligning your plan with your personal values
Accumulating unrealized gains for tax-free step-up in basis at the first death
Creating a strategy for the 10-year Inherited IRA stretch: tax rates of heirs vs. you, trust beneficiary issues, naming a charity as a beneficiary
Funding surviving spouses lifestyle with inherited assets
Avoiding tax of liquidating assets and distributing to heirs
Verify your intentions and gifting preferences are being executed
Transferring your assets in the most tax-efficient manner
Updating your estate planning documents
Ensuring all of your assets are titled properly
Learn more about the "domino effect" caused by changes to taxes, trusts, gifting limits and more. Find out what the new regulations did to open 6 estate planning "wormholes" in our downloadable PDF.