When most people think of retirement accounts, a 401(k) comes to mind. However, for employees of nonprofits or public entities, a 403(b) is typically the only option.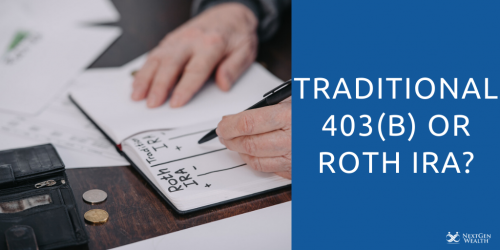 Because this account is handled differently than a 401(k), it's crucial to understand the ins and outs. In this article, we want to dive into these plans, including the difference between a traditional 403(b) and a Roth IRA.
It's never too soon to start planning for retirement, and the more you can understand about these accounts, the better. Let's get started.
What is a 403(b) Plan?
As with a 401(k), the title of this account type relates to the specific IRS tax code. While for-profit employers offer 401(k) plans, 403(b) plans are designed for those working at a nonprofit. Additionally, a 403(b) account can be provided to public service workers, such as teachers, nurses, and government employees.
In rare cases, a company may be able to offer both options, but, as we'll cover later in the article, your maximum yearly contribution remains the same. Simply put, even if you could have multiple retirement accounts, you can't double up your contributions.
What should you do with your old 401(k) or employer retirement plan? Download our free guide that reveals 5 options for old 401(k), 403(b), and some 457 plans.
Here are the basics of a 403(b) plan.
Contribution Limits
In 2020, an individual can put away up to $19,500 into a 403(b) with a salary deferral. If you are over 50, you can contribute an additional "catch-up" total of $6,500 each year.
Employer-Sponsored Contributions
While many employers do match payments into your 403(b), it's not a guarantee. In 2020, the maximum an employer and employee can put away is the less of either $57,000 or 100-percent of your salary.
As you can see, the fundamentals of these plans are very similar to a standard 401(k). However, as we'll get into in the next section, there are some specific advantages and disadvantages that come with a 403(b).
Benefits and Downsides of a 403(b) Plan Over a 401(k)
If you have the option of contributing to a 401(k) or 403(b), it's critical to understand how you can maximize your investment. Here is a quick breakdown of the top benefits of a 403(b) compared to a 401(k).
The 15-Year Rule
As we mentioned, workers over 50 can put away "catch-up" contributions every year until they retire. With a traditional 403(b), however, an employee with at least a 15-year history at a single public or nonprofit company can contribute another $3,000 annually. The lifetime total of this rule is only $15,000, but that's extra money that you can't put into a 403(b).
To qualify, you have to have worked at the same company for that long. Also, the business itself has to meet specific requirements. Best of all, you don't have to be 50 or older to start contributing. If you reach the threshold at age 35, you can start putting that money away immediately.
Immediate Vesting
If you're not familiar with the term vesting, it refers to when an employer-sponsored account becomes the property of an employee. Usually, companies will draft specific requirements for vesting to occur. For example, an individual might have to work for a minimum of five years before he or she owns all of the money in the account.
The point of vesting terms is to entice employees to stick around for a while. If the money vested immediately, the individual could leave and work for someone else with free cash from the employer.
With a 403(b) plan, however, company contributions can vest right away. Again, it's up to each employer, but the employee can be entitled to that cash much sooner than with a 401(k).
Lower Account Costs
Not all nonprofits and public companies offer matching contributions with a 403(b). If that is the case, the individual will usually wind up paying less in administrative fees. This is because the account isn't regulated by the Employment Retirement Income Security Act (ERISA). However, that can be a benefit and a drawback, as we'll discuss later.
Knowing what to do with your old employer retirement plan can be confusing. Download our free guide that reveals 5 options for old 401(k), 403(b), and some 457 plans.
Here are some downsides to 403(b) accounts.
Lack of Investment Options
Since 401(k) plans are the standard for most employees, they are managed by investment bankers and companies. So, if you want to be a little riskier with your retirement funds, you have the option to invest in a variety of entities. For example, you can put contributions into mutual funds, ETFs, and real estate investment trusts (REITs) if you like.
With a 403(b) plan, the only investment options are mutual funds with fixed or variable contracts. However, if your only option is a 403(b), it's far better than nothing at all.

Lack of Oversight
Unfortunately, not being regulated by ERISA can be a blessing or a curse. While your costs can be lower, your account isn't protected as much either.
Also, executives and managers can get disproportionately higher benefits and contributions, so if you're a low-level employee, you could get the short end of the stick. Finally, 403(b) accounts are exempt from nondiscrimination testing, so your employer can terminate the plan without warning, and you'd have no recourse.
Withdrawal Penalties
As with 401(k) plans, you will get hit with a 10-percent interest fee if you take money out before turning 59 1/2. However, some circumstances can alleviate that penalty altogether, such as leaving your job at 55 or older or getting diagnosed with a debilitating illness.
Overall, the downsides of a 403(b) can be significant, depending on your situation. Again, if it's the only option available, any retirement account is better than nothing.
However, keep in mind that you can contribute to a Roth IRA outside of any employer. If your job isn't going to provide matching funds that vest quickly, it may be a better choice to put your money in a Roth instead.
Comparing a Traditional 403(b) and a Roth IRA
Now that we've seen how a 403(b) plan compares to a 401(k), let's dive into the variations between a Traditional 403(b) and Roth IRA. Here's what you need to know.
Tax Payment
One of the primary advantages of contributing to a traditional 403(b) or 401(k) is that the total amount counts against your modified adjusted gross income (MAGI). Since you can put away up to $19,500 in a single year, that could lead to substantial tax savings.
For example, let's say that you make $40,000 in a year, which would put you into the 12-percent tax bracket. Your total tax burden would be $4,800. However, if you contributed $5,000 to your 403(b) account, your MAGI would be listed as $35,000. So, your new tax total would be $4,200, or a savings of $600 for the year.
That being said, you will have to pay taxes on that money when you withdraw it. However, the advantage there is that your new "income" is taxed at whatever rate you're at when you withdraw it. So, if you're in a higher tax bracket now (i.e., 22-percent) but a lower one when you're forced to take withdrawals, you can still save a lot of money overall.
With a Roth IRA, however, contributions are made with after-tax money. So, if you contributed $5,000 in a year, your MAGI is still $40,000. However, on the back end - when receiving your money - you don't have to pay taxes on it.
Learn about the pros and cons of all of your options with your old 401(k). Download our free guide that reveals 5 options for old 401(k), 403(b), and some 457 plans.
For a Roth, you won't have to pay taxes on any of the funds as long as you meet individual requirements. If you're at least 59 1/2 when withdrawing and have had the account for at least five years, the money is tax-free. Also, specific life events like buying a house or paying for a medical emergency qualify as well.
Contribution Limits
As we mentioned, you can put up to $19,500 into a traditional 403(b). With a Roth IRA, however, that limit is $6,000 per year, or $7,000 if you're over 50.
Additionally, Roth accounts have income restrictions. In 2020, if you make less than $124,000 individually ($196,000 as a couple), you can put away the full amount. Between $124,000 and $139,000 ($206,000 as a couple), you can make a partial contribution based on complex tax rules. If you make more than those maximums, you can't put money into a Roth unless you roll it over from a traditional IRA, but that's for another article.
Which One is Right For You?
Since you can open both a Roth IRA and 403(b) simultaneously, it's usually best to have both accounts. Also, since you can elect to defer more of your salary to a 403(b), that can help you save much more money for retirement.
When it comes to taxes and withdrawals, it's best to talk to a financial advisor about your specific situation. While the goal is to pay as few taxes as possible, there are many ways to alleviate your tax burden with a retirement account.
Be sure to contact NextGen Wealth today for assistance. We can guide you through this process and help you make the right decision for your money and your retirement.