There is a common misconception that being retired means you'll no longer need or want to bring in any additional income. This is far from the truth for many people that have found ways to generate additional income after reaching retirement.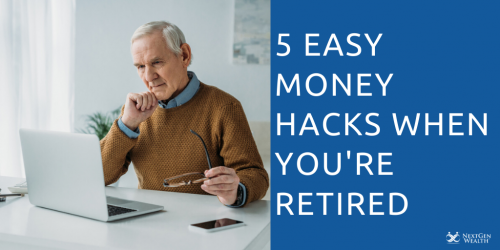 There are several tips and methods you can start using to stretch your money out more, and even continue making more. With all of the free time you'll have in retirement, you might as well put some of it to good use.
Even if you have a long agenda planned out for your retirement, you can still find ways to bring money in, even when you're busy. You may even end up making enough money to take multiple dream vacations and enjoy your post-work life to the fullest.
The following are seven easy money hacks when you're retired.
Balancing Retirement and Making Money
Before you decide to try any of these easy money hacks during retirement, you need to make sure you can balance your life after retirement. Take into consideration your health, the amount of time that you want to spend with your family and how much time to yourself you want.
Retirement is a time to enjoy the fruits of your labor and celebrate the achievements that you've accomplished during your time working. You've earned the ability to live your life the way that you want and relax. Try not to stress too much about money if you can help it, and don't overload yourself.
Not sure what a rich life means to you or if you need advice on how to enjoy the wealth you've built while protecting your future? Learn more about how to create your own rich life.
So, now that I've said my piece, let's get to those seven money hacks in retirement.
Planning Out Your Meals
Meal planning is an activity that's gaining in popularity for good reasons. Planning out your meals ahead of time can end up saving you hundreds of dollars on your monthly grocery bill.
Finding out which portions are the most appropriate for your appetite will prevent you from cooking too much food that ends up going to waste. This will also save you some time in your daily cooking.
You could spend an afternoon out of one day preparing a week's or even a month's worth of meals so you wouldn't have to worry about cooking for a few days. "I like to make a month's worth of meals in one afternoon," savings expert Lauren Greutman said in an interview.
"For only $150, I can make 20 dinners in just under three hours. I use ingredients from ALDI, and this helps me keep my grocery bill low and my stress level down." Meal planning is also beneficial for people that are looking to stick to a strict diet.
You can balance your meals with the proper nutrition that you require. You can avoid the temptation of eating junk food by sticking to your meal plan.
Convenience is a major factor that people consider when dining out. While it's perfectly reasonable to go out for a meal every once in a while, having a prepared meal ready may dissuade you from spending the extra money that comes with dining out. There are a wide variety of recipes that are suitable for storing in a refrigerator or freezer for an extended period such as salads, fish, meats, and soups.
Selling Your Unused Items Online
After a lifetime of taking vacations and purchasing various trinkets, items that you own may start to gather dust. While it may be difficult to let go of some of the items that you hold dear, especially if they hold sentimental value, selling your unused items online is an effective way of bringing in extra cash.
Some of your items may even hold much more financial value than you had originally thought after doing some research. Also, you can clear out some of the clutter and make more room within your home.
Art pieces, furniture, electronics, collectibles, and games are all items that have a fairly high demand online depending on the condition and usability. There are plenty of online marketplaces such as Facebook Marketplace, Ebay, and Amazon that make it simple for you to sell.
People often prefer to buy used items over new items for a variety of reasons such as a cheaper price and helping the environment. You can take this a step further and start a small business venture by buying products at a discounted or wholesale price and selling them for a higher price.
Buying and selling bulk electronics, for example, is a viable option if the products are in demand and you're willing to put in the effort. Make sure to do the proper amount of research before purchasing products to sell in order to avoid getting burned by a bad purchase that proves difficult to sell.
Looking to get the most bang for your buck with travel in retirement? Check out these 5 luxury destinations that global events have made unexpectedly cheap.
Work Part-Time at a Low-Stress Job
If you find yourself with a larger amount of free time than you can fill with activities that you enjoy, working part-time at a low-stress job is a great way to continue receiving income while in retirement. You've worked hard to achieve retirement, but there's no shame in continuing to work.
These jobs are fairly simple to acquire and are often suitable for anyone. Try to search for jobs that don't require any heavy lifting or physical activity, and negotiate with the employer if the job has these requirements.
Working in customer service at a retail store or restaurant is an excellent way to maintain sociability and even meet other retired people that you can connect with. Driving for a ride-sharing service such as Uber or Lyft, working as a cashier in a grocery store and working as a tour guide are also viable employment options for folks that are retired.
You can even work from home as a writer. Weigh all of the positives and negatives of working again to figure out if it's acceptable to fit into your retirement lifestyle.
Take Online Surveys
Online surveys are an excellent and simple way to generate extra income from the comfort of your home. There are plenty of online survey websites such as SurveyJunkie and SwagBucks that allow you to take short surveys for money or gift cards.
You may even be genuinely interested in some of the survey topics and find enjoyment in the process of filling them out. Some websites will pay better rates than others, but you can find the best websites by reading company reviews or through the process of trial and error.
Always do the proper research into the legitimacy of online survey websites to avoid getting scammed, and never share important personal information such as your insurance information or social security number.
Keep it Simple for Yourself
Some of these easy money hacks in retirement will require more of your energy and time than you're willing to put in. Fortunately, there are plenty of simple, everyday aspects of your life that you can change to save more money.
Drink water as your primary beverage and you will end up saving an unexpectedly high amount of money. It's perfectly fine to enjoy a coffee, soda or tea on occasion, but replacing these with water in most instances is a smart financial decision (and much healthier).
If you find yourself traveling through town often or partaking in social activities, consider carpooling with friends or family. If you live close to each other and you're going to the same place anyway, it's helpful for both parties to take turns driving for each other. Even if it's just occasional, it will save you money on gas and the wear and tear on your vehicle.
Gardening is an enjoyable activity that can end up saving you money by not having to purchase as much produce. Not only will you provide yourself with a new pastime, but you'll also be able to indulge in fresh fruits and vegetables.
Depending on the size of your garden and the plants, gardening is relatively low maintenance until it's time to harvest. Some plants will grow back each year, so you only need to invest in the seeds once. Make sure not to overload yourself with garden work to avoid it becoming a burden.
Take advantage of the free trials that companies offer for their services. It's incredibly disappointing to subscribe to a new service and end up not using it or disliking it.
There are plenty of useful services that provide free trial versions such as streaming services, music streaming, food delivery and many more. Using these free trials will allow you to make more educated decisions about your subscriptions and receive free content if you choose to not subscribe. Also, make sure to cancel any ongoing subscriptions that you no longer use.
Budgeting your spending will give you a clearer view of where you can save money. You may find yourself spending too much money on something that you can look to improve on.
When you do spend money, keep a list of these transactions and organize them by category. You may be surprised by how much money you spend on simple things such as coffee or recreational activities.
So there you have it, some simple money hacks that you can use and
implement in retirement
. If you have any questions about these, feel free to reach out and we're happy to help.