Although 2020 has been a roller coaster of a year, retirement planning should still be a priority, no matter how much time between now and then. Since the end of the year is fast approaching, now is the time to make preparations for contributions (or withdrawals) from your retirement accounts.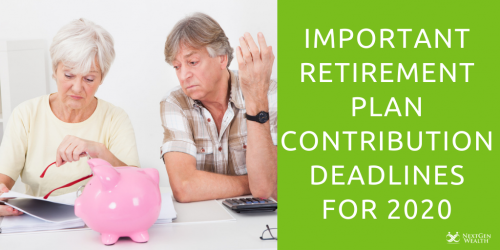 There are a few new rules to consider, as well as old regulations that can affect your potential tax burden. Here is what you need to know about retirement plan contribution deadlines for 2020.
Contributing to a 401k Plan
One of the most effective options you have for retirement planning is a 401k. Since you can put the most away into this account ($19,500 in 2020), you want to make sure that you can maximize your investment.
What should you do with your old 401(k) or employer retirement plan? Download our free guide that reveals 5 options for old 401(k), 403(b), and some 457 plans.
As with every other year, the deadline is December 31st. However, if you are like most workers, you contribute to the plan through payroll deductions. If that is the case, there could be a one or two-week delay, which may push you past the deadline.
So, rather than waiting until the last minute, you should be putting away as much money as possible right now. Even if you're sure that it will be handled before the end of the calendar year, it's better to be safe than sorry.
The first step is to determine how much you can contribute to reach the maximum limit. If you're at least 50 years old, you can add another $6,500 to your total, bringing it to $26,000 for the year. So, if you haven't put that much away yet, now is the time to figure out if you can take a pay cut for December.
One factor to consider when maximizing your contributions is that you can lower your adjusted gross income (AGI). This can be particularly helpful if you are close to a higher tax bracket. For example, if adding an extra $5,000 to your 401k will drop you to a lower bracket, it might be worth doing because you can save a lot more in taxes for the year. Just make sure that it won't force you to increase your debt as a result.

Consider Retirement Withdrawals
Whether you have an IRA or 401k (or, ideally, both), you should already be aware that you can get hit with a 10-percent penalty if you take money out before turning 59 1/2. This year, because of the coronavirus pandemic, Congress passed the CARES Act, which suspended the penalty if you withdraw before the end of the year.
While we don't recommend plundering your retirement accounts unless it is necessary, doing this will be far better than taking out extra debt. According to the Act, individuals can withdraw up to $100,000 without paying any penalties.
One thing to keep in mind is whether you might need financial help next year. Even if you're doing okay right now, what if you're forced to withdraw funds in 2021? If there is a chance that you'll need the money, remove it before December 31st so that you won't be hit with the penalty next year.
You can always put the money back into your retirement account later on. The Act allows individuals to return the funds within three years of the distribution without affecting your annual contribution limits.
Knowing what to do with your old employer retirement plan can be confusing. Download our free guide that reveals 5 options for old 401(k), 403(b), and some 457 plans.
Another point to consider is that you will have to pay taxes on these withdrawals since they will be regarded as regular income. However, taxes will be calculated separately, and you have three years to pay them off, so the burden shouldn't be too significant overall.
Skip Your Required Minimum Distributions
If you're already retired, you know that the IRS forces you to withdraw funds from a traditional IRA once you reach 72 (formerly 70 1/2). If you don't take RMDs, you have to pay 50 percent of the amount you would be paid on top of any taxes for the year.
Another element of the CARES Act is that retirees can skip RMDs for 2020. So, if you don't have to take the money out, keep it in your account to continue to build interest. Considering that your travel and dining plans have likely been interrupted for the year, you might have more cash on hand than usual. If that is the case, there is no reason to increase your yearly income and subsequent tax burden.
Take Advantage of the Saver's Credit (If Applicable)
Moderate to low-income individuals and couples can qualify for what's known as the Saver's Credit. Unlike a tax deduction that lowers your AGI, a credit is a dollar-for-dollar reduction of your tax bill. To qualify, you have to meet specific income requirements and have contributed to a retirement account during the year.
In 2020, the maximum income amounts are $32,500 for an individual, $48,750 as a head of household or $65,000 for married couples. Depending on your exact income level, you can save 10, 20 or 50 percent of your retirement contributions. The credit is up to $2,000 for an individual and $4,000 for spouses.
Because a tax credit can lower your bill more significantly than a deduction, it is worth trying to qualify. So, let's say that your annual income is close to the limit.
Because that number is your AGI, you can contribute the overage to a 401k or IRA (assuming that you haven't reached the maximum). If that overage is worth at least $4,000 (or $8,000 for married couples), you can get the credit and save at least 10 percent off of your total tax bill for the year.
To ensure that you're doing all of this correctly, we recommend working with a financial advisor. That way, you can avoid any potential hurdles and get the maximum credit. As with everything else, December 31st is the deadline, so you will have to act fast.

Adjusted Contribution Deadlines for IRAs
Individuals can contribute to an IRA until tax day (April 15th) of the following year. Best of all, that contribution will still count toward your filing for 2020. This extension can make a world of difference, as it could potentially allow you to lower your tax bill and qualify for the Saver's Credit, depending on your income level.
The maximum amount for IRA contributions in a given year is $6,000 ($7,000 for those over 50). So, if you haven't reached that total for 2020, you might want to take advantage of the extension, especially if you are close to a lower tax bracket. As we mentioned in the section above, if you can lower your income level to qualify for the Saver's Credit, you can reduce your tax burden in two different ways.
Overall, this extension gives you a bit more flexibility when planning for retirement. Even if you don't think you'll need the extra time, it might help to consult with a financial advisor to see if there are any potential benefits you could be missing.
Learn about the pros and cons of all of your options with your old 401(k). Download our free guide that reveals 5 options for old 401(k), 403(b), and some 457 plans.
Contact NextGen Wealth Today
With the end of the year approaching rapidly, you can't afford to wait on retirement contributions and planning. At NextGen Wealth, we can help you navigate these new rules and what they could mean for your tax bill and retirement income. Call us to find out more.