No matter how well things are going, disaster can always strike. Even worse, it does so without warning, meaning that you'll never be as prepared for it as you should. Unfortunately, for many Americans, these setbacks can have significant consequences on one's financial stability and security.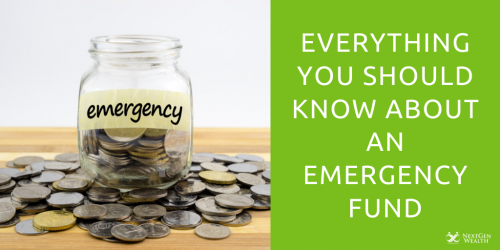 The best way to alleviate this fear and worry is to set up an emergency fund. If you haven't thought about doing this before, now is the time to start. Whether you have $5,000 in the bank or $50, it's never too early to begin saving for a rainy day. In this article, we'll break down the basics of emergency funds, as well as how to make sure that you're on the right track.
The Basics of an Emergency Fund
On the surface, the concept of having money for unforeseen expenses makes a lot of sense. Realistically, everyone should already have cash stashed away for those hiccups that can occur at various times in life. However, while emergency funds make sense on paper, many people don't have one.
So, if you're one of those unprepared individuals, the first step to building an emergency fund is to know how it works. Let's dive into the fundamentals so that you understand what to expect.
How Much to Save?
The amount in one's emergency fund will vary from person to person. However, a good rule to follow is that you should aim to cover at least one month's expenses on the low end, and six months on the high end. The reason for such a broad spectrum is that it's impossible to prepare for everything.
For example, if you get laid off from work, your fund will have to cover your bills until you find new employment. According to the U.S. Department of Labor, the average time spent looking for a new job can be up to 22 weeks. While you might be able to find something sooner, it's good to be prepared for a worst-case scenario.
In other situations, your fund might have to pay for a huge expense, such as a car repair or medical bill. If the cost is in the thousands of dollars, that can wipe out your savings immediately, which will put you in an even worse bind financially.
Overall, an excellent starting point is to look at how much you spend in a given month (not how much you make). To help you get a clearer picture, go through your bank records from the last six months to get an average. Also, if you pay cash a lot of the time, try to keep track of those expenses as well.
When building your average, be sure to remove any one-time expenses that aren't recurring (i.e., a vacation stay, car repair, etc.). These bills can throw off your average, so don't include them.
Once you have a number, that is your minimum balance. Again, in an ideal setting, you can save up to six months, but start with one and work your way up.
The best part about an emergency fund is that you aren't going to dip into it, so once you reach your goal, you don't have to keep saving. Not only that, but once you get into the habit of putting money away, you can continue to save for other things, like a new car or an extended vacation.
Where to Save Your Emergency Fund?
Chances are that you have both a checking and savings account. If you don't have both, then now is the time to open a savings account for your emergency stash.
That being said, it's tempting to put money away where it could grow much faster, such as in the stock market. While that does make sense for long-term investing, it's not as viable for an emergency fund.
When an emergency arises, you'll likely need some money immediately, so you can't wait for a couple of weeks for your funds to transfer to your checking account. Also, some high-yield investments (like certificates of deposit) have stiff penalties if you remove the cash early.
On the flip side, you don't want to keep your emergency fund mixed in with other accounts, like checking. The reason for this is that it will be too hard to keep track of which money you're saving and which you can spend. Instead, it's much better to have a separate account for emergencies. Doing this will also make it easier to track your total.
Fortunately, you can open a high-yield savings account with some banks or credit unions (especially online savings accounts). Now is an excellent time to look into those options to see what's available.
Be aware of any specific requirements, though, such as maintaining a minimum balance. You'll want to be able to tap out your emergency fund, just in case.
What Constitutes an Emergency?
While the details will change depending on your situation, an emergency is an instance where you need to pay for something, and your regular income won't cover it. That being said, you are the ultimate authority over when and how to use your fund. Here are some qualifiers to help you determine when to dip into your emergency stash.
Can your next paycheck cover this expense?
Is this expense immediately necessary? Or can you wait and save money to pay for it?
If you borrow cash or use a credit card, can you pay off the balance before the next due date?
Have you exhausted other financing options, such as borrowing from a friend or getting an advance on your next check?
Ideally, your emergency fund is there for when you really need it, not just to make life more convenient. A good tactic is to pretend that the money doesn't exist until circumstances require you to pull it out. This is why having the cash in a separate account is a good idea - out of sight, out of mind.
Following this strategy can not only help you maintain your fund for the long term, but it will help you get creative about paying for unexpected expenses. Another way of thinking about it is like this, "If I pull money out now, how long will it take for me to replace it?"
If you can put the cash back right away, it's not a big deal. However, if it will take months to get back to your current total, it's worth double-checking to see if the fund is absolutely necessary.
Tips for Creating Your Emergency Fund
Now that we've covered the basics of this fund, let's look at a few ways to get your money on the right track. If you're like most people, it will be a bit challenging to build an emergency fund, particularly one with six-months-worth of expenses.
However, by following these tips, you can be on your way. It might take a while to get there, but any progress is better than no progress.
Start Small
If your bank account is looking pretty lean, you might think that an emergency fund is out of reach. However, even if you start with five dollars, that's something. Adding five dollars here and there can add up relatively quickly.
One way to get into this mindset is to start paying attention to the things you buy. For example, if you're going to eat out, perhaps you make something at home instead and pocket the cash. Or, you choose a cheaper alternative and save the difference.
Not only will these small deposits lead to a bigger fund in the long run, but it will help train your brain to pay closer attention to your money and spending habits. Over time, squirreling money away will become second-nature.
That being said, you don't want to deprive yourself now just to save a few bucks. Start by focusing on where you can cut back on luxury items - such as making coffee at home - and build from there.
Pay Yourself First Before Paying Bills
Let's say that you determined your starting fund total should be $3000. If you saved $100 per month, it would take 30 months to reach your goal or roughly three years.
The key here is to balance time versus cost. Obviously, if you can put more away each month (i.e., $200), you'll get there faster. However, if you can't afford an increase, it's not worth setting yourself up for failure.
Once you have a total monthly savings amount, then you'll want to put it away immediately. Most people pay bills and other expenses first and then save whatever is left. However, it's much easier to start by paying yourself first and then using the remainder.
This way, you don't have to think about it later on. Best of all, if you find yourself with some extra cash after all, you can add that to the fund, knowing that it will grow that much faster.
This strategy also works with windfalls. Whether you find a $100 bill on the sidewalk or win $2000 in lottery tickets, be sure to put money away before spending the rest. Also, pay attention to any tax costs if you win money from somewhere.
Pay those first, and then save cash from the remainder. If possible, keep at least 30 percent or more. That way, you can enjoy spending the rest and have no regrets about it.
Emergency Fund vs. Debt Repayment
One of the most common questions that individuals ask is whether they should save money or pay off debt. While the answer can change based on your circumstances, I typically recommend getting to one month of savings and then splitting it 50/50 if you have high interest debt to pay off. Once the debt is paid off, you can then devote it all to the emergency savings fund.
Emergency Fund vs. a Slush Fund
A slush fund is something that you use for a variety of purchases. If you want a new outfit, or you want to go on vacation, you can put money into a slush fund to pay for it.
An emergency fund is much different.
Overall, you shouldn't dip into your stash for non-emergency expenses. If necessary, set up an individual account for both purposes - one for emergencies and one for fun.
Bottom Line: Now is the Time for an Emergency Fund, Not Later
The sooner you can get started on saving, the better you'll be in the future. Since you never know what can happen, you need to have money stored away, just in case.
If you need help setting up an account or managing your finances, be sure to contact us today. We can assist you with making the most of your emergency fund, so give us a call.