As you get older, there's a possibility that your health will decline to the point where you need assistance. This assistance can range from part-time help all the way to full-time assisted living.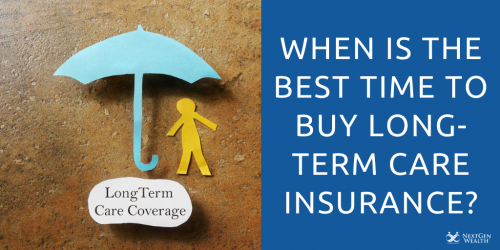 This long-term care is expensive, and without proper planning can financially devastate a person or couple. Paying for care with your own dollars will erode your nest egg and, depending on how big it is, it might even dwindle it all down before Medicaid swoops in.
Long-term care insurance is insurance designed to help people in this situation. However, it is a policy that must be planned for and purchased in advance.
It isn't possible to buy too early and end up paying more. If you bought 15+ years ago, before rates had stabilized, you would have had many rate increases. However, if you had waited, you would be paying exorbitant rates in today's dollars and the savings reaped from waiting would have disappeared.
In fact, yesterday I spoke with a lady, age 76, who bought long-term care insurance 12 years ago. She has a $220/day benefit for 4 years, 5% compound interest, 30 day elimination period. Her annual premium is about $4,000.
In today's world, my most competitive carrier would be charging her $15,700. Assuming her premiums had been level the whole time and she keeps the policy until age 85, she'll have paid $84,000. Had she bought today and paid until age 85, she'll have paid $141,300. I've run this scenario MANY times for clients over the years and, at most, I've seen a savings of about $1500 in total for buying just a few years later. So, buying too early does NOT result in paying way more over time than waiting.
The "Social Security Elephant" in the Room: When, Why, and How Should You File for Social Security? Check out our free step-by-step guide!
It is important not to wait too long to purchase coverage as each year you wait the premiums will increase as your application age increases. That likely will lead to purchasing a policy with a lower daily benefit to save on cost.
Ideally, the time to buy is when three things come into focus:
You realize you could be living a long life and perhaps need help to get through your daily routine
Your other financial priorities are in order and you have little left to spend to protect against the risk of paying for care
you are still healthy enough to qualify. For most, the ideal time to apply falls roughly between 50 and 65
It's not something that anyone wants to think about, but the chances are good that you or someone you love are going to need long-term care at some point in your life. If you're lucky, it will happen long after you retire, but that's not always the case.
If you've not given this much thought yet, you are not alone. The first thing to do is to have a conversation with your family. Who will be willing to help you, and what will you allow them to do? It's important to have a plan in place should the need for care arise, and sometimes having a long-term care insurance policy as part of that plan makes sense, especially if you want to minimize the hands-on involvement of your loved ones.
What is Long-Term Care?
Long-term care is non-medical. When you are hospitalized, your health insurance (or Medicare) will pay for your medical care, but when you stop progressing in rehabilitation, the insurance stops paying. The care required switches over from medical care, provided by nurses, to care provided by caregivers.
Things that long-term care insurance will cover include help with the 6 activities of daily living: transferring in/out of bed or a chair, bathing, dressing, eating, toileting, and continence. It will also pay for help if you have a memory/cognitive impairment like Alzheimer's. Depending on the specific situation, care can be provided in different environments
Home Care
Choosing to remain at home to receive care is a popular choice. At first, it is often the cheapest way to obtain care, if only a few hours per day or several visits per week are needed. Care will be paid for by the hour.
As time goes on and more hours of care are needed, the cost can become overwhelming, and choosing a different option may be appealing, especially when someone will still need to be present to help with housekeeping, yard maintenance, grocery shopping and meals, laundry, etc. At the time of writing, costs vary from $21 to $25 per hour with some companies having a set minimum of 2 hours per visit.
Assisted Living
Moving into an assisted living community will mean choosing one that fits you and your budget. Some are converted homes with just a few residents while others are large multi-building apartment-style neighborhoods. The goal is to assist you in living as full and normal a life as possible.
Each will include rent on your room, meals, housekeeping, and some entertainment options. Care will either be bundled in or paid through a-la-carte fees. Amenities and costs vary, and so do locations. At the time of writing, costs vary from $3,500 to $8,000 per month.
Skilled Nursing Facilities
Patients who require around-the-clock support often end up at a skilled nursing facility such as a nursing home. While this is another type of assisted living, it is more intense in that the patients in a place such as this are usually more medically compromised, and attempting a "normal" way of life just isn't possible.
Usually, these facilities provide a complete staff to look after all of the patients in their care. For many in long-term care, a skilled nursing facility is their final home. At the time of writing, costs vary from $5,000 to $10,000 per month.
Specialty Care
Several forms of specialty care exist too. Adult Day Care is a place for someone receiving care to participate in a day program that will include activities, opportunities to socialize, and of course to receive care while their primary caregiver is at work.
Respite care is another way that care can be received if a primary caregiver is facing burnout or has to travel out of town. Respite care is usually a short term rental of a room in an assited living community.
Memory Care is designed with a higher ratio of caregivers to patients and all staff receives specialized training. Memory care costs vary from $7,000 to $10,000 or higher per month.
What is Long-Term Care Insurance?
As the name suggests, long-term care insurance is insurance that specifically pays for long-term care. This is different from normal health insurance or Medicare.
Did you know that the majority of Social Security claimants fail to make the optimal claiming decision? Discover when, why, and how to maximize your benefits in this free guide.
Long-term care insurance is a way to fund the plan you have for your future care. Generally, your policy will be triggered by a cognitive/memory impairment OR the need for help with 2 or more of the 6 activities of daily living mentioned earlier.
The dollars are usually reserved for paying for only those types of care, but be sure to read your policy carefully, especially older ones as the specific triggers, kinds of care and even the approved care setting (home/facility) can vary.
The Cost of Waiting
There is a cost to buying long-term care nsurance, but there is also a cost to doing nothing. Self-funding and relying solely on your family and government programs such as Medicaid will likely limit your future options.
Families that step up and provide care can easily be torn apart by an unfair distribution of 'helping' between siblings, by conflicting thoughts about money decisions, and even by the caregivers becoming chronically ill or burnout themselves. To put it one way, if you need care your life isn't over, but someone else's regular way of life certainly comes to a temporary end.
Did you know there are over 2,700 Social Security claiming rules? Check out our free guide that will give you simple answers to when, why, and how to file for Social Security.
Buying a policy sooner rather than later has three distinct advantages:
You take advantage of your younger age and pay lower premiums
With the built-in inflation protection, your benefit will have more time to grow
You eliminate the risk that you will wait too long and your health will suddenly change leaving you unable to qualify for a policy.
Planning ahead is something you do to protect two things: your family and your assets (in that order). There are so many features and policies available. We would like to help you explore what might best suit your plan and your budget and, manage this risk just as we help you manage others.
As you can see, planning for the future can be tricky, and thinking about your long-term needs is just as much of an art as it is a science. If you would like to talk to someone about your next steps for long-term care insurance, don't hesitate to contact us today. We are ready to plan with you!
Dawn Crouch, LUTCF®, CLTC® is a long-term care insurance specialist and was a major help with this article. For more information, please contact us directly or reach out to Dawn at 913-312-5478 or dawnc@oliver-insurance.com.