Retirement doesn't quite mean what it used to. For many of us, the picture of retirement looked like kicking your feet up, traveling, and perhaps taking time to get into some new hobbies. You worked hard your entire life, and now it's time to take some much needed time off from work.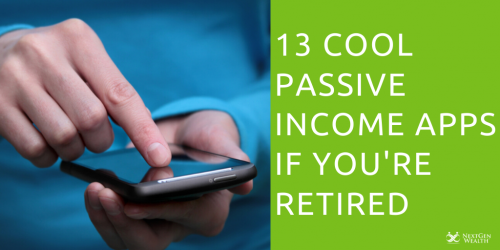 Today, that isn't exactly the case. As the average life expectancy for Americans keeps rising, more people are working well into their 70s. Even then, retirement doesn't look like it used to in that more and more retirees are continuing to work part-time, citing that the extra income is a nice boost and adds to their peace of mind.
Whether that is being used toward more opportunities for travel, investing, or giving more to your children and grandchildren, more and more retirees are continuing to work as long as they are able. Thankfully, with the boom in side hustles and the ability to earn passive income online, retirees have more ways than ever that they can supplement their pension, social security, and baseline income in retirement.
Here are some cool passive income apps retirees (and others too), websites, and ideas that you can use to make extra income in retirement.
1) Rent a Room in your House
Do you have empty rooms in your house that collect dust most days of the year? Why not use them to collect additional income instead. Renting out a spare room in your house is an excellent way to turn unused space into a viable side income. It can even be a great way to pay your mortgage.
The average AirBNB host makes $924 per month. Keep in mind that is going to vary from state to state and city to city where rents and mortgage can fluctuate in terms of how cheap or expensive they are. Depending on where you are renting a room, you can easily turn this side hustle into a really nice income in retirement.
Need help navigating your retirement income options? Get your free retirement income plan today!
2) Rent out a Property
Property has long been one of the most popular investment choices for retirees. The number of livable acres on this planet is limited, which is why we continue to see the price of real estate and land rise consistently every year. Some plan on paying off their house before they retire, and more people are investing in other properties they can rent out to boost their income in retirement.
Do you have a vacation home or another property in your area that gets used infrequently? If that's the case, you may have a nice side income opportunity on your hands.
Just like you can rent out an individual room on AirBNB, you can rent out a home or piece of property on services like AirBNB and VRBO. Renting out another property like a home, condo, townhome, or apartment is an awesome way to boost your passive income in retirement.
Companies like AirBNB either charge an annual membership to be a host on their website, or take a percentage of each booking that is made through their website.
3) Rent Your Vehicle to Travelers
Have a spare car that you keep on hand just in case you have friends or family in town? Maybe you have great access to public transit or are within walking distance of just about everything you need.
Renting your vehicle is another awesome way to boost your income in retirement. Services and apps like Turo and Maven are changing the vehicle rental industry by giving car owners the ability to rent and share their car for both long and short term rentals. On average, Turo car owners make $720 a month from renting their car to visitors.
Whether you have a car that you regularly don't use, if you don't need a car that often, or maybe you are going out of town on vacation, services like these give you the ability to make income off of your vehicles when you aren't using them.
4) Rent Your RV or Boat
Some of the most popular activities in retirement involve RVing and boating. With all of the newfound free time that you have, being retired lends you to be able to take long weekends on the lake or weeks at a time on a cross country road trip.
Much like you can rent out a room, your home, or even a car using applications and websites, you can do the same thing for your RV or boat. Companies like RVshare.com and Outdoorsy give RV owners the ability to rent their RVs to travelers in their area. These companies handle everything for their RV owners including
- Insurance for the renter and owner
- DMV checks on all drivers
- World-class customer support teams
- 24-hour roadside assistance for rental drivers
They can accommodate everything from one or two-day rentals to long term RV rentals for weeks at a time. Owners like you are making thousands of dollars off of their RVs every month, by renting them out to others.
5) Rent Out Your Gear
You may have noticed a theme in that a lot of these services and apps are oriented toward people who are traveling. What is something else that people might need to rent when they are traveling? The answer: Virtually anything that you can think of.
Take a look at
- Zilok
- and Splinlister
These websites and their rental networks give gear owners the ability to rent everything from photography equipment and bicycles to tools, gym equipment, electronics, musical instruments, and even sewing machines. Your trash or junk could easily be someone else's treasure.
Are you already enrolled in Medicare and curious if you could save money with a different plan? Check out our simple 3-step Medicare guide that could save you thousands in surprise medical bills or penalties.
Take an inventory of fun or useful household items that you have had sitting in your garage, the attic, or storage. If it has been useful to you at some point in your life, there is a good chance that it could be useful to another local or traveler in your area.
6) Capitalize on Credit Card Rewards
Credit card rewards programs have given us a way to get all kinds of benefits, perks, and rewards from charging expenses to our credit card instead of using our debit cards or cash.
Some of the most popular credit rewards programs will give you airline points and free flights for accumulating enough miles on your credit card. Others will let you earn cashback when you hit certain spending thresholds, or even earning credit back against your monthly statement.
Whether you are a travel fiend or are just looking to make some money back on the groceries that you are getting every week, it is well worth exploring the massive variety of credit cards and credit rewards programs that are on the market. There are some excellent resources and articles online that layout the cost and benefits of different cards and programs.
7) Download Cash-back Apps
Credit cards aren't the only way that you can get cashback on your purchases. There are dozens of great apps on the Apple, Android, and Google play store that will give users and customers cashback on everyday purchases.
For instance, Ibotta is a new app that lets you earn cash rebates on purchases from all kinds of restaurants, retailers, and movie theaters. Simply set up your account on the app, look up the retailer that you plan on spending with, and start earning cashback on your transactions.
Ibotta and the retailers will track your purchases and will transfer or wire your cashback on your purchases. Why not make money off of the money you know that you are going to spend anyway?
8) Write and Publish E-books
You might be surprised at how many retirees state that they want to write more in retirement. Why not make some additional income while you are honing your skill and cutting your teeth in writing?
The web has given us a slew of tools that we can use to make passive income, including the ability to create and publish ebooks for sale at little to no cost. Platforms like Amazon have given anyone and everyone the chance to be a published writer or author.
Who would have thought that publishing entertaining, informative, or educational ebooks are an awesome way to build your side income as well.
With no setup or physical publishing costs, simply publish your works to Amazon or a variety of other platforms and start making money with your writing.
9) Create and Teach an Course Online
Do you have a skill that other people want to learn? Or maybe there is a skill that you want to learn or master that you could teach to others. Online learning is not only a great way to pick up new skills quickly, but it is also one of the easiest ways you can make money off of skills and knowledge that you already have.
Online learning and education have been a booming industry over the course of the last decade. Some sources estimate that the global eLearning market will hit $325 billion by the end of 2025.
Elearning platforms like Udemy and Skillshare have given instructors around the globe the ability to earn solid part-time and full-time incomes from teaching international audiences online. No skill is too niche or too broad for eLearning.
You can find instructors teaching:
Business and personal finance
Investing
Online marketing
Photography
Cooking
Coding and software architecture
Music
Fitness
Meditation
And far more
Turn your skills into cash by teaching others.
10) Wrap Your Car
Wrapping your car with an advertisement is another simple and effective way to monetize your vehicle. Platforms like Carvertise and Wrapify give car owners access to a network of brands and advertisers that will pay them to wrap their cars with their branding, name, or logo.
Some of these companies do have strict guidelines on what kinds of cars they'll allow and restrictions on the shape that your car is in before they agree to wrap it. Start a profile on these platforms and shop around for car wrapping and advertising opportunities in your area.
11) Take and Sell Photos
It's incredible that we live in a time where our smartphones have become world-class photography and videography studios, giving us the power to take beautiful pictures and videos in our everyday lives.
If you enjoy taking pictures, posting your photos to stock photo websites is another great way to make money online. These websites give photographers the ability to post and share their photos on massive marketplaces so that people who need photos can pay to purchase or license your photos.
12) Start Blogging
Building an audience online has long been a powerful way to create a full-time income or side income on the web. Written content is still one of the most widely consumed forms of media on the internet,.
Hoping to retire in the next 5 years or less? Download our 3 Pillars of Successful Retirement Plans.
So, if you want another way to flex your writing muscles and make some dough in retirement, we recommend starting your own blog. Though blogging is a long-game strategy in terms of when you will see your first dollars trickle in, it is still one of the most dependable and tested forms of monetizing an audience online.
13) Create Apparel and Clothing
The internet is a great place for creative people to monetize their skills and talents, and clothing isn't going out of style anytime soon. With that, online e-commerce platforms like Teespring and Redbubble give creative folks the ability to sell their designs on t shirts and other forms of apparel.
You really don't even need to be that creative to publish and sell your own clothing. These platforms have their own built-in creation platforms that let you create unique designs and put text on all sorts of apparel.
Interested in learning more about creating passive income in retirement?
Contact us at NextGen today
.