10 minutes reading time
(2065 words)
Our Review of You Need a Budget (YNAB)
You Need a Budget, sometimes also called YNAB (pronounced why-nab), is a budgeting software. While it has been around since 2004, it first began receiving significant media exposure when it was voted the top personal finance application by Lifehacker in 2011.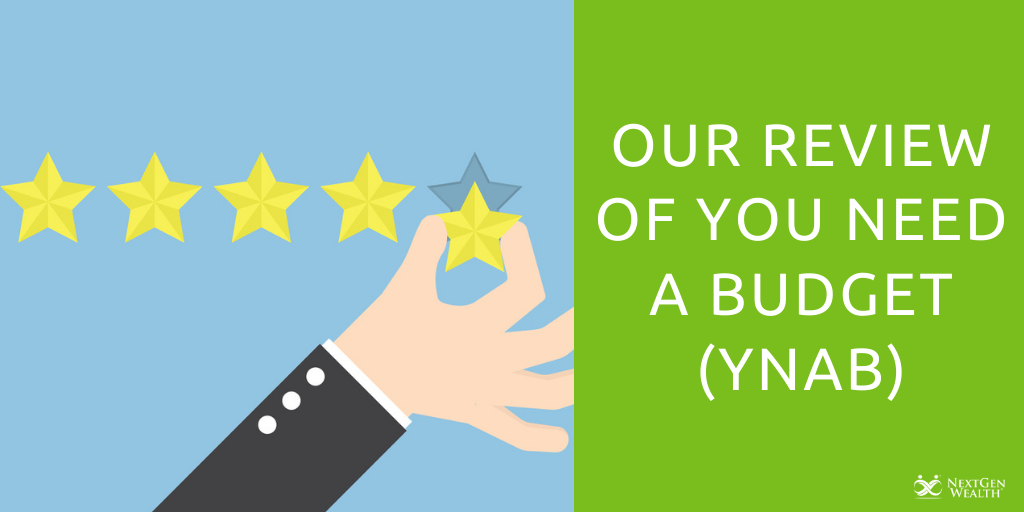 Over the past 16 years, You Need a Budget has become more than a budgeting program—for many of its hundreds of thousands of users, it has turned into a lifestyle.
If you have never used it before, you might be skeptical. YNAB markets itself less as a software program and more as a miracle. According to the company website, the average new budgeter saves an incredible $6,000 dollars in their first year.
That is a lot of money, and you are probably thinking if you had that many expenses you could simply eliminate, you already would have. However, YNAB helps identify and prevent unnecessary impulse spending. Over time, the money you save adds up.
Want to learn more? Read our review of You Need a Budget below.
Looking to take control of your finances and start planning your path to financial freedom today? Check out The Financial Freedom Blueprint® Course!
About You Need a Budget
YNAB is based on the envelope method of budgeting. With the envelope method, the idea is that you have a collection of envelopes, each labeled with the name and amount of your monthly expenses. At the beginning of each month, you divide all of your cash between the envelopes until the costs are covered, then save whatever is left.
While the process is sound, most people do not want hundreds or thousands of dollars stuffed into envelopes laying around their home, so that is where You Need a Budget comes in. It is a high-tech version of the envelope method that allows you to allocate the money you have right now toward various expenses. There is no forecasting involved and no living beyond your immediate means.
History
In 2003, Jesse Mecham was recently married and working his way through a master's degree in accounting. Neither of those scenarios makes earning or saving money easy, but Mecham was determined to try. He and his wife came up with four simple rules for budgeting.
Before spending anything, decide what you want your money to do.
Break major expenses into smaller, more frequent payments.
Do not be afraid to adapt your budget to changing circumstances.
Only spend money on what you have had for 30 days.
By September of 2004, these four rules had become YNAB and Mecham is now the CEO of You Need a Budget.
Technical Requirements
YNAB is compatible with most devices and systems. There is a web version, as well as their app that work on iPhones, Androids, iPads and Apple Watches. You can even connect You Need a Budget to your Amazon Echo.
Keep track of your budget across a multitude of devices, even if they belong to different members of your family. Everyone can work in concert to make your financial goals a reality. YNAB is easy to learn how to use, even if you are not tech-savvy.
What Distinguishes YNAB From Other Budgeting Software
You have probably heard that if you stop drinking coffee and going out to eat avocado toast that all of your financial woes disappear. Maybe they would, but you would also be miserable if you cut every little luxury out of your life. The point of having a budget is to make your life better in the future, not to deprive yourself of joy right now.
You Need a Budget differs from other budgeting programs because it focuses on the money you have now, not what you spend it on or any hypothetical future circumstances. YNAB meets you where you are, not where you would like to be five years from now and not where anyone else thinks you should be.
YNAB is Proactive
With You Need a Budget, you will not look at your monthly spending report, feel your heart sink and promise yourself that you will do better next time. Consciously make spending decisions before they happen rather than retroactively analyzing them. You are far more likely to meet a savings goal if you have a plan.
Stay Current
With many budgeting software programs, you lay your budget out several months in advance. It's reassuring to feel as if you have a long term plan, but when was the last time you stuck with one? With YNAB, you are only taking into account your current financial situation and expenses.
If you live paycheck to paycheck, this is an invaluable quality to have in a budget. You never know what is going to happen. Only making a budget for the short term not only makes it feel achievable, but it also allows you to adapt to changes in your circumstances.
You're in Control
You know the feeling you have when you find a few bucks in one of your pockets while doing laundry? It is exciting, but it should not be reminiscent of your budgeting habits. You want to be in control of your money, not hiding it from yourself.
With You Need a Budget, you build good spending habits and take control of your finances. You will not have to trick yourself into saving money anymore.
Cost Versus Savings With You Need a Budget
Once you know the necessary basic information about a budgeting software program, there is only one question on your mind. Will you save more money than the software costs? If not, it's not worth it.
Price
YNAB is available for roughly 12 dollars a month or 84 dollars a year. If you do the math on that, you save almost 60 dollars before taxes by purchasing a year-long license rather than renewing by the month.
Savings
Nearly 70 percent of Americans have less than 1,000 dollars in savings. That's a horrifying statistic. If your car breaks down or you have an unexpected medical bill, your funds could be wiped out almost immediately.
When YNAB says you need a budget, they are probably right. Having 1,000 dollars in savings is not enough to allow for an emergency expense, let alone retirement or buying a home. If YNAB works as well as it claims to, it could be well worth it.
If, as YNAB states, the average first-year user saves 6,000 dollars, the 84 dollar purchase price will generate an incredible return on investment. However, very few average people exist and You Need a Budget does not reveal the source of their data or what calculations they performed to arrive at that number. That is not to say that YNAB is lying, just that they could be more transparent.
With just the slightest effort, you might be able to save more than YNAB costs per year. Just how much you will save depends on your existing financial situation and spending habits. It might be a negligible amount, or it might be thousands of dollars.
Are you looking at how to create your own path to financial independence? Check out The Financial Freedom Blueprint® Course and start creating your own path today!
How It Works
YNAB works because it helps you make and stick with plans. There is no impulse spending, whether you are window shopping online or at the grocery store. Instead, every dollar has already been allocated either to save or to spend on something specific.
What Other People Are Saying
Most people seem to like YNAB. There are always a few dissatisfied customers, but from what we can tell, most of them started using YNAB thinking it would do all of the hard work for them. You Need a Budget is an incredibly helpful organizational and planning tool, but it does not perform miracles.
Benefits
If you are currently planning for retirement, did you see the COVID-19 pandemic and ensuing economic downturn coming? It's not just that the stock market dropped either. That, at least, would be consistent and predictable.
Instead, the market has been volatile, making many soon-to-be retirees nervous. Watching your life's savings wax and wane by thousands of dollars or more within a brief time is not reassuring, which has many people considering postponing their retirement until things are more stable.
Many users like that YNAB allows for unpredictability. It lets you build a flexible budget, helping you stay on track with your savings goals even when something unexpected happens. We would all prefer to avoid surprise expenses, but some cannot be prevented.
You Need a Budget is lauded for its philosophy as well. The four rules discussed earlier in this article are simple and make sense, which is what people like to see when it comes to their finances. The company's amiable tone should not be discounted either.
Finally, YNAB's community of budgeters is a fantastic resource. Their social media is full of helpful tips, and they have a forum for discussions and questions as well. It is easier to build a habit or learn new technology when you have the support of a community behind you, and YNAB offers that.
Drawbacks
We have seen several complaints that YNAB is more expensive than free programs with similar functions. That is true. However, YNAB appears to be so dedicated to your privacy and security that the added expense is, arguably, worth it.
While it is a fun and cheerful program with a dedicated community built around it, it is still financial software. Some users noted that it took a bit of time to adjust to the interface and learn how to use it.
Our Thoughts on YNAB
Did you know that 22 percent of Americans have less than 5,000 dollars saved for retirement? That will not support you for a year after you retire, let alone what should be the most relaxing and enjoyable decades of your life. We are big proponents of anything that helps people save money for the future.
YNAB is a great option for regaining control of your budget and reining in impulse spending, which can help you save a lot of money.
Benefits
One of our favorite things about You Need a Budget is their pricing plan. Not only is it affordable, they offer a 34-day free trial so you can decide for yourself whether it is the right choice for you.
When they say free, they mean it. There is no credit card required to sign up, and college students get 12 months free on top of the 34-day free trial. We love the idea of helping people learn to save money early in life.
We like that YNAB is aesthetically pleasing. That might not matter from a financial standpoint, but it is far easier to use an app with clean lines. The fact that it does not really resemble a spreadsheet is also motivating for most people.
Finally, You Need a Budget rewards hard work. You get out of things what you put into them, and that includes your savings account. The more dedicated you are to using YNAB and sticking with your budget, the better your results will be and the more you will save.
Drawbacks
The main drawback we noticed is that YNAB might oversell potential results. Some users may feel let down if they fail to save $6,000 dollars in their first year of using the program, even though that number is only an average. It is easy to start imagining what you could do with $6,000 dollars, but it is much harder to imagine the steps to saving that much even with a program's help.
Promising that anything is possible while highlighting success stories is an effective marketing strategy and, to YNAB's credit, they do point out that budgeting is not always easy. As long as you have realistic expectations for yourself and your bank account, you will not be disappointed. Who knows, you may be one of the people who save more than average!
Are you ready to start your journey to financial freedom? Check out The Financial Freedom Blueprint® Course and start today!
For More Information
If you want to learn more about how financial planning can change your life, contact us NextGen Wealth today for a complimentary 15-minute phone call and free financial assessment. NextGen Wealth has high ethical standards, and we firmly believe that your best interests should drive our decision-making process. Let us work for you.