10 minutes reading time
(1961 words)
How to Plan for Retirement When You Weren't Expecting It
You weren't expecting to retire at this time, but life has happened. Circumstances beyond your control have left you with little option other than retirement (forced or not), so you're probably a little scared and unprepared.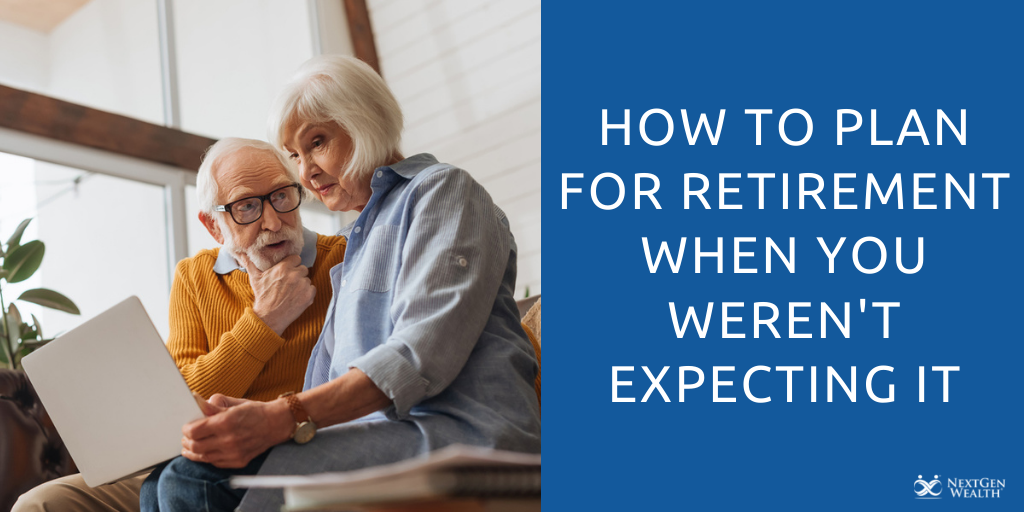 Maybe it's a medical situation, or you have to take care of a loved one, or maybe you were simply forced out/downsized. Whatever the reason, here are things you can do to help you plan for retirement when you weren't expecting it.
Are you going to be retiring before you expected? Learn how to make the "right now" decisions when sudden changes force you to consider retirement.
Breathe
This was a sudden bombshell to your world. The first thing you need to do is get it together and don't freak out. The way to do that is to just take a minute to breathe.
Breathe, calm down, relax and know it will all come together.
Know that life will look different for you, and it may be difficult financially in the beginning. But with a little planning and time, it will all work out.
Once the dust has settled, you'll realize that you have a lot of decisions to make. Among them, keep your mind on three things you will definitely look forward to in retirement.
Doing this will keep you optimistic regardless of what else life throws at you.
Don't Leave Without A Final Review of Assets
Make sure there are no discrepancies with anything your employer has given you. Review everything carefully. Note when your last paycheck is dated and determine if you've been fully compensated. This includes bonuses, stock options, commissions, or other benefits.
One of the benefits you will want to check is the balance of your flexible spending account (FSA). If you have one of these, learn the guidelines of your employer's FSA benefit and deadlines.
You'll want to submit claims for health care expenses before your last day of work to get reimbursed. You lose the opportunity to spend the balance if it's not used by your last day of employment.
Also, verify benefits you are still eligible for to ensure you still have them, like:
Dental and vision insurance: As we get older, we need these even more. Glasses, dental surgery … these things can be costly. If you don't have the proper coverage in retirement, you may not be able to afford them.
Life insurance: If you had only had life insurance through your employer, that could end 30 days after you're no longer employed with them. Start the paperwork to convert from a group policy to an individual policy if it makes sense for you.
Health insurance: This is one of the most costly out-of-pocket costs for individuals and families. If you currently have it through your employer, determine if you can still carry it during retirement if you're still not eligible for Medicare..
Know What You're Working With
The next thing you need to do is know how much money you're working with. Know what you have — sources for income — social security, pensions, annuities, savings, investment accounts.
Once you know how much income you have coming in, you can establish a retirement income plan to know how much you can spend monthly. The rule is, look at how much you have in those accounts and multiply your balance by 4-5%.
That's the approximate amount you can pull from those accounts annually with the expectation the money will last the rest of your life.
Educate Yourself in Your Retirement Options
Just because you're retired doesn't mean you instantly need to start receiving social security benefits. Nor does it mean that you need to start withdrawing from your 401(k) or other retirement sources.
It's always great to know you have options. Part of knowing what you're working with is so that you can plan. In planning, you want to know that you won't outlive your money. So, if you're able to hold off on certain sources, hold off if it makes sense.
But definitely turn to them when you've run out of sources and need financial help. Your plan is to have the best long-term outcome. Also, know when you absolutely need to start drawing from your other sources.
Claim Your Benefits
If you need additional income and you're unemployed through no fault of your own and meet other qualifications, you may even consider filing for unemployment in the beginning. You can do this through your state's unemployment office. Remember, this may be a temporary option until you figure how to earn additional income.
Know What You Need, Rather Than What You Want
Now that you know how much you're working with monthly, it's important to know how much you actually need every month. Make sure you cut back on things that maybe aren't necessary anymore.
Where you once had the money to buy the things you wanted, reduced retirement income may provide a sudden blow that lets you know that you are no longer in the position to have such luxuries.
Eliminate the extras for now.
You can always add them back later. But in this state of emergency due to the unexpected retirement, you have to know that you have enough to cover what you need first.
Know that you will always need healthcare. And the fact that you now have to plan for retirement when you weren't expecting it means you probably don't yet qualify for Medicare.
Medicare kicks in at age 65. So make sure you have a healthcare plan. If your former employer allows you an opportunity to continue utilizing theirs, regardless of how much it costs, then it may make sense to go that route.
Another health insurance option is COBRA, which stands for Consolidated Omnibus Budget Reconciliation Act. With COBRA, you and your family can continue to have health insurance coverage for up to 18 months after losing your current coverage through your employment.
The Health Insurance Marketplace plan is also available and varies by state. Your premium is based on your household income.
Is there a possibility you might be retiring unexpectedly? Check out our free guide on how to make sudden retirement decisions fast.
Consider Moving or Downsizing
Changing zip codes or downsizing your space may seem like drastic actions to some, but when it comes to your income, you have to be realistic. If you're living in an area where the cost of living is eating you out of 'house and home,' it may be time to consider living somewhere that's less expensive.
This is why so many retirees opt-out of communities they've been in all of their lives and live elsewhere in retirement. Or why they move out of their two or three-story house and move into a retirement village or a one-story home.
They want to be able to live comfortably in their retirement. They want to be able to do what's important to them. In the end, it's about you deciding what's most important to you — living large or living on what you can afford.
Update Your Resume
If you're planning to find another job, update your resume, LinkedIn account, and anything else where your skills and qualifications can be reviewed. Update your social media profiles and start preparing for something better.
You want to be ready for opportunity when it knocks. Start networking online and forming new connections as necessary.
Earn Extra Income
If you already know that money is going to be an issue, start looking at other means of work that could bring in some additional income. You've acquired a lifetime of skills. It's time to use them for the greater good.
You may want to consider thinking outside of the box and being a little creative or trying something you've always wanted to do but never had the time. You might even think about starting your own business such as consulting or whatever you think you might be good at or enjoy.
Determine How To Handle Your Retirement Accounts
You may have a 401(k), and if you do, you'll need to decide if you're going to roll your savings into an IRA or leave it in your employer's plan. With all of this, you'll need to compare fees, look at tax implications, and know when you'll need to withdraw money.
Pay Off One Debt
It may be difficult, but try to create a plan for getting rid of any debt you don't want to deal with in retirement.
Stay Optimistic
Above all else, stay optimistic in retirement. Although you may not have expected early retirement, you're in it. It's important to live in the present and deal with it. In doing that, appreciate all the opportunities you've been afforded and know that other opportunities are still in front of you.
This isn't the end of the road for you — just a detour. Sometimes retirement opens new doors for us and allows us to explore things we've always wanted to do but never had the time.
Questions to Ask for Retirement When You Weren't Expecting It
Life can be brutal, and things happen. We get hit unexpectedly from all angles, but it's a little scarier when it affects our livelihood. Here are some questions to ask yourself when you're hit with unexpected retirement. The ability to answer these questions will quickly help to put your entire situation into perspective.
How do I envision spending my time?
Will I start a new career, work part-time, travel, take up a hobby or do nothing?
What type of lifestyle do I expect?
Where do I want to live?
How will my significant other feel? What are their thoughts?
What type of retirement benefits am I eligible for? Do I still qualify for health benefits?
What type of pension will I be receiving?
Should I file for unemployment?
Will there be severance pay?
Do I need to make any changes with my beneficiaries?
What's my financial health? How much do I have in my investment accounts, 401(k) or IRA?
How realistic are my current expenses? Do I need to make adjustments? Where do I need to make adjustments?
How much longer do I have to pay the mortgage?
What is the status of my other debt?
Will I have enough money through investments and retirement accounts to live another 30 years?
How much money should I live off of every month for my money to last another 30 years?
Should I roll over my 401(k) or keep it where it is?
When should I start withdrawing my money?
Do I need to talk with a financial professional?
Is there a potential forced retirement in your future? Check out our free guide on how to make sudden retirement decisions fast.
Conclusion
The best way to deal with early retirement is to have a plan before it actually happens. Working with a financial advisor can help you do this. When you have a financial advisor, they can help you answer most of the questions on your checklist.
They can help guide you in the best direction for your future and show you how to not outlive your money. You go to a doctor for physical health; now it's time to ensure your fiscal health.
At NextGen Wealth, we help with retirement transition planning for individuals over 50. That planning can sometimes be unexpected. Whether unexpected or not, we can help you plan your perfect retirement.
Transitioning into retirement can be a struggle, especially if it's unexpected. You need to be sure you have the tools in place to ensure you'll be able to bounce back from this hit. Limit the financial stress; get a
free financial assessment
or
contact us
to help you figure out the next step in your retirement journey.