Investing for your retirement is important, but it's something that many people don't plan ahead for. Many of us are left scrambling for what feels like years or decades later trying to scrape together a retirement account or 401(k).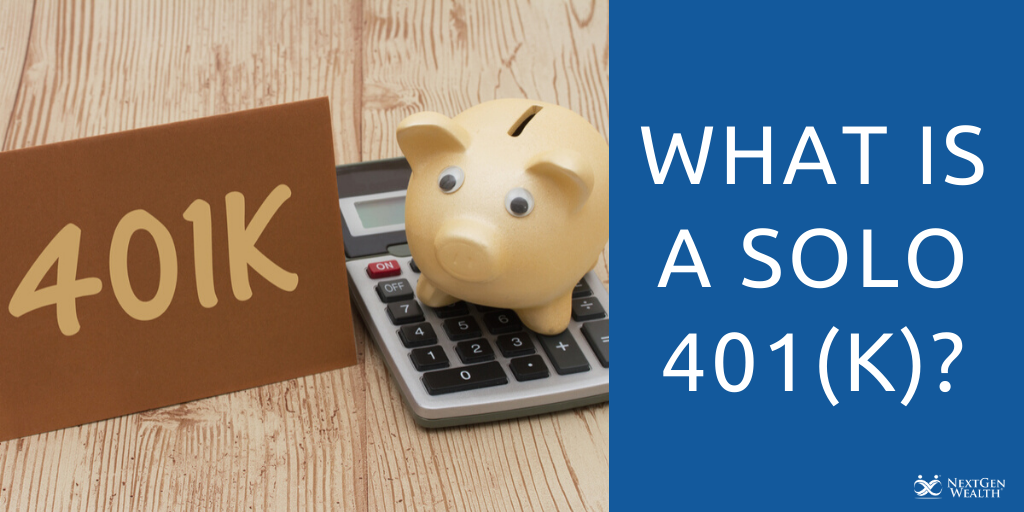 One question that we get fairly often in regards to retirement is: What options are available to me if I am self-employed?
If you don't work as a salaried and/or full-time employee or team member of a company, this can be a huge concern. Many companies set up 401(k) plans for their employees, but if you work for yourself, what are your options?
Thankfully, a wonderful innovation known as the solo 401(k) is available to those that are self-employed. Solo 401(k)s give self-employed individuals and business owners the opportunity to save for retirement
The History of Solo 401(k)s
Before 2001, self-employed workers didn't have many viable options in terms of retirement. They were largely limited to investing in profit sharing retirement plans, due to the lack of a full time or salaried position as an employee.
At the time, self-employed workers were limited to the Keogh Plan and SEP IRA. The drawbacks to those programs were the gaps they had in comparison to the traditional corporate 401(k) and employee deferral programs.
However, in 2001 Congress passed the Economic Growth and Tax Relief Reconciliation Act (or EGTRRA). This accomplished two important goals:
1. Gave self-employed individuals tax reductions
2. Gave them the ability to access retirement platforms closely related to that of a 401(k)
Thus, the Solo 401(k) was created to fill in the gaps that Keogh and SEP IRAs had left behind and to give self-employed individuals a more beneficial means of providing for themselves in retirement.
How do Solo 401(k)s Work?
To keep things simple, Congress made sure that Solo 401(k)s work very similarly to your traditional corporate 401(k)s. The biggest difference is that Solo 401(k)s are reserved for self-employed individuals, and the plan can be used to cover both them and their spouse. IRS rules specifically state that Solo 401(k)s cannot be used or contributed to if you have employees.
Who is Eligible for Solo 401(k)'s?
As long as you are self-employed and don't have any employees, there are very few restrictions on Solo 401(k)s. There is no age restriction or restriction on the level of income you need to start one.
Differences Between Traditional 401(k)s and Solo 401(k)s
Limits on Contributions
There are limits on traditional corporate 401(k)s, which means there are going to be contribution limits on Solo 401(k)s, right? To get a little clearer idea of how Solo 401(k)s work, it's best to think about them in reference to traditional 401(k) plans.
The annual contribution limits for employee 401(k)s are $19,500 for 2020. For employees over 50 years of age, they have the option of contributing up to an additional $6,500 to their plan.
There aren't any employee deferral programs when you are self-employed and you don't have an employer matching your contributions, so the annual contributions you can put into your Solo 401(k) can be much higher than that of traditional 401(k) programs.
Solo 401(k) plans differ from that of standard 401k(k)s in that self-employed individuals do not have an employing organization contributing to their retirement account. Normally, an individual contributes to a company 401(k) and the employer matches or contributes a percentage of that employee contribution.
Therefore, it is best to think of contributing to your own solo 401(k) as functioning as two people, instead of one.
The total contribution limit for Solo 401(k)s is up to $57,000 for 2020, more than double that of employer-based 401(k) plans. For those older than 50, you can take advantage of a catch-up contribution of an additional $6,500.
What about full-time employees with employer 401(k) plans that are also earning self-employed income through a side job? Unfortunately, this does not raise the total contribution ceiling on your separate 401(k) plans. The annual contribution limit is set across all of your plans, not for each individual plan.
Tax Advantages of Solo 401(k)s
Solo 401(k)s give you a little more flexibility in terms of how they and/or your income are taxed. You actually have two different options of how you can choose to be taxed if you are contributing to a Solo 401(k).
You can either choose to opt for the traditional Solo 401(k) terms in which all of your contributions reduce the income you report for the year that you made it. In this scenario, your retirement distributions will be taxed as ordinary income, when you withdraw them.
The other option that you have is the Roth Solo 401(k). This plan provides no initial tax breaks up front, so you will pay taxes on your income for the year, regardless of how much or how little you contributed. The upside is that when you withdraw or distribute from this account in retirement, you can do so tax-free.
Which should you choose?
The answer to that really depends on how much income you expect to make in retirement. The Roth Solo 401(k) option is going to be the better option if you expect your income to be higher in retirement.
If you don't think your retirement income will be as high as when you are working, it could be better to take the tax break now and just pay those taxes when you distribute them from your account. I would recommend speaking with your accountant or financial advisor before making this decision.
Covering Your Spouse on your Solo 401(k)
You cannot contribute to a solo 401(k) if you have an employee, but fortunately, the IRS does allow for one exception: if that person is a spouse that earns their own income from your business.
In the event that your spouse does work for your business, this can effectively double the amount that you can contribute to your solo 401(k) plans, as a family.
How does it work?
Essentially, your spouse can make elective deferrals to their own 401(k) as an employee of your company. In this event, their contribution limit would be set at $19,500 and can also include an additional $6,500 if they are 50 years or older. As the employer of your own company, you can then make a profit-sharing contribution to your spouse of up to 25% of their compensation.
Solo 401(k) vs. SEP IRA
A Solo 401(k) offers distinct advantages over a SEP IRA in a few key ways. For Solo 401(k)s, the Salary Deferral component makes it far easier to contribute the current maximum amount of $19,500. This is not available with an SEP IRA.
SEP IRAs do not offer the $6,500 annual catch-up contribution that Solo 401(k)s allow for. With a Solo 401(k) plan, you can take out a personal loan of up to $50,000 or 50% of the total account value, whichever is lower.
Benefits of a Solo 401(k)?
There really are a lot of advantages to starting your own solo 401(k). Before 2001, there were only a couple of different options that self-employed individuals could invest in for retirement. When Congress passed EGTRRA, that changed the game for self-employed individuals around the country.
Another benefit to Solo 401(k)s is that you have options. Whether you choose to pay taxes on your distributions later in retirement or you choose to pay taxes now, Solo 401(k)s give you the ability to choose how you are taxed. This is incredibly beneficial for giving self-employed individuals the flexibility to choose the option that can save them the most on their taxes.
Solo 401(k)s are also unique in that they give couples the ability to put even more into their retirement plan. The exception that the IRS allows self-employed individuals for being able to have their spouse as an employee lets couples invest more for their retirement. It also gives couples the ability to invest an additional $19,500, and an additional $6,500 if that spouse is over 50 years of age.
Just like your standard 401(k) you are also allowed to borrow from your Solo 401(k). Should you need to dip into those savings earlier, you can distribute funds from that account with similar stipulations that you would face in borrowing against a regular 401(k).
Reporting and Paperwork
Does starting a Solo 401(k) require any kind of additional paperwork or special filing with the IRS? The IRS requires that owners of Solo 401(k)s file an annual report (Form 5500-SF), but this is only if you have $250,000 or more in the total value of your assets at the end of any given year.
How to Open a Solo 401(k)
Solo 401(k)s are commonly utilized, and can, therefore, be opened through a number of custodians or financial advisors. You will need an Employer Identification Number (EIN) to open your account.
You will need to fill out an application for your account, and your advisor should provide a plan adoption agreement that you will need to sign and complete as well. After that is squared away, you are ready to start setting up and making contributions to your account.
Like a traditional 401(k) you will be able to access all types of investments which can include:
Index funds
Exchange-traded funds
Bonds
Mutual funds
Individuals stocks
Prior to the SECURE Act, a Solo 401(k) had to be implemented by December 31 of the tax year to be able to accept contributions for the year.
You can now establish a plan up until the tax filing date of the business, including extensions, and will be able to treat the plan as if it has been established on the last day of the prior year. Your new plan can now accept contributions for the prior tax year.
This time extension only applies to plans funded via employer contributions, such as the profit-sharing component of the Solo 401(k). Employee contributions via salary deferral won't be able to be made for the prior tax year in this situation.
Have questions? Feel free to reach out to us below and we are more than happy to help.