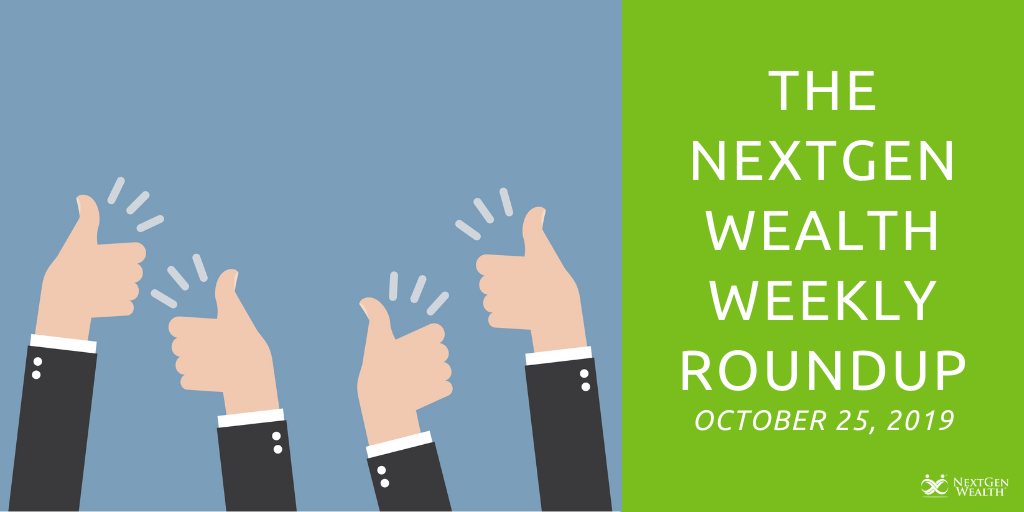 Welcome to the weekly roundup where I share with you interesting articles from across the web. I hope you enjoy and absolutely feel free to share and pass along.
Our Kansas City Financial Planner Weekly Roundup
Hello everyone and welcome to another edition of the NextGen Wealth Weekly Roundup. Hope you're having a great week!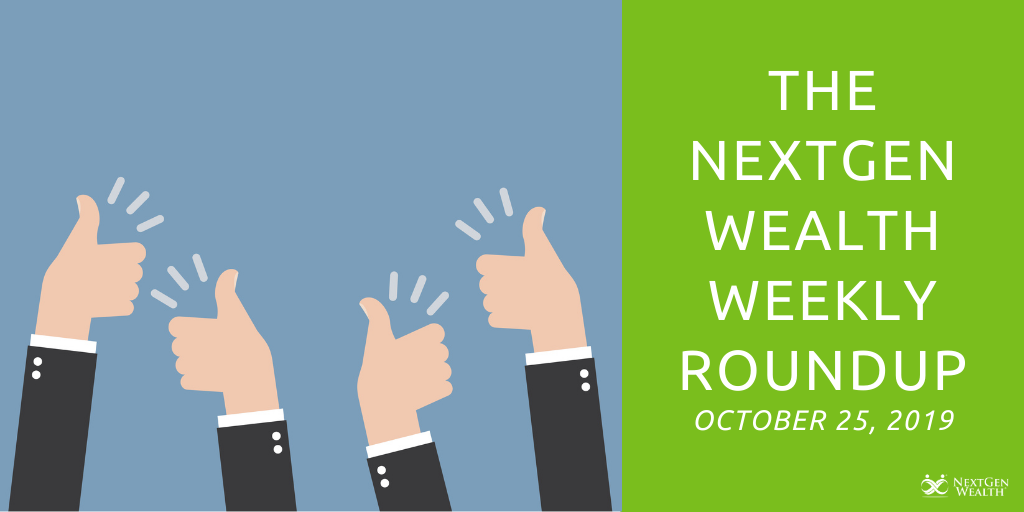 A combination of good numbers from Intel, as well as the apparent progress in the U.S. and China trade front (maybe?), have investors looking on the bright side of things. This had an effect on stocks today as we saw them rise this morning.
The S&P 500 had a great week as it traded above its record close. The Dow Jones and Nasdaq also traded higher, which all seems to be attributed to the news of a potential finalization in the trade deal.
A U.S. Trade Representative released news that the U.S. and China are close to finalizing parts of phase one of the trade deal. They apparently made some progress on some specific issues and are beginning to reach an agreement, which couldn't come soon enough!
Intel has more than topped expectations with their numbers released, which seemed to dampen the results from Amazon. Amazon's stocks dropped quite a bit due to the billions they're spending for free one-day delivery; this does not look good for the upcoming holiday season.
So enough of my commentary, let's jump in and check out some of the best articles I ran across from the past week. Enjoy the weekend and find some time to relax.
How to Negotiate A Salary Offer To Get The Most From Your Future Job
First up, we turn to Invested Wallet with some very helpful tips for negotiating a salary offer for a new job. Negotiating a salary can be stressful and slightly awkward if you aren't fully prepared ahead of time. But it is important to not avoid it altogether, as you could potentially earn thousands more or receive better benefits. Continue reading for what you need to know to be prepared!
Many times after the excitement settles, you'll find it's time to negotiate the salary offer. This alone can cause extra anxiety, stress, or you might want to avoid the negotiations altogether and accept whatever offer you get, maybe for fear of having the job swept away from you.
9 Early Christmas Shopping Tips to Save Money
Next up, we turn to Perfection Hangover with some practical ways that you can save money this Christmas. The time for overspending is just about here, but there is no need for you to blow your budget on gifts this year. There are many ways you can save money and stay under budget included in this article, one being an equation to figure out how much to spend on each child.
We're just ten short weeks until Christmas, and while I know we haven't even experienced our sugar coma from the kids' Halloween stash yet, the extreme budgeters are already planning early Christmas shopping. I remember my Mom putting gifts on layaway every year because it was the only way she could force herself to save for gifts.
Beware of Fake Money Experts with No Accomplishments
Next up, we turn to ESI Money who shares his thoughts on so-called "money experts" who don't have the experience or accomplishments to back up their claims. These people may claim to have all the knowledge about finances, but if they don't have the application of this knowledge, then their financial advice might not be the best to follow. Beware of journalists, bloggers, family & friends who all claim to be "money experts" without experience.
It's been a while since I've had a good rant about people posing as experts. I've gone off on the subject in the past and try not to repeat myself that often....but... ...sometimes it just builds up and I have to let off a bit of steam. 😉 So here we go...
101+ Restaurants Where Kids Eat Free
In our final read of the week, we turn to Bible Money Matters with some tips to save money while eating out with kids, as well as restaurants that give free perks to kids. Dining out with a family can get expensive, but there are plenty of restaurants that help you with that. Check out this article to find the next place to take your kids!
Our family ate out at a local restaurant the other night, and we ended up choosing the establishment because kids eat free there on Wednesday nights. We have two kids, and we like eating out. Our family doubled in size from two to four people within the past few years, and our dining out budget quickly got much more expensive.
Things We Were Up To This Week
Everyone has different ideas about how to spend money wisely. Some like to invest and save, while others have a habit of spending too much. "Living stingy" means something different to everyone. If you're already pretty frugal, living stingy could mean cutting back on some groceries, or attempting to cut back the electric bill.
Wrap Up
Enjoy the weekend and spend time with family and friends. Take a break from work and give your mind some well-deserved rest from the long week. Cherish the time you have with your family and I guarantee it will make your life much happier!
Follow us on social media and be sure to sign up for our monthly newsletter - I can assure you it's not the same boring financial newsletter you've seen before.