Welcome to the weekly roundup where I share with you interesting articles from across the web. I hope you enjoy and absolutely feel free to share and pass along.
Our Kansas City Financial Planner Weekly Roundup
Hello everyone and welcome to another edition of the NextGen Wealth Weekly Roundup. Hope you're having a great week!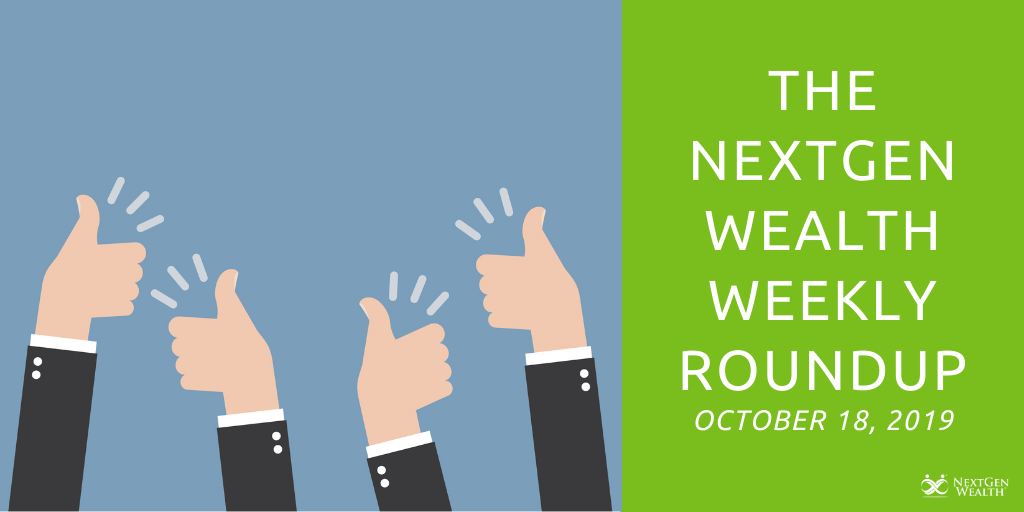 Concerns over the state of our global economy is still very much lingering, and we are seeing that in the market this week. China posted its weakest growth in 27 years, only growing 6%, which is lower than expected.
Being the second largest economy in the world, this is quite concerning. We saw this affect stocks this morning, as the Dow Jones, Nasdaq and S&P 500 all dropped from yesterday.
There still seems to be some positivity towards the trade talks, and sentiments seem to be improving just slightly. There's a lot of motivation to reach a deal, so this may result in a positive outcome.
There is hope that once these trade talks have been resolved and a deal has been made, that the Chinese economy may begin to improve again and see the growth shown in previous years. It all depends on whether a deal can be made in the fourth quarter, so we just have more waiting to do!
So enough of my commentary, let's jump in and check out some of the best articles I ran across from the past week. Enjoy the weekend and find some time to relax.
How to Save Money with a Flexible Spending Account
First up, we turn to Baby Boomer Super Saver with some helpful information and what you need to know about a flexible spending account. Some employers offer this as part of your benefit package, but maybe you aren't completely sure how it works and how to reap the benefits. This article goes over how you can use a flexible spending account to save money.
A Flexible Spending Account? I'd been working hard at saving the world in my current social work position when I first heard of the Health Flexible Spending Account (FSA). One whole year had gone by since I started this job. Was I taking advantage of all my benefits?
15 Ways to Survive Financially While Unemployed
Next up, we turn to My Life, I Guess… with some ways to make ends meet while you're unemployed. Having experienced it herself, Amanda shares some of the ways that she has been able to survive financially while she was unemployed, including side hustle ideas and ways to cut back your expenses. Continue reading for some more helpful information on what you can do if you're out of a job.
This post may contain affiliate links, meaning I may be compensated if you make a purchase using my links, at no extra cost to you. I truly appreciate your support! Please read my disclosure for more. If you are unemployed, you need to financially survive this trying time.
How to Buy a Used Car From a Dealership, Get New Car Financing and Save Thousands
Next up, we turn to Wealthlenial with the best tips and tricks you need to know to buy a used car from a dealership and save the most money. Buying a car can be a challenging experience and you could be getting tricked into extra expenses without knowing it. Being prepared ahead of time and knowing some of this information can help you save thousands on a "new" used car!
This post may have affiliate links, which means we may receive commissions if you chose to purchase through the links we provide (at no extra cost to you). Please reference our affiliate disclosure. Thank you for supporting the work we do here at Wealthlenial.
Have a Budget-Friendly Holiday: Inexpensive Gift Ideas for Christmas
In our final read of the week, we turn to How to Fire with some suggestions for budget-friendly gifts for all ages. Christmas can be a very expensive time of year and for some families, that can cause a lot of stress. But, there are plenty of budget-friendly gifts to give your loved ones that won't put you into debt this Christmas.
Gifts don't have to be expensive in order to be great! Read this guide for some budget-friendly and inexpensive gift ideas for the holidays.
Things We Were Up To This Week
No matter how old you are, it's never too early to start planning for retirement. However, while there are many different elements to this process, it helps to break it down into a few core components. Today, we're going to cover how to plan for the top three expenses in retirement.
Hello blog-reading folks! I wanted to let you know that I was just recently interviewed on the Financial Grownup podcast if you want to check it out. You can subscribe to the show on your favorite podcast player or just click the play button below.
Wrap Up
Enjoy the weekend and spend time with family and friends. Take a break from work and give your mind some well-deserved rest from the long week. Cherish the time you have with your family and I guarantee it will make your life much happier!
Follow us on social media and be sure to sign up for our monthly newsletter - I can assure you it's not the same boring financial newsletter you've seen before.