Welcome to the weekly roundup where I share with you interesting articles from across the web. I hope you enjoy and absolutely feel free to share and pass along.
Our Kansas City Financial Planner Weekly Roundup
Hello everyone and welcome to another edition of the NextGen Wealth Weekly Roundup. Hope you're having a great week!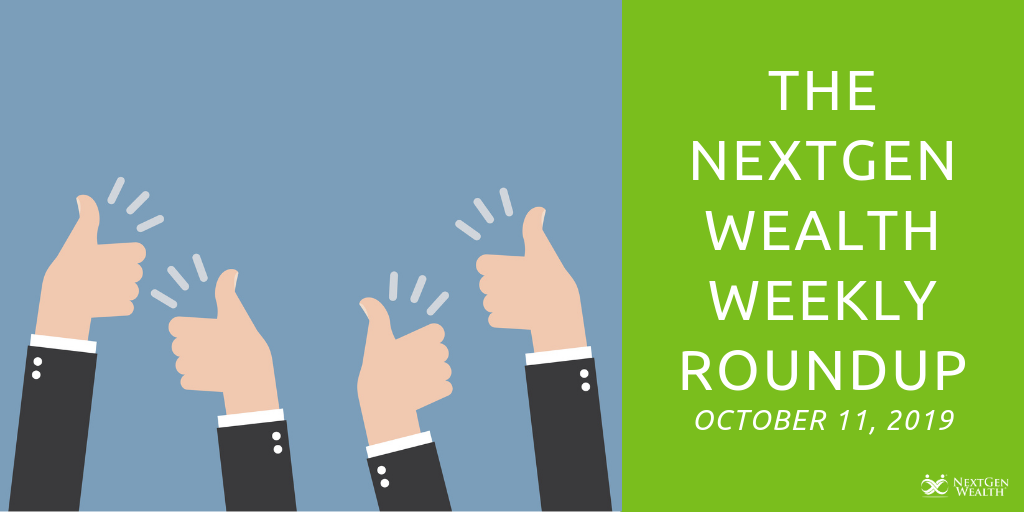 With Trump's announcement that "good things are happening" with the trade talks with China, investors have hope for a breakthrough. We saw stocks rally nicely today, making up for a week of losses.
Trump gave an upbeat assessment of his recent communications with China saying there are "warmer feelings" than before, which has given everyone a feeling of relief this week. Trump is set to meet this afternoon with China's lead negotiator, and we can only hope for a positive outcome...but we know how that's been going.
Technology stocks led the way higher, as they've been closely tracking the ups and downs in the trade war. Many companies rely on China for sales, so they are desperately hoping for good results in the trade talks.
There has been talk of the two sides at least making a deal that could avoid raising tariffs on Chinese goods but it's anybody's best guess at this point. The trade saga continues!
So enough of my commentary, let's jump in and check out some of the best articles I ran across from the past week. Enjoy the weekend and find some time to relax.
Going from IT to the Outdoors: The Ultimate Digital Nomad Starter Kit
First up, we turn to Think Save Retire with some helpful tips you need to know if you're looking to live a "digital nomad" life. A digital nomad is simply someone who moves around, but still continues to work through telecommunication. It's not an easy lifestyle, but it does have it's benefits. Continue reading to decide if a digital nomad lifestyle is right for you.
The freedom to travel the world is pretty damn incredible. The ability to control where we spend our time is a luxury unlike any other. And I should know. My wife and I travel full-time in our 30' Airstream travel trailer.
Don't Make These Mistakes With Your Wedding Gift Money
Next up, we turn to Budget Savvy Bride with some common mistakes made by couples with the extra cash made from wedding gifts. After all the expenses of throwing a wedding, the money you receive from gifts can be a huge help for any couple. But, it's important to be smart about what you do with that money to best benefit your financial situation.
This post may contain affiliate links. Click here to learn more. All those tangible gifts are nice, but do you know what most couples think the best gift is? If you guessed cash, you're spot on! As newlyweds, you may need the gifts listed above. However, cash is often in short supply.
Apply Bruce Lee Principles To Your Financial Education
Next up, we turn to Passive Income M.D. who ties Bruce Lee's principles to the journey to financial freedom. These were the principles that Bruce Lee used in his life, and also taught to his students. They are really beneficial principles that can be applied to our financial education, so continue reading for more helpful information.
This last week, I watched an interesting documentary that showcased elite athletes and some of their training regimens. In it, they mentioned something that stuck with me far after the movie ended. It was called "the Bruce Lee Principle" of finding your path.
Work Hard, Play Hard : Flawed Justification for Lifestyle Inflation
In our final read of the week, we turn to Educator FI with a look at the flawed principle of "work hard, play hard." This type of lifestyle can be harmful to our finances, as we justify our "playing hard" and spending money, based on how hard we work. Educator FI shares how this can happen and the problems that come with this type of lifestyle.
This post may contain affiliate links, which allow us to earn money at no additional cost to you. For more information, please read our Disclaimer. "Work Hard. Play Hard." It makes sense. You bust your ass at your job, work long hard hours and then when you're free you play equally hard.
Things We Were Up To This Week
As the old saying goes, money doesn't grow on trees. However, if you pay attention to some people's spending habits or online pictures, it can certainly seem that way for them. These days, it's never been easier to be jealous of everyone else, particularly if you're on a tight budget.
So who exactly am I at NextGen Wealth? It definitely seems like I can hold many different titles depending on the day, but for my bio's sake, I will stick with my professional title of Financial Planner - although you could go with Financial Advisor, Financial Consultant, etc., they're really all one in the same).
Wrap Up
Enjoy the weekend and spend time with family and friends. Take a break from work and give your mind some well-deserved rest from the long week. Cherish the time you have with your family and I guarantee it will make your life much happier!
Follow us on social media and be sure to sign up for our monthly newsletter - I can assure you it's not the same boring financial newsletter you've seen before.