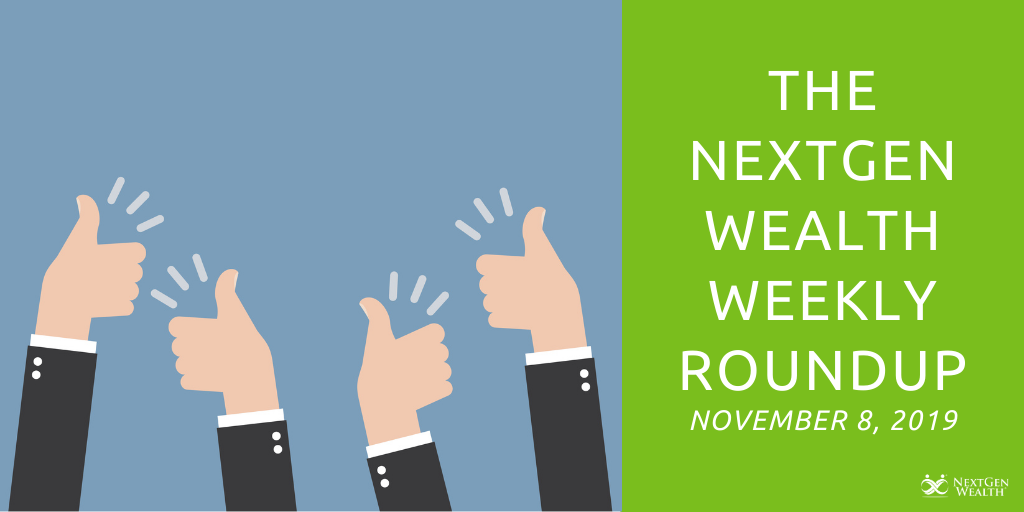 Welcome to the weekly roundup where I share with you interesting articles from across the web. I hope you enjoy and absolutely feel free to share and pass along.
Our Kansas City Financial Planner Weekly Roundup
Hello everyone and welcome to another edition of the NextGen Wealth Weekly Roundup. Hope you're having a great week!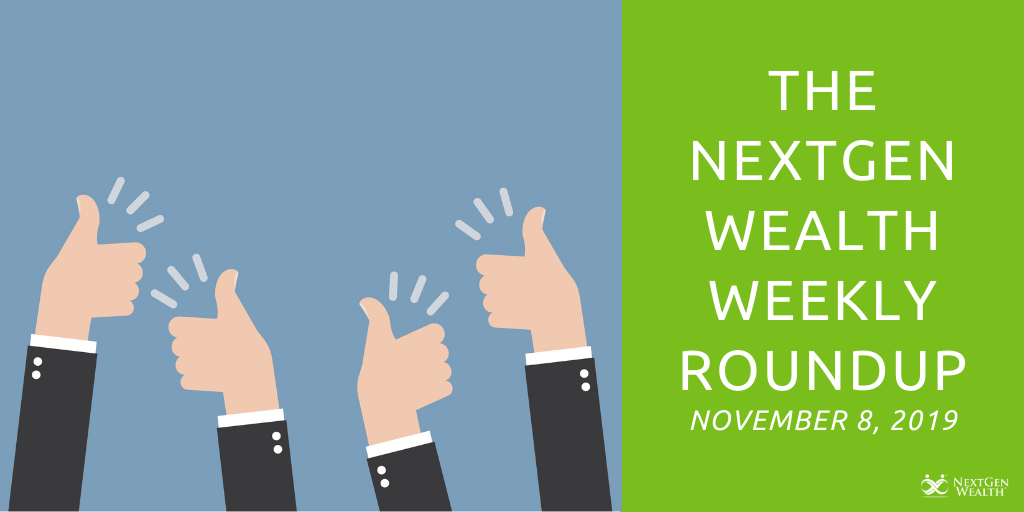 Uncertainty about a possible agreement between U.S. and China to roll back tariffs has kept markets in check today (what else is new). Both sides have agreed to reduce at least some of the tariffs on each other's goods, but it hasn't been fully clear on the extent of it.
A spokesman from China announced this news yesterday with the trade talks progressing, and we saw this trigger a rally in stocks. The trade war continues to make a big impact on our economy and we can only wait and see how the talks progress.
Stocks hit record highs yesterday with this news, but this came at the expense of the bonds. The 10-year Treasury yield had its biggest upward move since the 2016 election, which pushed down the price a decent amount.
Many are thinking this boom in stocks could continue into the next term. But there is no guarantee on that quite yet and we can only wait and see!
So enough of my commentary, let's jump in and check out some of the best articles I ran across from the past week. Enjoy the weekend and find some time to relax.
Budgeting Templates in Excel - My Favorite Tool
Next up, we turn to Debt Discipline with a look at some different types of budgets, how they can benefit you, and how to set up a template in Excel. Having a budget can simplify your expenses and help you know exactly where your money is going. Using Excel can keep it in one place and have it organized, so check out Debt Disciplines's favorite templates.
Here I go mentioning the 'B' word again. Let me get out in front of it and say I love using budgeting templates in excel to manage my money. An excel template was the primary tool my family and I used for over four years to track our $100K debt repayment progress.
Grocery Delivery Services: The Best Way to Save Time and Money in 2020
Next up, we turn to The Money Mix with a look at the benefits of using a grocery delivery service and which service is the best option. More and more people want the convenience of having their groceries delivered rather than spending precious time doing it themselves. Continue reading for more information on the different services and what you need to know.
How many times have you dragged yourself to the car to go grocery shopping? Yep, we get it. Grocery shopping is one of those chores that very few people enjoy. It's a love it or hate it scenario. The thing...
The Marble Movers: A Jarring Dividend Parable
In our final read of the week, we turn to Physician on FIRE with a fun look into dividends and a different way to look at them. In this article, PoF gives a very creative look into how dividends tend to work and gives you something to think about. Check out this article to get his perspective on dividends, and to read his creative parable.
It was unseasonably warm for late September in Portfolia. It was the time of year when the leaves began to change, the harvest was in full swing, apple orchards thrived, and the Marble Movers would make their quarterly rounds to the homes of each and every villager.
Things We Were Up To This Week
As family members, we have a natural inclination to volunteer when it comes to managing end of life affairs and estate planning. It's what we do. We make sure our parents, siblings and other extended family can count on us to pitch in now and in the future.
Wrap Up
Enjoy the weekend and spend time with family and friends. Take a break from work and give your mind some well-deserved rest from the long week. Cherish the time you have with your family and I guarantee it will make your life much happier!
Follow us on social media and be sure to sign up for our monthly newsletter - I can assure you it's not the same boring financial newsletter you've seen before.