Welcome to the weekly roundup where I share with you interesting articles from across the web. I hope you enjoy and absolutely feel free to share and pass along.
Our Kansas City Financial Planner Weekly Roundup
Hello everyone and welcome to another edition of the NextGen Wealth Weekly Roundup. Hope you're having a great week!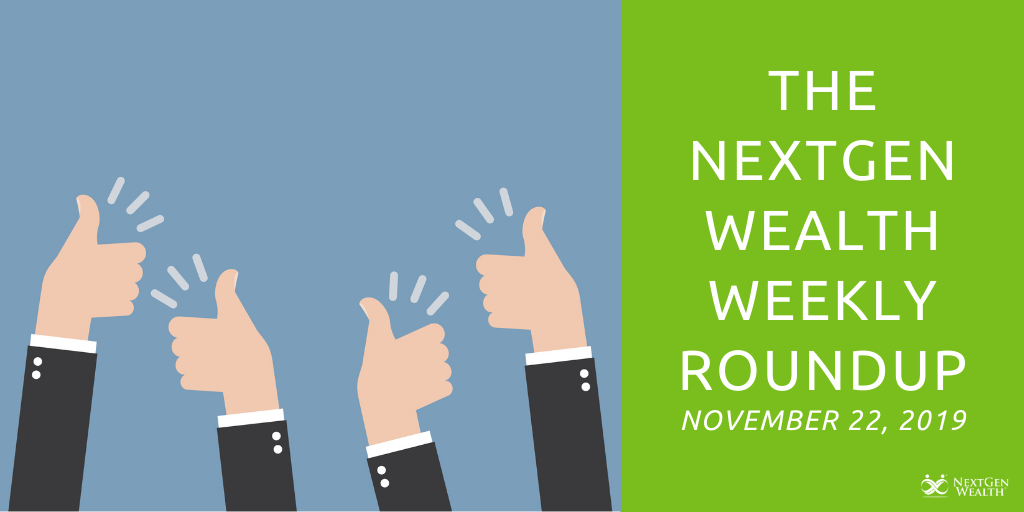 Stocks are up slightly today as a week filled with the progress of U.S. and China trade talks, or lack thereof, came to a close. Trump said that a deal between the two economies was "potentially very close" after Chinese president said Beijing is working to "try not to have a trade war", but may fight back if necessary.
Markets globally have been up and down with the uncertainty about whether these two will reach a deal soon, or at least stop it from escalating any further.
New U.S. tariffs are set to hit December 15th on many Chinese-made items that may be on a lot of holiday shopping lists. Many tariffs in place already have hurt manufacturing around the world, so this could potentially do even more damage to businesses.
Despite gains early today, the S&P 500 is still on pace to close with a loss, and if it stays this way, it would be the first down week for the index in the last seven. This would end it's longest winning streak in two years.
So enough of my commentary, let's jump in and check out some of the best articles I ran across from the past week. Enjoy the weekend and find some time to relax.
5 Money Lessons From "Terminator: Dark Fate."
First up, we turn to Surviving and Thriving with a look at some practical money lessons you can take from "Terminator: Dark Fate". You may not think that you could find personal finance lessons in a movie such as Terminator, but Donna shows how you can learn from the movie and apply it to your own financial situation. Continue reading for an interesting look at some money lessons.
Sometim es I go to the movies to be intrigued, uplifted and educated. And sometimes I go just to watch a whole lot of stuff get blowed up real good. You can guess into which category "Terminator: Dark Fate" falls.
Here are 9 Practical Ways to Cut Your Monthly Budget
Next up, we turn to The Money Mix with some helpful tips to cut down your monthly expenses. It is quite easy for monthly payments to add up and it's important to keep track of them. If you're looking to save some money each month, continue reading for some helpful ways to do so.
My wife, Cathy, and I have been on a mission in the last couple of years to cut expenses from our monthly budget. Monthly payments can add up quickly if you're not careful. Life happens in ways that can throw your plans off track.
Advantages of Credit Cards and Why You Need One
Next up, we turn to Just Start Investing with a look into the benefits of having a credit card and why you should have one. As long as a credit card is used correctly and not used to pile up on debt, it can be something very beneficial to your finances. Just Start Investing shares some of the many great advantages you can receive just by using your credit card.
This page may contain affiliate links. You can read more about how we make money to keep this website running on our disclaimers / private policy page. When used responsibly, the advantages of credit cards are nearly endless. In fact, credit cards are actually one of my favorite personal finance topics to talk about because of all the great benefits they offer.
6 Best Lessons From Rich Dad Poor Dad You Should Know!
In our final read of the week, we turn to Radical Fire with some reasons why Rich Dad, Poor Dad is a must read and some lessons that can be taken from this book. This book is a great financial read, that gives you a different mindset about money. Radical Fire shares some of the lessons you can get from this book and how you can apply them to your finances.
Disclosure: This post may contain affiliate links. That means, when you use those links to make a purchase, I earn a small commission at no additional cost for you. That's how I can keep the website up and running for years to come! Please read my disclosure for more info.
Things We Were Up To This Week
We all run into some tough times when it comes to money. Perhaps you've been randomly laid off, you're in between jobs or perhaps an emergency popped up and it requires funds. It's never fun being at the mercy of money, but you have the power to take control of the situation and make the most of it.
Wrap Up
Enjoy the weekend and spend time with family and friends. Take a break from work and give your mind some well-deserved rest from the long week. Cherish the time you have with your family and I guarantee it will make your life much happier!
Follow us on social media and be sure to sign up for our monthly newsletter - I can assure you it's not the same boring financial newsletter you've seen before.