Welcome to the weekly roundup where I share with you interesting articles from across the web. I hope you enjoy and absolutely feel free to share and pass along.
Our Kansas City Financial Planner Weekly Roundup
Hello everyone and welcome to another edition of the NextGen Wealth Weekly Roundup. Hope you're having a great week!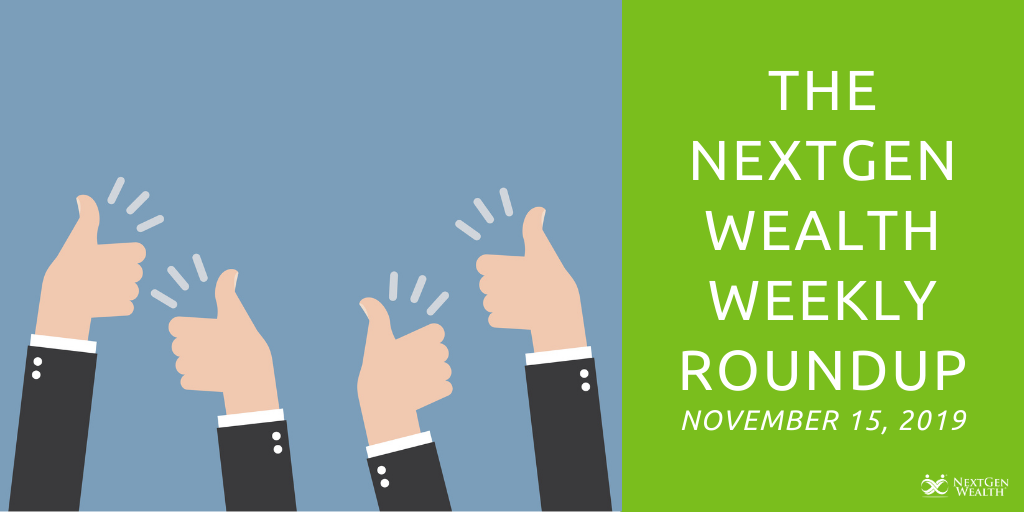 Stocks are hitting records and moving higher today after U.S. officials announced there is more progress in the trade talks with China. We've seen the market very sensitive to the U.S. and China trade talks, so the good news means good times for the markets.
The Dow Jones hit a record high today, trading over 100 points higher, and the Nasdaq and S&P 500 also made new all-time highs.
Technology stocks are the biggest winners this week. However, healthcare and industrial companies also made strong gains.
Investors can only keep hoping that the two biggest economies can finally come together to make an agreement. Especially before any new tariffs can take effect next month.
So enough of my commentary, let's jump in and check out some of the best articles I ran across from the past week. Enjoy the weekend and find some time to relax.
The Best Business Credit Cards for Your Small Business
First up, we turn to Physician on FIRE with a look at some of the best business credit card options if you have a small business. There are a lot of options to choose from, and it all depends on what type of benefits you prefer and how you plan to use the card. Continue reading for the information you need to know for some different credit card options.
Physician on FIRE has partnered with CardRatings for our coverage of credit card products. Physician on FIRE and CardRatings may receive a commission from card issuers. Opinions, reviews, analyses & recommendations are the author's alone, and have not been reviewed, endorsed or approved by any of these entities.
Why Fat FIRE Might Be My Only Way Out
Next up, we turn to The Money Mix with a look at what "Fat FIRE" is and why he thinks it may be his best option. Fat FIRE is basically early retirement with a higher spending rate, which means a higher net worth. There's a lot that needs to be considered if Fat FIRE is something you're thinking about and this article has the information you need to know.
Fat FIRE gives you more options in how to spend your time during retirement. Your budget might increase and you might live in a large city.
Best Cyber Monday Deals: Shop Safely
Next up, we turn to Debt Discipline on how to be sure you shop safely this Cyber Monday. It is important to go into this shopping season prepared and to know you are using secure sites. This article gives you the information you need to know to shop safely, as well as some helpful tips to get the best deals.
The holiday season is upon us. We all know what the means - shoppers looking for the best Cyber Monday deals. In 2018, Cyber Monday accounted for over $7.9 billion in online sales. Smartphones were the device of choice for consumers looking for the best Cyber Monday deals.
Disney+: Get the Full Scoop on Disney's New Streaming Service
In our final read of the week, we turn to Your Money Geek with a look at the newest streaming service, Disney+. This streaming service was the big news of the week as it was released on Tuesday. If you're considering signing up for this new service, this article gives you the information you need to know about pricing, devices, and more.
Streaming services are a great way to save money while still enjoying your favorite shows and entertainment. Disney's new service promises to deliver world-class entertainment at an unbelievable price: here is everything we know so far. The initial announcement of Disney's intent to create their streaming service, Disney+ occurred almost two years ago.
Things We Were Up To This Week
Are you in the market for a financial advisor and looking to know who are the best in the Kansas City area? Well, you've come to the right place. In today's post, I'm going to provide you with who I believe are the best financial advisors in Kansas City.
Wrap Up
Enjoy the weekend and spend time with family and friends. Take a break from work and give your mind some well-deserved rest from the long week. Cherish the time you have with your family and I guarantee it will make your life much happier!
Follow us on social media and be sure to sign up for our monthly newsletter - I can assure you it's not the same boring financial newsletter you've seen before.