Welcome to the weekly roundup where I share with you interesting articles from across the web. I hope you enjoy and absolutely feel free to share and pass along.
Our Kansas City Financial Planner Weekly Roundup
Hello everyone and welcome to another edition of the NextGen Wealth Weekly Roundup. Hope you're having a great week!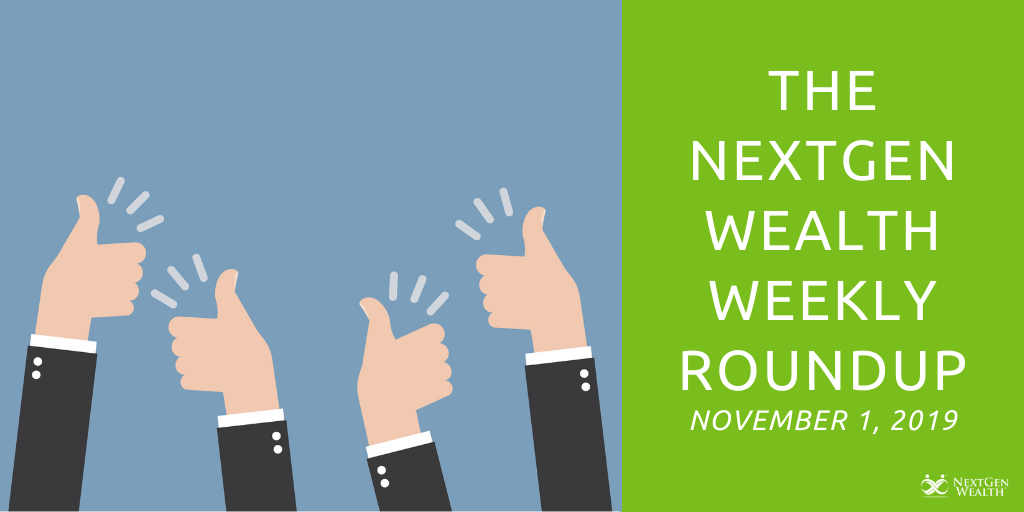 The release of higher-than-expected jobs data have investors excited today. The S&P 500 and the Nasdaq even hit some record highs, along with the Dow Jones making quite a big jump as well.
The U.S. economy added 128,000 jobs in October, which was still a very strong number despite the strike happening with General Motors that now seems to be resolved. The number released still surpassed estimates, even with a decline of 42,000 jobs from the strike.
The unemployment rate did go from 3.5% to 3.6%, but it is still near a five-decade low. And for the second month in a row, the average hourly wages rose a little bit compared to last year, which is another positive!
The job market has been a vital strength to the U.S. economy, despite the craziness of the trade wars and the overall global slowdown. We can only hope this
continues to into
the new year!
So enough of my commentary, let's jump in and check out some of the best articles I ran across from the past week. Enjoy the weekend and find some time to relax.
10 Smart Ways to Avoid Overdraft Fees
First up, we turn to Vital Dollar with some tips on avoiding those frustrating overdraft fees from your bank. If you are repeatedly overdrawing your account, then your overdraft fees could be adding up. There are some very simple solutions to this, one of these being waiving overdraft protection. Continue reading for more helpful information about overdraft fees.
This article is sponsored by Brigit. All opinions are my own. There's nothing more frustrating than overdrawing your checking account. Just when finances are tight, you get hit with more fees from your bank.
Pros and Cons of Refinancing Your Debt Using a Balance Transfer Credit Card
Next up, we turn to Peerless Money Mentor with a look at some of the pros and cons of refinancing your debt onto a balance transfer credit card. High-interest credit card debt can cause a lot of problems, and one way to fix that is using a balance transfer credit card. While there are benefits to choosing this route, there are also some downfalls that you need to be aware of.
Pros and Cons of Refinancing Your Debt Using a Balance Transfer Credit Card "What are the pros and cons of refinancing your debt using a balance transfer credit card?" Having high-interest credit card can make it extremely difficult for you to escape Broke Phi Broke.
Are Energy Resellers a Scam?
In our final read of the week, we turn to My Life, I Guess… with a look into her thoughts on energy resellers and if they are in fact a scam. Have you ever had someone come to your door offering a fixed rate on natural gas or electricity? Well, there's a very good chance it's a scam, and you don't want to get yourself stuck in one. Keep reading to be sure you're prepared for the next time an energy reseller comes to your door.
This post may contain affiliate links, meaning I may be compensated if you make a purchase using my links, at no extra cost to you. I truly appreciate your support! Please read my disclosure for more. A few years ago, shortly after my now-husband and I first moved in together, we had a representative from Summitt Energy come knocking on our door one evening.
Things We Were Up To This Week
When it comes to investing, putting money into stocks is one of the best options for the long term. However, as you can imagine, trading in the market can be complicated and somewhat confusing for first-timers. Fortunately, there are tons of resources on the subject, so getting started is all about doing a bit of research.
Hello blog-reading folks! I wanted to let you know that I was just recently interviewed on the Millennial Money podcast if you want to check it out. You can subscribe to the show on your favorite podcast player or just click the play button below.
Wrap Up
Enjoy the weekend and spend time with family and friends. Take a break from work and give your mind some well-deserved rest from the long week. Cherish the time you have with your family and I guarantee it will make your life much happier!
Follow us on social media and be sure to sign up for our monthly newsletter - I can assure you it's not the same boring financial newsletter you've seen before.