Welcome to the weekly roundup where I share with you interesting articles from across the web. I hope you enjoy and absolutely feel free to share and pass along.
Our Kansas City Financial Planner Weekly Roundup
Hello everyone and welcome to another edition of the NextGen Wealth Weekly Roundup. Hope you're having a great week!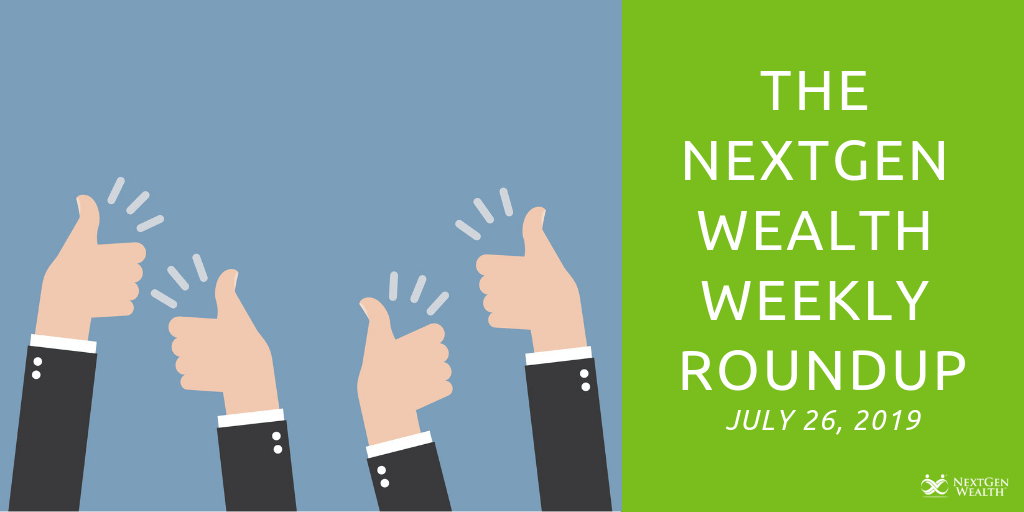 The trade war between the U.S. and China continues to cause problems for both countries economies. Even with consumer spending increasing, the U.S. economy has slowed in the April-June quarter. The gross domestic product grew at a 3.1% rate in the first quarter, but dropped down to 2.1% annual rate last quarter.
Consumer spending had a large increase from 1.1% in the first quarter, to 4.3% growth rate this last quarter. But even with this large increase and the big part consumer spending plays in the economy, the U.S. economy still saw a slowdown and could potentially slow throughout the rest of the year.
Another result of the trade war with China is the business capital investments falling for the first time in three years. Businesses seem reluctant to commit to projects due to the uncertainty with the trade between us and China. China has also seen their growth sink, as well as Europe. This global weakness is a large reason for the Fed cutting interest rates.
Stocks lowered from record highs Wednesday, after some large companies announced low earnings reports and disappointing forecasts. A big reason for this fall is the technology stocks; one being Facebook due to some ongoing investigations.
So enough of my commentary, let's jump in and check out some of the best articles I ran across from the past week. Enjoy the weekend and find some time to relax.
Use These Five Ways to Be Creative Working a Full-Time Job
First up, we turn to The Public Slate on some ways to have a creative outlet while working full-time. It is important for those not working in artsy fields to still exercise their brains and use that right-side brain. The Public Slate gives a few great ideas to do this, with one idea being getting out of the office and giving your brain a break. Read on for some more practical ways to use your creativity at work.
The balance is tough to find. Creativity isn't only for those of us who work in artsy fields. All of us, to some degree, need to let our minds run free. We must exercise our brains in unrestricted ways, figuring...
Being Homeschooled May Help Me in Early Retirement
Next up, we turn to Nathan from Millionaire Dojo with an interesting look at how being homeschooled could be beneficial for early retirement. Being homeschooled, you are often more isolated and learn to socialize in different ways from other kids. In retirement, you are also often isolated and have to adjust to a new way of life, and Nathan offers up why he believes being homeschooled benefits his retirement.
I did all 12 years of school at home and probably 80% of my college classes online. I always wanted to go to school when I was a kid, but looking back on it, I'm thankful I didn't.
Three Reasons I Prefer Bloggers Over Journalists
Next up, we turn to ESI Money with some thoughts on the benefits of bloggers and why they may be better than journalists in his opinion. Bloggers give a different outlook on topics and put more passion and personality into their writing than journalists may, which makes their writings a little more entertaining. Continue reading for some more reasons on why ESI Money prefers bloggers.
It's been a while since I've done a more rant-y piece and even longer since I've posted something in my "Not Experts" category. Today's post will catch us up in both of these areas. One thing I enjoy about early retirement is the amount of learning I get to do.
Here's How You Can Retire by 40 on $40K in 4 Simple Steps
Next we turn to The Money Mix with some practical ways to retire early starting with $40K a year. Instead of aiming for six figures, this article offers up a more realistic goal for retirement as a starting salary. The Money Mix offers four different steps to help you reach this more attainable financial goal.
Ignore all of the noise and fancy words like tax-loss harvesting and geo-arbitrage. They can be off-putting and make things sound more complex than they need to be. I'm going to show you in four steps how it can be possible to reach financial independence by the time you're 40 years old while earning $40K a year.
Here's When I Ignored My Golden Handcuffs and Left My Job
In our final read of the week, we turn to Ross from Real Finance Guy with a look into when he decided to put aside his "golden handcuffs" and leave his job. Golden handcuffs usually refers to the financial benefits that a company offers well-paid employees in order to keep them at the company. It can be hard to decide when to leave these behind at your current job, but Ross offers his thoughts on the topic.
You might assume that once you have gotten your offer, started at your company, started to exercise and sell your options then most of your decisions are already done. Unfortunately, the hardest decision is left to be made: when to leave.
Things We Were Up To This Week
You've put your time in, and now it's time to enjoy the fruits of your labor. Retirement is all about taking it easy and living life on your terms. No more keeping a tight schedule, no more putting those celebrations and life experiences off until later. Now is your time.
Wrap Up
Enjoy the weekend and spend time with family and friends. Take a break from work and give your mind some well-deserved rest from the long week. Cherish the time you have with your family and I guarantee it will make your life much happier!
Follow us on social media and be sure to sign up for our monthly newsletter - I can assure you it's not the same boring financial newsletter you've seen before.