Welcome to the weekly roundup where I share with you interesting articles from across the web. I hope you enjoy and absolutely feel free to share and pass along.
Our Kansas City Financial Planner Weekly Roundup
Hello everyone and welcome to another edition of the NextGen Wealth Weekly Roundup. Hope you're having a great week!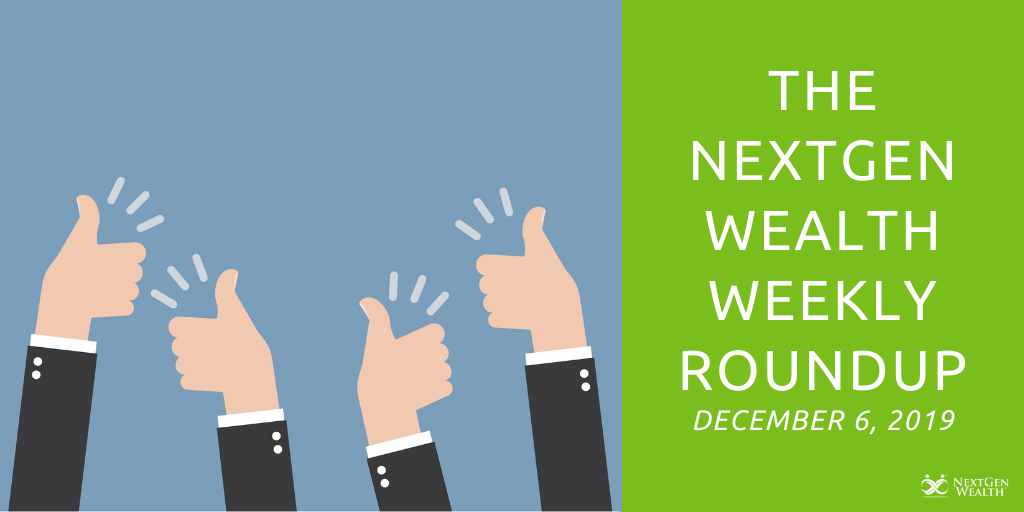 Stocks rose today after a strong jobs report was released, and easily surpassed expectations. Dow Jones was up 300 points, with the S&P 500 and Nasdaq up much higher as well.
The U.S. economy added about 266,000 jobs in November, according to the latest report released by the Labor Department. This far surpassed the estimate of 187,000, and the unemployment rate fell to it's lowest number since 1969.
After a rough start to the year, it seems our economy may be ending on a high note, which may help us in future trade war negotiations. There were some mixed signals on the trade war front this week, with China saying it wants tariffs canceled as part of the phase one deal, while President Trump is saying he can wait until after the 2020 election to come to a deal.
But, Trump still is assuring that the two countries are closer to reaching a deal. We will continue to watch and see how the negotiations progress!
So enough of my commentary, let's jump in and check out some of the best articles I ran across from the past week. Enjoy the weekend and find some time to relax.
How to Save Money on Life Insurance
First up, we turn to The Money Mix with a look at some potential ways to save money on your life insurance policy. It is important to have a policy that covers what you need, but not have a premium higher than you can afford. Here are some ways that you can save on a policy and still get the right amount of protection.
The following are some of the best ways to get a great deal on a life insurance policy that I've shared with my clients over the years. By applying the following tips, you can easily save money on your premiums while still getting the right amount of protection for your needs.
5 Ways to Keep Your Packages Safe
Next up, we turn to Family Tech Zone with some helpful tips to keep your packages safe during this holiday season. If you're like most people nowadays, you prefer to do most of your shopping online, which means a lot of packages arriving at your door often left unattended. There are more and more "porch pirates" out there lately, so it's important to be sure your packages are safe!
Worried about porch pirates stealing all of your Black Friday deals? Don't worry, we've got you covered! It's that of year again! When Amazon packages start arriving en mass, not that they ever really stopped, right?? Now that Black Friday and Cyber Monday are here, packages are going to start piling up on your porch!
Minimum wage to doctor's salary: what I've learned about the value of money
Next up, we turn to BeThree with her look at how she learned the value of money going from working minimum wage to a doctor's salary. Working a minimum wage job, you have to learn how to best use your money to make it last, and this can teach many helpful lessons. BeThree shares some practical lessons she learned and how she applies it to a doctor's salary now.
A lot of people I met in medical school and even now, have never worked before becoming doctors. Many of them grew up in affluent families and never had to work as teenagers, then of course they were too busy studying to get into medical school and then too busy trying to survive medical school.
15 Simple Hacks to Save Money on Amazon This Christmas
Next up, we turn to Frugal Rules with some simple hacks that could potentially save you some money on Amazon this Christmas season. As we mentioned above, many people prefer doing their Christmas shopping online nowadays, and Amazon is the most popular way to do it. So if this sounds like you, then this article could help you save some much needed money on Amazon this year.
I'm a big fan of shopping on Amazon. With the holidays upon us, it's time to start thinking about ways to save money on Amazon this Christmas. Let's face it, going out to the mall sucks at Christmas pretty much any time of the year.
Practical Gift Ideas for the Unemployed in 2019
Next up, we turn to My Life, I Guess… with a look at some practical and beneficial gifts you can give to someone in your life that may be currently unemployed. Being unemployed can be very difficult, especially around the holidays. Give them something that they can use for their job hunt, and also makes a thoughtful gift as well.
This post may contain affiliate links, meaning I may be compensated if you make a purchase using my links, at no extra cost to you. I truly appreciate your support! Please read my disclosure for more. Being unemployed is incredibly difficult. Especially around the holidays.
The Creative Kids Gift Guide: Sewing, Cooking, Science+
In our final read of the week, we turn to Gluesticks by Brandy Nelson with some gift ideas for that creative kid in your life. Arts and crafts are a fun way for children to spend their time and also get to exercise their creativity. If you are looking for your next gift for a creative kid, this article gives a lot of great options.
The ultimate list of creative gifts for kids. The creative kids gift guide includes over 35 sewing, textile, crafty food, science, craft, cooking and baking gifts! This post contains affiliate links. My kids have been huge fans of craft and science kits and we usually have a few under the tree come Christmas time.
Things We Were Up To This Week
Have you recently come into a $50,000 windfall, such as an inheritance? You may be tempted to buy a new car or take your family and friends on a dream vacation. But before you do, stop and consider all of your options - including saving the money...who would've thought a financial advisor would recommend this.
Wrap Up
Enjoy the weekend and spend time with family and friends. Take a break from work and give your mind some well-deserved rest from the long week. Cherish the time you have with your family and I guarantee it will make your life much happier!
Follow us on social media and be sure to sign up for our monthly newsletter - I can assure you it's not the same boring financial newsletter you've seen before.