Welcome to the weekly roundup where I share with you interesting articles from across the web. I hope you enjoy and absolutely feel free to share and pass along.
Our Kansas City Financial Planner Weekly Roundup
Hello everyone and welcome to another edition of the NextGen Wealth Weekly Roundup. Hope you're having a great week!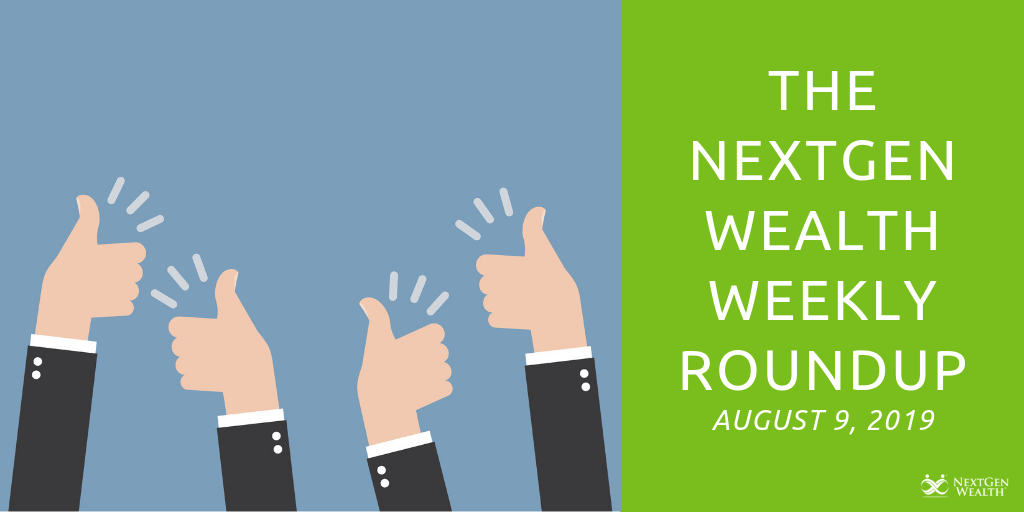 Stocks traded lower today after a wild week of the market lurching up and down. The trade war continues to cause worry and sharp losses in the market as Trump says the U.S. is not ready to come to an agreement with China.
The Dow Jones was down 90 points, the S&P 500 fell .7%, while the Nasdaq fell .9%. Even with all of the tension in the market right now, the S&P 500 is only 1.9% below its record, which was set at the end of July.
The economy still continues to grow and the unemployment rate continues to be at it's lowest level in half a century. There is a potential for all the tumult in the stock market to negatively affect businesses and shoppers as they become more aware and cautious.
This could mean some lower profits for companies, which could cut back on hiring, and thus affect both the unemployment rate and our economy. Time will tell how this trade war continues to affect the market and the economy.
So enough of my commentary, let's jump in and check out some of the best articles I ran across from the past week. Enjoy the weekend and find some time to relax.
How To Reduce Your Cable Bill Without Cutting the Cord
First up, we turn to How To Fire on why it may not be the best option for you to cancel your cable bill and some ways to cut the cost. With so many streaming options available now, people are going ahead and cancelling their cable bill thinking it will save them money. But that may not be the case.
With streaming options like Netflix, Hulu, YouTube and Sling available, many people are choosing to cancel their cable plans and cut the cord. These companies can offer subscriptions that reduce your cable bill budget while still allowing you to stream your favorite shows and movies.
Unexpected Benefits of Downsizing Your Home to Save Money
Next up, we turn to Educator FI with some financial benefits to downsizing your home. Besides lowering your monthly payments, there are some other great reasons to downsize your home such as less clutter because you also have to downsize your possessions. Read on for some more benefits to downsizing your home.
This post may contain affiliate links, which allow us to earn money at no additional cost to you. For more information, please read our Disclaimer. If you're a goal oriented person, you typically have a clear reason for starting a major project. We certainly did when we decided to sell our large home for financial reasons.
Expectations: The Good, The Bad, & The Ugly
Next up, we turn to Cait Scudder with some thoughts on expectations and how they can affect your professional life. We all face situations where we set expectations too high, whether it be in our relationships, professional life, or even with our own personal goals. Cait offers ways to keep your expectations in check while still reaching your goals.
Anne Lamott wrote "expectations are resentments under construction" and I'm not sure there's a more true thing that's ever been written down about expectations. Now if you've ever had the experience of silently-not-so-silently huffing under your breath or rolling your eyes, or clanking the dishes just a littttle bit too hard, because your partner...
Why Paying Down Debt Aggressively Was the Worst Financial Decision I've Ever Made
In our final read of the week, we turn to Physician on Fire with a look at paying off debt that may contradict what we have been told to do by family, friends, etc. Some may need to pay off debt in order to calm their mental burden, but Physician on Fire gives a look at why that might not always be the best option.
This weeks guest post is written by Matthew White with White and McGowan. Their firm is unique in that they handle financial planning exclusively for physicians and dentists. Equally distinguishing, is that Blake McGowan is not only a financial advisor with the firm, but he's also a practicing physician.
Things We Were Up To This Week
Your golden years are the perfect time to enjoy yourself to the fullest. Take all those trips you always wanted to! Start that hobby you've been putting off! Finally, learn that musical instrument you didn't have time for during your career! Retirement is the time to live it up.
What would you do if you had a million dollars? This is a question that most people fantasize about, but few can make it a reality. For the most part, becoming a millionaire seems like a far-fetched goal, at least something that you can't obtain in your early life or career - right?
Wrap Up
Enjoy the weekend and spend time with family and friends. Take a break from work and give your mind some well-deserved rest from the long week. Cherish the time you have with your family and I guarantee it will make your life much happier!
Follow us on social media and be sure to sign up for our monthly newsletter - I can assure you it's not the same boring financial newsletter you've seen before.