Welcome to the weekly roundup where I share with you interesting articles from across the web. I hope you enjoy and absolutely feel free to share and pass along.
Our Kansas City Financial Planner Weekly Roundup
Hello everyone and welcome to another edition of the NextGen Wealth Weekly Roundup. Hope you're having a great week!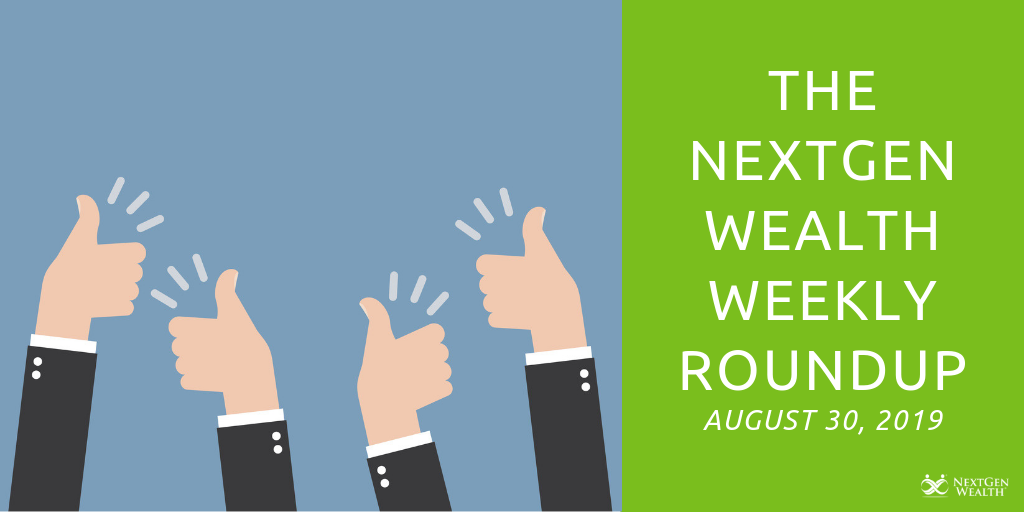 There's some relief this week as Trump announced there were trade discussions with China Thursday. We may finally see some sort of compromise in the trade dispute, as China's commerce ministry said they were willing to calmly resolve this trade war and not escalate any tensions.
These comments raised hopes for investors, and we saw U.S. stock index futures higher today because of that. This is coming after a very topsy turvy month due to the trade war, and we may begin to see stocks continue to rise if these trade discussions go well… but I wouldn't get your hopes up just yet.
The best option for China at the moment may be to wait out this war and focus on their domestic economy. The biggest contributor to their economy is their consumers, not trade, so focusing on their consumers would be in their best interest.
Now, there are still fears for a recession on the rise if the Fed doesn't make a rate cut, but I would expect that to come at their next meeting. These recession fears would also affect the market, so that is something we will continue to watch.
So enough of my commentary, let's jump in and check out some of the best articles I ran across from the past week. Enjoy the weekend and find some time to relax.
The Five Types of FIRE in Finance: What Do They All Mean?
First up, we turn to Invested Wallet with some basic information on the personal finance term "FIRE" and a few of the different types. If you don't already know, FIRE stands for "Financial Independence, Retire Early" and has started to become more and more prevalent, especially with millennials. Different variations of this concept have come up more recently, and Invested Wallet discusses what these all mean.
If you are a personal finance nerd like me, then you are well aware of FIRE (financial independence, retire early). But if you are new to this world, you may be wondering what all this talk of FIRE is and what it means? No, it's not that orange-glowing thing that is hot and can burn you.
Money Experts Discuss Personal Finance Blog Readers Research
Next up, we turn to Semi-Retire Plan with a look at personal finance bloggers and writers and what topics they are interested in. A survey was conducted to answer questions such as, "Who is in the personal finance community?" and "What motivates the people in the community?". Continue reading to learn more about the personal finance community and the topics they discuss.
The financial independence and early retirement movements can feel large, active, and mysterious all at once. Even though I am personally a blogger and a long-time reader, I had questions. To make matters more complex, this community does not have a clear definition, boundary, or "home base."
Retired from Medicine at 43: Why, How, and What Now?
Next up, we turn to Physician on FIRE as he discusses his early retirement at 43: why he chose to do it, how he was able to retire so early, and what it means now. He has now experienced the concept FIRE, meaning Financially Independent, Retire Early and shares with us how he made this happen.
On Monday, August 12th, I woke up in a call room, gathered up my belongings, and stepped through the back door of the hospital out into the world for what may very well be the last time. I wasn't fired. I simply FIREd.
Tidy Up Your Finances: 8 Ways to Spark Joy for FIRE
In our final read of the week, we turn to How to FIRE with some ways you can "tidy up" your finances using the principles from Marie Kondo's KonMari Method. The principles that Marie Kondo's method uses involve being purposeful, grateful and organized and this ties in well with finances. Read on for some ways to "spark joy" in your current financial situation.
Learn how to tidy up your finances by using Marie Kondo's method of organizing. The KonMari Method will help you spark joy for FIRE.
Things We Were Up To This Week
Whenever a child says that he or she wants to become a millionaire, they're likely to receive chuckles and condescending smiles. However, whenever a person in their middle age says they want to become a millionaire, they're more likely to receive looks of confusion, and maybe even scorn.
Wrap Up
Enjoy the weekend and spend time with family and friends. Take a break from work and give your mind some well-deserved rest from the long week. Cherish the time you have with your family and I guarantee it will make your life much happier!
Follow us on social media and be sure to sign up for our monthly newsletter - I can assure you it's not the same boring financial newsletter you've seen before.