Welcome to the weekly roundup where I share with you interesting articles from across the web. I hope you enjoy and absolutely feel free to share and pass along.
Our Kansas City Financial Planner Weekly Roundup
Hello everyone and welcome to another edition of the NextGen Wealth Weekly Roundup. Hope you're having a great week!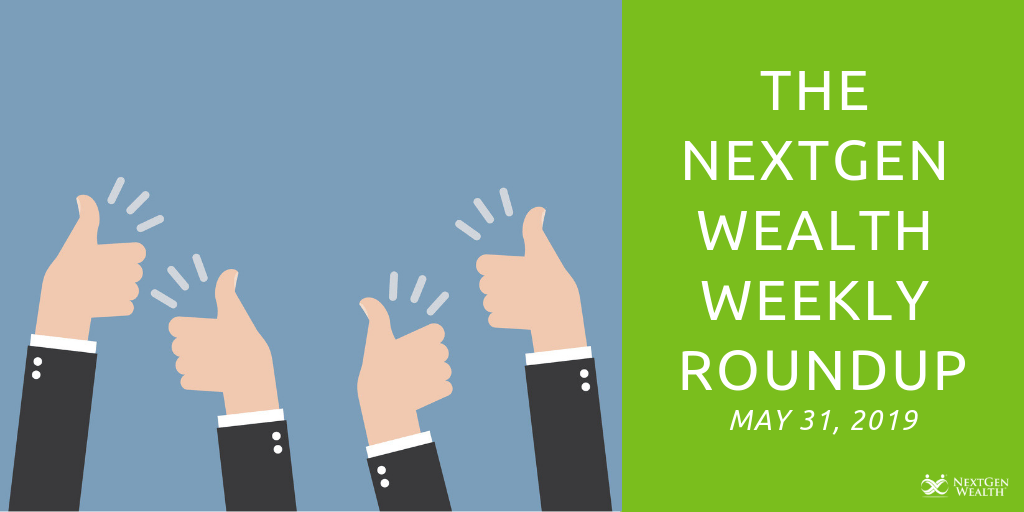 As for the stock market this week, it's not exactly setting things on fire. Trade tensions continue to wain on the market thus causing some volatility.
If anything at all, it definitely provides a great buying opportunity. So, if you've been sitting on some cash for a while, it might not be a bad idea to deploy it when you're getting a bit of a discount.
So enough of my commentary, let's jump in and check out some of the best articles I ran across from the past week. Enjoy the weekend and find some time to relax.
Are Reverse Mortgages As Bad As They Say?
First up, we turn to Arrest Your Debt on a fantastic article covering reverse mortgages. If you're already familiar with reverse mortgages or if you've only just seen ads for them on TV, I can assure you that you'll pick something up from this piece. I really enjoyed reading this one and think you will as well.
I recently decided to fact check some of the information that I have heard for years about reverse mortgages. Those in the media with the loudest voices, (Dave Ramsey, Suze Orman) have repeatedly screamed from the rooftops that reverse mortgages are a terrible idea.
Who Needs to Know About Estate Planning?
Next up, we turn to another newbie in the weekly roundup, Side Jam Biz, for a really in-depth article on estate planning. While estate planning may not be the most exciting thing in the world, it's extremely important. If you don't have a will or an estate plan in place yet, then this is a must read. Even if you already do, I still think you're going to benefit.
Okay, let's take a quick poll ... How many of you know what estate planning is? And how many of you actually have an estate plan in place? Some of you? All of you? None of you? Well, if it is all of you, then I'm super proud to know such smart people.
Pros And Cons Of Consolidating Student Loans For Doctors
Next up, we turn to another newbie in the weekly roundup, Debt Free Doctor, for a very comprehensive look at consolidating student loans for doctors. If you know anything about student loans, then you know how confusing they can be. When it comes to consolidation, you have to be extremely careful because you can't reverse your decision. If you're considering consolidation, then this one is a must read.
One of my tennis partners is also a local surgeon. His daughter is a LSU medical student also aspiring to become a surgeon. I recently spoke with her and her boyfriend (also a medical student and good tennis player too) recently. They were excited about finishing up their first year of school (especially gross anatomy).
Make a lot but still bad with money? Here's why.
In our final read of the week, we turn to, once again, another newbie to the weekly roundup, Real Finance Guy, on why, even if you make a lot, you're still bad with money. Let's face it, making a lot of money is great but if you're still not doing the right things with it, you're really not getting ahead. For a great look at lifestyle inflation, this is a fantastic article.
Even some of the most intelligent and successful people struggle with money. In fact, it's downright common. One of my favorite movies of all time is "Broke", the ESPN documentary that shows in epic detail how so many athletes at the top of their game with multi-million dollar salaries end up completely bankrupt.
Things We Were Up To This Week
If the thought of negotiating your salary makes you break out in a sweat, you're not alone. According to a survey by compensation software company PayScale, only 43 percent of respondents asked for a raise in their current field. Salary negotiations can be scary.
For some people, managing money can be challenging. It can seem like a struggle to maintain your finances when life happens, whether it's an unexpected repair or a debt that never seems to go away. However, keeping your money under control is imperative, especially as you get older.
Wrap Up
Enjoy the weekend and spend time with family and friends. Take a break from work and give your mind some well-deserved rest from the long week. Cherish the time you have with your family and I guarantee it will make your life much happier!
Follow us on social media and be sure to sign up for our monthly newsletter - I can assure you it's not the same boring financial newsletter you've seen before.