Welcome to the weekly roundup where I share with you interesting articles from across the web. I hope you enjoy and absolutely feel free to share and pass along.
Our Kansas City Financial Planner Weekly Roundup
Hello everyone and welcome to another edition of the NextGen Wealth Weekly Roundup. Hope you're having a great week!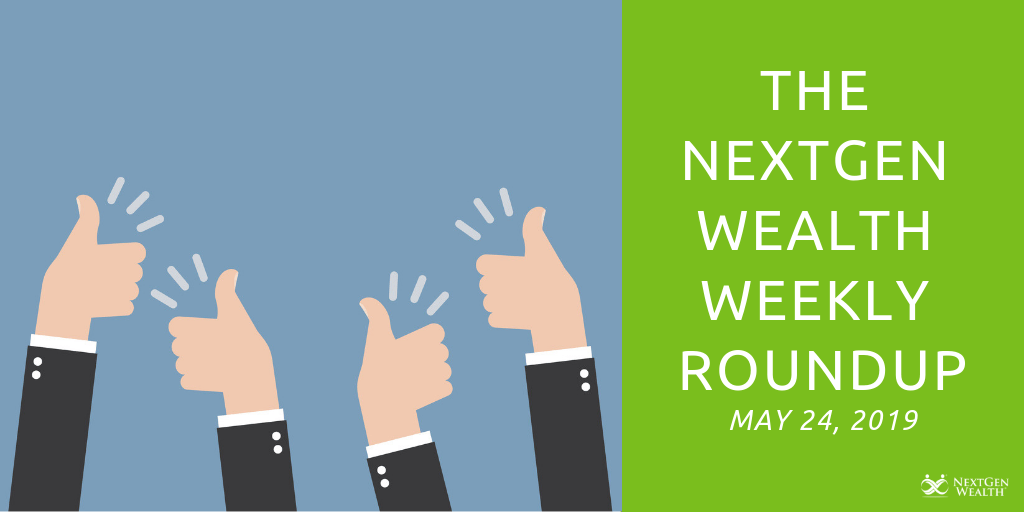 It's been another crazy week of weather for us in the midwest with storms coming through what seems like every single day. I'm pretty sure I heard on the news that we've had over 12" of rain so far this month!
While we're trying to stay dry here in the midwest, the stock market is trying to figure out what direction it wants to go. It's been a volatile week for sure and I'd expect things to continue into next week.
So enough of my commentary, let's jump in and check out some of the best articles I ran across from the past week. Enjoy the weekend and find some time to relax.
45+ semi-retirement passion projects that can net you over $20/hour
First up, we turn to a new blog for us on the weekly roundup, Semi-Retire Plan, for some great passion project ideas to supplement your semi-retirement income. Even better though, these jobs will typically net your over $20 an hour. Some of these jobs will be familiar, but I guarantee you'll find at least find a couple that will pique your interest.
In the Semi-Retirement Plan overview post , I use an example of making $20/hour for your work during your early retirement years. One of the criticisms I receive most often is that "$20/hour for part-time work is just not possible." I admit, you probably won't get $20/hour for being a cashier at the local burger joint.
I'm Rich Because…
Next up, we turn to another one of our regulars here at the weekly roundup, ESI Money, on a fantastic article about why people are rich. And no, it doesn't always have to do with money either. I absolutely love this piece and highly recommend you check it out. Just some awesome insights.
From time to time someone will comment at ESI Money with something along the lines of "what does it mean to be rich?" It's a topic I've thought about a lot, have wanted to cover for some time, and will likely write about again even with this post discussing the issue.
The Ultimate Guide to Estate Planning
Next up, we turn to The Money Mix on a guide to estate planning. I know, I know. You probably think estate planning is boring. However, this is a really well-written article and goes into great depth to tell everything about what an estate plan is and why it's so important to have one. If you don't have an estate plan in place, or even if you do, I would recommend reading this one.
For many people, the first thing that comes to mind when you hear the word estate is a fancy house with land in another country. But an estate is everything you own or control, including property, assets, and debts. And unless you plan to live forever, it's best to have a plan.
You Need a Budget Detailed Review
In our final read of the week, we turn to another new blog for us, Money Stir, for a fantastic review of the budgeting software site, You Need a Budget (YNAB). While I've never actually used YNAB, I have heard great things. If you're exploring budgeting software or just want to learn more about YNAB from an unbiased third party, then you definitely need to check out this review.
This post contains paid/affiliate links. I only recommend products I believe in. Your support is appreciated. Managing your income and how you spend money will give you an accurate financial picture. It isn't about making us feel guilty about how we spend money.
Things We Were Up To This Week
Many people consider hiring a financial advisor to manage their investments. But is a financial advisor really the best person to handle your investments day-to-day? While a financial advisor or Certified Financial Planner® should be overseeing your investments, this shouldn't be their main focus.
With so many wealth management firms competing for a client's favor and attention, you might be lead to believe that picking one is as easy as a walk in the park. Sadly, that's not the case. It's great that people have options nowadays, but the sudden increase in numbers also makes finding the right firm for your specific financial situation more challenging.
Wrap Up
Enjoy the weekend and spend time with family and friends. Take a break from work and give your mind some well-deserved rest from the long week. Cherish the time you have with your family and I guarantee it will make your life much happier!
Follow us on social media and be sure to sign up for our monthly newsletter - I can assure you it's not the same boring financial newsletter you've seen before.