Welcome to the weekly roundup where I share with you interesting articles from across the web. I hope you enjoy and absolutely feel free to share and pass along.
Our Kansas City Financial Planner Weekly Roundup
Hello everyone and welcome to another edition of the NextGen Wealth Weekly Roundup. Hope you're having a great week!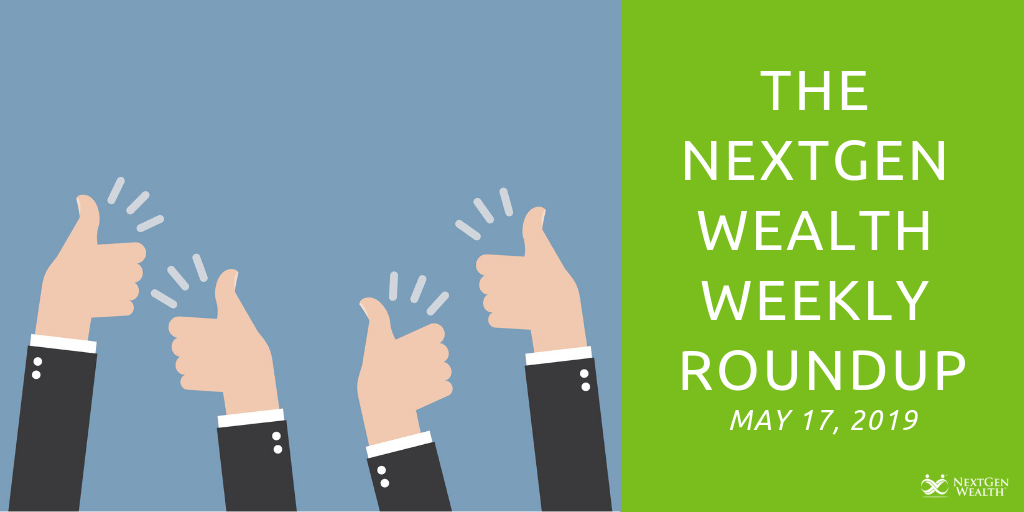 If you've paid attention at all to the stock market this week, it's been quite the roller coaster ride. With the announcement of China retaliating against the US's tariff's, markets had a tough go of it on Monday and Tuesday.
However, we saw stocks rebound mightly Wednesday and Thursday with what I can only expect as the market thinking the tariff situation will eventually work itself out.
Regardless, don't let short-term market volatility dictate how you invest for your long-term goals. If your goals haven't changed, regardless of what the market is doing, then neither should your investments...no matter what your emotions might be telling you.
Stick to your plan and don't veer off course. I can assure you that your future self with thank you.
So enough of my commentary, let's jump in and check out some of the best articles I ran across from the past week. Enjoy the weekend and find some time to relax.
10 Things to Know About A Stock (Before You Buy One)
First up, we turn to Meghan over at Family Finance Mom on 10 things you should know about a stock before buying. And no, listening to your neighbor's hot tip or taking advice from someone yelling on TV aren't on her list. Meghan goes into a decent amount of depth on what it is you should be looking at (and for) and I couldn't agree with her more.
Before investing in any stock, go to their corporate website, look for their investor relations section with SEC filings, and download their latest 10K or Annual Report. Every publicly traded company is required to file certain documents with the Security and Exchange Commission (SEC), in order to remain in compliance and keep trading publicly.
What's the Dark Side of Pursuing Financial Independence too Aggressively?
Next up, we turn to Jerry over at Peerless Money for an update on the dark side of pursuing financial independence too aggressively. While pursuing the goal of financial independence is a good one, it does come with its potential pitfalls as well. Jerry does a fantastic job of outlining what those are and, what I really like, how he struggles with pursuit too aggressively as well.
What's the Dark Side of Pursuing Financial Independence too Aggressively? We all can be masters at our craft but you have to make a choice. What I mean by that is there are inherent sacrifices that come along with that. Family time, hanging out with your friends, being a great friend..."
8 Easy Ways To Save Money On Groceries Without Coupons
Next up, we turn to Michael at Your Money Geek on a few ways you can save money on groceries without coupons. Michael lines out some fantastic tips that anyone can implement in very little time. So, if you're not into clipping coupons, check out these strategies that will no doubt help you save some money at the grocery store.
Believe it or not, the average American household spends 12.5% or just over $7,000on their food budget alone, annually. Crazy, right? As the prices of grocery products increase year after year, people will spend more money on groceries. One popular way that people do to save money on groceries is by using coupons.
If You Get A Pension When You Retire, You Could Be Screwed
In our final read of the week, we turn to Ryan over at Arrest Your Debt on the possible pitfalls of having a pension. If you have a pension, you probably just take it for granted. However, Ryan goes over some great information that you may have never thought of before. You don't want to miss this one.
Please Share On Social Media! Many of us in public safety signed up with the promise of a pension when we retire. Due to this, many of us will be extremely poor in retirement and may not live comfortably in our golden years like we envisioned.
Things We Were Up To This Week
One of the best ways to save for retirement is to use tax-advantaged accounts. Most employers offer the option of contributing to a 401(k) account, which can be a great idea for stashing cash for your golden years. Maxing out your 401(k) account for a few years can give you a good foundation for retirement.
Wrap Up
Enjoy the weekend and spend time with family and friends. Take a break from work and give your mind some well-deserved rest from the long week. Cherish the time you have with your family and I guarantee it will make your life much happier!
Follow us on social media and be sure to sign up for our monthly newsletter - I can assure you it's not the same boring financial newsletter you've seen before.