Welcome to the weekly roundup where I share with you interesting articles from across the web. I hope you enjoy and absolutely feel free to share and pass along.
Our Kansas City Financial Planner Weekly Roundup
Hello everyone and welcome to another edition of the NextGen Wealth Weekly Roundup. Hope you're having a great week!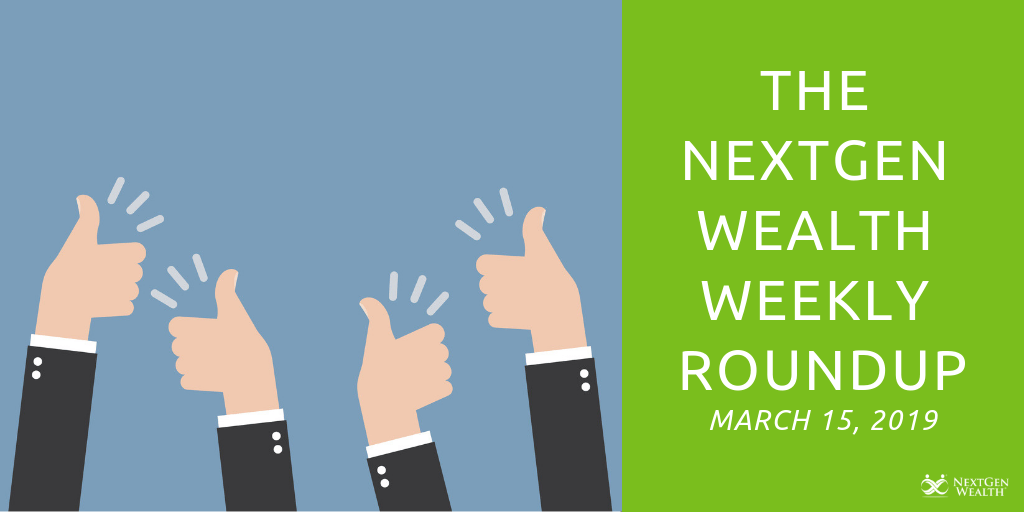 This is definitely one of my favorite times of the year. The weather is finally starting to warm-up and college basketball is closing out their season with conference tournaments and the NCAA Tournament will be starting next week.
Plus, my favorite sport of all, baseball,will be here in just a couple of weeks. Life is good for sure and I hope you're enjoying it as well.
So let's jump right in and check out some of the best articles I ran across from the past week. Enjoy the weekend and find some time to relax.
Budgeting Tips For Families – Frugal Doctor's Wife Perspective
First up, we turn to DrBreatheEasyFinance for some budgeting tips for families. I know what you're thinking, "more budgeting tips," and I get it. However, this post is actually from DrBreatheEasy's wife and she gives some great perspective, particularly if you are the spouse of a doctor. Check this one out for some great tips.
It turns out that to maintain my day job , which is our source of income for now, i have to pass my critical care board exam. My wife, otherwise known as Mrs. Breathe Easy Finance or Breathe Easy Mamma (we haven't solidified the name yet- work in progress) has decided to take over the blog for the next few weeks.
10 Simple Ways To Start Saving Money That You May Be Overlooking
Next up, we turn to the Invested Wallet for some simple tips to start saving money that you might have overlooked. Let's face it, saving money can be difficult, especially if you haven't quite formed that habit yet. If that sounds like you, then this is a must read. I can almost guarantee that a few of these tips have never crossed your mind before.
While I like to talk about saving money, I don't often write a whole lot about ways cut back on expenses or small ways to save cash. Mostly because I think a lot of information is already out there.
Credit Cards for People Who Love Free Travel and Money
Next up, we turn to one of our regulars, Physician on Fire, for some credit card recommendations for people who love travel and money. If that's not you, then you might need to see a physician. Getting credit card rewards are a no-brainer. You're already going to be buying the stuff for your everyday expenses, so you might as well get something in return. Check this one out for some great tips.
I love travel. Money, too! I might earn money if you apply for a card via links on this page, and I will donate half of my profits if that happens. Not many sites make that pledge, so please, do your research wherever the world wide takes you, but consider coming back to this site for your credit card needs and support our charitable mission.
This is Why Tax-Efficient Investments Are Important
In our final read of the week, we turn to Money With A Purpose and why tax-efficient investments are so important. I know, I know, it doesn't sound like the most exciting thing in the world. However, saving thousands upon thousands in taxes over your lifetime is very exciting. Check this article out to make sure you're investing in the most tax-efficient manner.
In today's post, I want to take a look at a topic we don't hear much about in the media or personal finance bloggers. The theme - tax-efficient investments. I'm not talking about things like IRAs, Roth IRAs, and company retirement plans. These should be an essential part of any investment strategy.
Things We Were Up To This Week
I'm assuming you've never heard of a digital estate plan before, but I am guessing you know the importance an estate plan to help take care of your physical assets. Things like your primary residence, other real estate, jewelry, investment accounts, etc. The digital world is now an integral part of our personal lives.
When you are diagnosed with a health condition, especially one related to the heart, it can cause you to panic if you're trying to find life insurance with an atrioventricular block. Finding the right life insurance policy, going through the application process, and getting approved can seem overwhelming.
Wrap Up
Enjoy the weekend and spend time with family and friends. Take a break from work and give your mind some well-deserved rest from the long week. Cherish the time you have with your family and I guarantee it will make your life much happier!
Follow us on social media and be sure to sign up for our monthly newsletter - I can assure you it's not the same boring financial newsletter you've seen before.