Welcome to the weekly roundup where I share with you interesting articles from across the web. I hope you enjoy and absolutely feel free to share and pass along.
Our Kansas City Financial Planner Weekly Roundup
Hello everyone and welcome to another edition of the NextGen Wealth Weekly Roundup. Hope you're having a great week!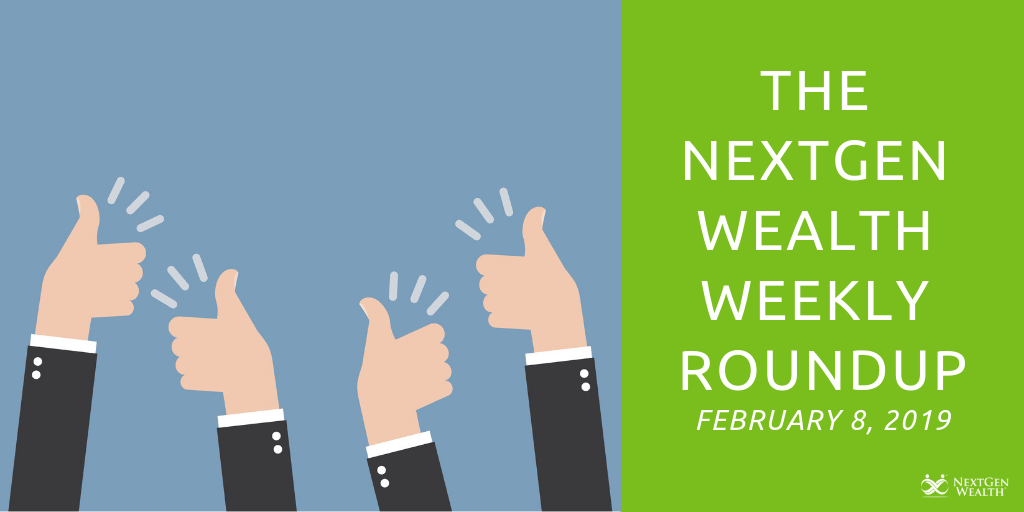 It was another exciting week here in the midwest with freezing cold temperatures, ice, snow and what most parents cringe at, school closings. This is one heck of a winter we're having.
In brighter news, the stock market (S&P 500) had it's best January on record since 1987. It's pretty amazing the comeback we've seen in just a month from the terrible December.
It just goes to show you that even though the stock market can certainly test our patience sometimes, don't try to time it and get out, no matter what your emotions are telling you. If you did, then you most likely just missed out on making everything back you would have lost in December.
As the old saying goes, "it's time in the market and not timing the market." While it's easier said than done, stick to your guns and don't let emotions take over your investment decisions. I can assure you that your future self will thank you.
In the meantime, check out some of these gems I found from this past week. Enjoy the weekend and find some time to relax.
The Doctor Loan: My Experiences Buying and Building with Physician Mortgage Loans
First up, we turn to one of our regulars, Physician on Fire, on the intricacies of utilizing physician mortgage loans. If you are a physician (or soon to be), then you don't want to miss this one. From real-world experience to the pro's and con's, Physician on Fire lays it all out there.
I was finally a doctor. A real doctor! The year was 2002 and I had just graduated from medical school. After a one-year internship living in resident housing in La Crosse, WI, a small city famous for having the most bars per capita of anywhere in the U.S., I would be heading to The University of Florida to spend the remaining three years of my anesthesia residency as a Gator Sedator.
Financial Freedom Chapter-by-Chapter Book Review
Next up, we turn to ESI Money at Rockstar finance for a chapter by chapter breakdown of the newly released book, Financial Freedom: A Proven Path to All the Money You Will Ever Need. Now, if that doesn't get you intrigued, then I don't know what will.
As I announced yesterday on ESI Money, today is the release date for Financial Freedom: A Proven Path to All the Money You Will Ever Need. It's the new (and very good) book by Grant Sabatier, the founder of Millennial Money. To give Rockstar Finance readers a complete overview of the book, we asked 14 ...
Amazon FBA Business Secrets: $450K+ Profit in 2 Years – Side Hustle Interview #4
Next up, we turn to the Wealthy Nickel to take a look at his Side Hustle Interview #4 with Marc from the Vital Dollar. If you're thinking about or currently selling a product Amazon, then you don't want to miss this one. Marc shares some incredible tips and strategies that will no doubt help in your own FBA success.
Running an Amazon FBA business has become a very popular side hustle these days. There are tons of courses and products out there to teach you how to succeed, but at it's core, Amazon FBA is just providing a product that meets a need in the market.
Can Money Buy Happiness? You Need To Know This
In our final read of the week, we turn to Michael over at Savebly where he explores if money can really by you happiness. Michael does a great job of digging in to find out if that old saying is actually true. "Happiness from your purpose is a lifestyle change. Your purpose is who you are, it's something you do without thinking twice."
Disclosure: This post contains affiliate links which means I will earn a commission if you choose to click and make a purchase. While there is no additional cost to you, it will give us a pretty penny. Thanks For Your Support! I get told all the time that money doesn't make you happy and you know what?
Things We Were Up To This Week
Are you looking for a cheap life insurance policy in 2019? If so, you've come to the right place. Technology has made it faster and easier to get multiple quotes from various carriers. Just input a few pieces of information and in just a few minutes you will be reviewing and comparing quotes.
When researching for the best type of life insurance policy to purchase, have you come across terms like "fully underwritten", "medical exam", "guaranteed issue", "no exam life insurance" and maybe even "simplified issue"? Confused and not really sure what they mean and how they affect which life insurance policy is right for you?
Wrap Up
Enjoy the weekend and spend time with family and friends. Take a break from work and give your mind some well-deserved rest from the long week. Cherish the time you have with your family and I guarantee it will make your life much happier!
Follow us on social media and be sure to sign up for our monthly newsletter - I can assure you it's not the same boring financial newsletter you've seen before.