Welcome to the weekly roundup where I share with you interesting articles from across the web. I hope you enjoy and absolutely feel free to share and pass along.
Our Kansas City Financial Planner Weekly Roundup
Hello everyone and welcome to another edition of the NextGen Wealth Weekly Roundup. Hope you're having a great week.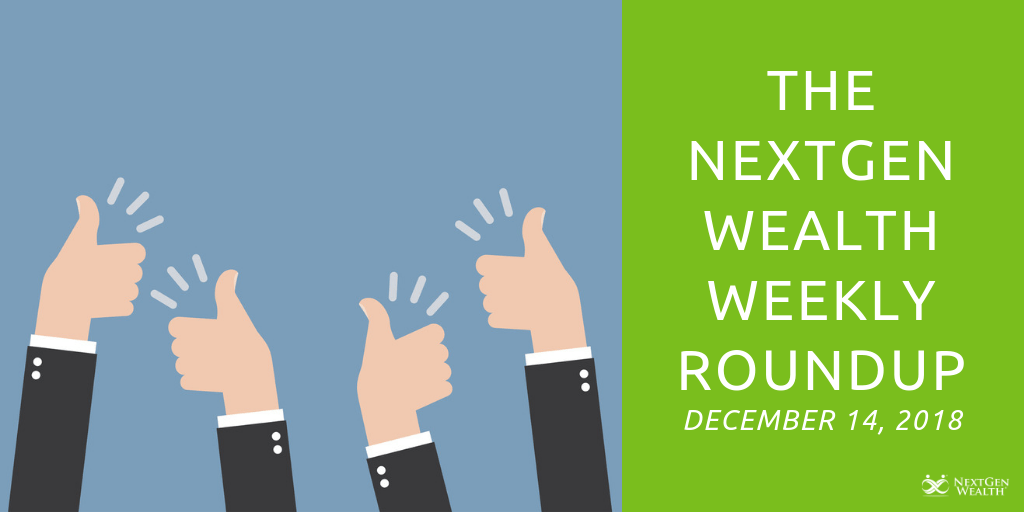 If you're anything like me this time of the year, you seem to have something going on every night with different groups having their year-end holiday parties. It's definitely a blast to see everyone in a fun environment but, man, I can tell I'm getting old...which isn't a bad thing.
As for the stock market, the roller coaster continued this week with the news on tariffs causing the market to either go up or down. With that being said, I'm not sure we're going to see that Santa Claus rally we've become so accustomed to over the years.
Keep your eye on the prize and don't let the day to day swings of the market cause you to do something crazy. Your financial freedom should always be your focus.
Have an awesome weekend and spend some quality time with your family.
Millennials are at risk of having to work into their 60s and 70s
In our first piece, we turn to Jill Cornfield from CNBC.com to drop some knowledge on us about millennials possibly having to work into their 60's and 70's. Hint: they're not saving enough or taking enough risk with their investments.
Imagine a millennial fretting about the rising cost of avocado toast on the way to work, circa 2062. It's the scenario being floated by a new study from Aon that says millennials are already behind in their retirement saving. The report from the risk, retirement and health consulting provider says most won't be able to retire until age 70 or later.
The 10 Worst Places To Get Investing Advice
Next up, we turn to our friends at Physician on FIRE to help tell us where not to go to get investing advice. I'm guessing it was pretty tough to even narrow it down to just ten places. It's a great read and, if you're like me, you'll probably find yourself laughing because you can definitely relate.
Investing advice is not difficult to come by. It's everywhere. Sound investment advice? Now, that can be a little more difficult to come by, but it you know where to look (and The White Coat Investor shares some ideas below), it's out there.
Here are 17 unique ways to completely screw up your 2019
In our next favorite of the week, we turn to Steve Adcock at Think Save Retire. It's a pretty entertaining list, to say the least. Much like the piece from just above, I'm guessing there's a few of these you've probably done yourself - I know I have.
Anyone can totally rock 2019, right? Things like saving and investing your money. Not spending on frivolous crap. Understanding what makes you happy? Yeah, the basic stuff I clamor on about so much. Today, let's flip this sucker on its head and talk about something entirely different.
Why Saving Money on Monthly Expenses Matters
Finally, we turn to ESI Money on the importance of saving money on monthly expenses. While you might be more concerned with how much you're making on your money, saving on things you're already purchasing is just as important. Certainly some great advice and tips.
Everyone loves to talk about earning more money! Everyone loves to talk about investing money for growth and income! But when it comes to saving, people are less excited. I get it. Saving is not the most exciting thing in the world. Worse yet, it's HARD!
Things We Were Up To This Week At NextGen Wealth
Are you at a point in your life where it might be time to bring in a professional o help with your personal financial situation? Take a look at this awesome infographic that will answer your questions and get you moving in the right direction.
This post may contain affiliate links. Please read my disclosure for more info. This marks feature #37 in the Momentum Series - an interview series to share the stories of bloggers from across the personal finance community.
Wrap Up
Enjoy the weekend and spend time with family and friends. Take a break from work and give your mind some well-deserved rest from the long week. Cherish the time you have with your family and I guarantee it will make your life much happier!
Follow us on social media and be sure to sign up for our monthly newsletter - I can assure you it's not the same boring financial newsletter you've seen before.