Welcome to the weekly roundup where I share with you interesting articles from across the web. I hope you enjoy and absolutely feel free to share and pass along.
Our Kansas City Financial Planner Weekly Roundup
Hello everyone and welcome to another edition of the NextGen Wealth Weekly Roundup. Hope you're having a great week!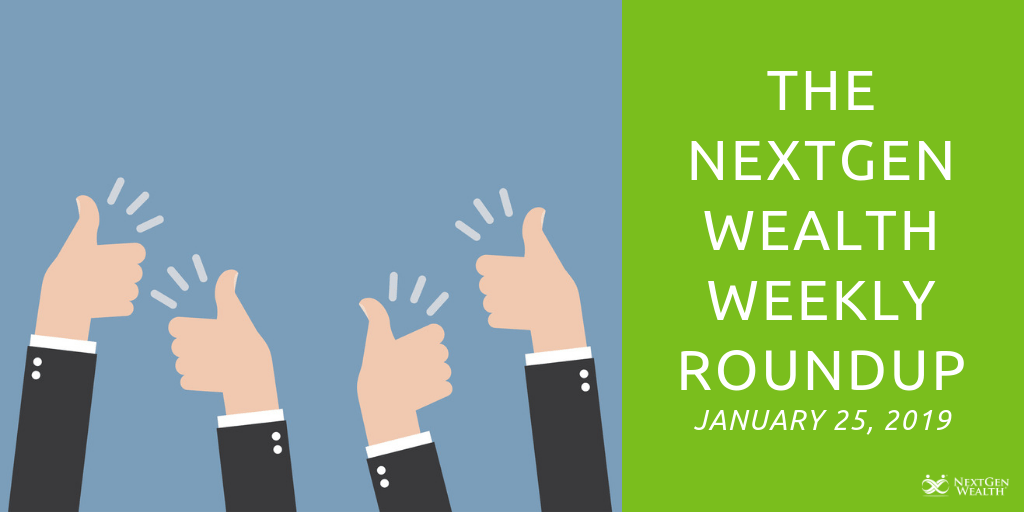 As for things going on, the government remains shut down but it doesn't seem to be having a major impact on stocks, as of yet. Other concerns like the rest of the economies of the world slowing down, in particular, China, has by far had the biggest impact this week.
Despite that, the markets have held relatively steady this week but we'll have to wait and see what Friday has in store for us.
On a personal note, it's been a rough week for me with the Chiefs losing a tough one to the Patriots. But, I guess it could be worse, at least I'm not a Saints fan...that was a tough one.
In other personal news, my wife is expected to deliver next week (our first child!) so I'm super excited and can't wait to see this little gal (or guy...it will be a surprise). It will no doubt be an exciting next seven days for us for sure.
Have an awesome weekend and enjoy the reads!
Why keeping your "safe job" is a risky financial decision
First out of the gate this week, we turn to one of our regular contributors, Steve over at ThinkSaveRetire, to show us why our nice and safe job might actually be riskier than you think. I absolutely love this article and share the same sentiment. Is being your own boss and having complete control over what you do and how much you can make riskier than working for someone else who gets to call all the shots and could let you go at any time?
How the Earned Income Tax Credit Might Get You More Money
Next up we turn to the Young and the Invested on how the Earned Income Tax Credit Might just get you some more money this year. I won't get into all the details, as Riley does a great job of that, but just know it's something you'll want to be aware of when filing your taxes this year.
The Earned Income Tax Credit: Who Qualifies? Earned income tax credit qualifications are fairly straight forward. However, the tax code includes a lot of complexities as well. In the case of the earned income credit, you will encounter phase in's and phase outs with various associated rates.
WHY IT'S NEVER BEEN EASIER TO REACH FI W/ BRANDON @MADFIENTIST
In this piece, we turn to Grant over at Millenial Money where he shares a recent interview/conversation with Brandon at the @Madfientist. If you're on your journey to financial independence, then you don't want to miss this podcast. There's plenty of knowledge being dropped regardless of your age.
After following the FI path alone for over 2 years I discovered Brandon's blog MadFientist.com in 2013, immediately reading all of his posts. His writing on tax, spending, and life optimization guided me on my own FI journey and I'm grateful to now call him a
How to Handle Taxes for Your Side Hustle
In our final read of the week, we turn to the Millenial Money Man where he shares with us how to handle the tax situation on your side hustle. Regardless of your side hustle, as long as you have income and expenses, you need to be filing taxes. These are all great tips to know because if your side hustle becomes your main hustle, you'll want to be on the up & up with the IRS.
You may have been noticing a theme with some of my articles recently... taxes. It's just that time of year. And while we're all thinking about filing our 2018 taxes, we should also be looking forward and figuring out what to do about our 2019 taxes.
Things We Were Up To This Week At NextGen Wealth
Have you recently suffered a heart attack or been diagnosed with a heart condition? If so, you may think that getting a life insurance policy when you have a heart condition is virtually impossible. Even with the potential unstableness of your ticker, you would be surprised at the options that are available.
If you're looking for some ways to earn extra cash, getting a side hustle can be a good idea. Having extra money can help you cover your bills or pay down debt. Maybe you want some spending money for the weekend? Or you'd like to save up for a vacation?
Wrap Up
Enjoy the weekend and spend time with family and friends. Take a break from work and give your mind some well-deserved rest from the long week. Cherish the time you have with your family and I guarantee it will make your life much happier!
Follow us on social media and be sure to sign up for our monthly newsletter - I can assure you it's not the same boring financial newsletter you've seen before.