Medicare is an important coverage that provides security to the majority of Americans. Medicare Open Enrollment is the time when you can change your Medicare coverage for the next year, and includes Part D prescription drug coverage.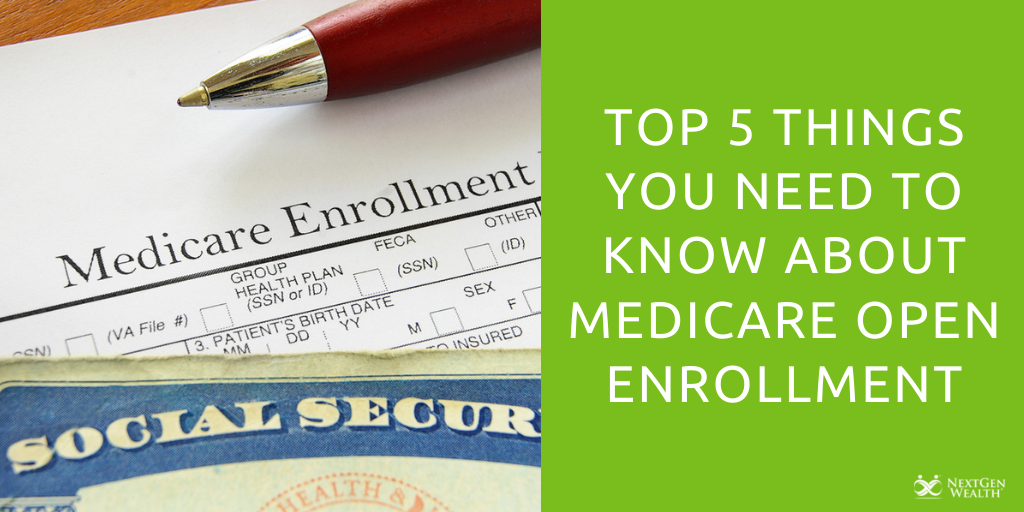 You may think that you know all about Medicare open enrollment because it happens every year. But this year is a little different from last year. Here are some ways to prepare for Medicare open enrollment for 2022 so you have a better idea of what to expect.
Are you over the age of 60? Did you know that healthcare is likely your biggest unknown expense in retirement? Check out our simple 3-step Medicare guide that could save you thousands in surprise medical bills or penalties.
Know the Deadlines for Enrollment
Medicare open enrollment starts on October 15th and ends December 7th. If you qualify for Medicare, you need to know the Medicare open enrollment dates and requirements.
These dates apply to your Part A and Part B coverage, and for many people, it can be the only time they shop for coverage. That's why it's important to make your Medicare open enrollment decisions soon.
The Affordable Care Act requires you to actively sign up for a Part D plan each year during Medicare open enrollment. This is a program that was designed to allow you to choose the drug coverage you want for prescription coverage.
But, there are also some changes to Medicare for 2022 that go into effect on January 1st. Those changes could impact your Medicare coverage.
If you have the opportunity to shop for prescription drug coverage at open enrollment then we recommend you take take the opportunity to do it.
Your Medicare Advantage Plans Will Change for 2022
Medicare open enrollment begins in October of each year and ends in December of the same year. This year, the deadline to make changes to your Medicare Advantage plan for 2021 is December 7th. This is different from last year, because Medicare Advantage plans may have changed.
Some of the main Medicare changes for 2022 include:
Price increases
Plan expansions
Some non-medical benefits
Drug discounts
When you are planning for retirement, you'll need to consider your financial savings as well as what Medicare can provide. In other words, your finances will probably need a checkup as well.
Part D Drug Discounts
Get the most out of Part D
Part D is one of the biggest benefits for Medicare beneficiaries. Part D prescription drug coverage requires the Medicare beneficiaries to pick a plan that's available in their area. Even, if you've had a particular plan for several years, you can always switch to a new plan.
What types of prescription drugs are covered under Part D?
Before you begin reading about what plans cover prescriptions, you should understand which medications are covered under each Part D plan.
Under Medicare Part D, coverage for each prescription drug is different. A common misconception is that all prescription drugs are covered. In fact, Part D plans typically have several "gates" for which drugs are covered.
Since there are many different Part D plans to choose from, you need to know what prescriptions are covered so you can choose a plan that covers the medication you need.
Most people with Part D can get brand-name prescriptions and have their choice of generic options.
Other Medicare Advantage Plan Structure Changes
In some cases, you may have the option of changing from your current Medicare Advantage plan to a different Medicare Advantage plan. However, there may not be an option for a new plan to take the place of your current Medicare Advantage plan.
Understand the changes in Medicare coverage
Although there are many big changes for Medicare patients in the past year, not all of them apply to you. You should contact Social Security if you are unsure about whether any changes apply to you. However, knowing what the changes are this year is important, as we're going to highlight a few of them below.
Do you know when to enroll in Medicare and what your options are? Check out our simple 3-step Medicare guide that could save you thousands in surprise medical bills or penalties.
Medicare Advantage is Optional
In fact, Medicare Advantage is now optional, for the most part. All plans are required to provide at least as much of the health benefits as the original Medicare program.
Plans are responsible for some of the costs and benefits of Medicare Part B, but the insurance companies are required to cover any additional costs.
This still doesn't mean that you want to ignore the benefits of Medicare. When used properly, Medicare goes hand in hand with your retirement plan.
If you need to opt-out of Medicare, there are three main ways to do so:
Contact your plan provider and request a disenrollment form
You can also visit your local Social Security office and fill out the disenrollment form there
Contact Medicare directly at 1-800-MEDICARE (1-800-633-4227). This option lets you disenroll from your plan over the phone.
Price Increases and Plan Decreases
Medicare for 2022 will be the largest increase in the history of the program. How will your personal savings be involved in Medicare costs? Consider scheduling a call with a professional financial expert to help you figure out this important question.
Medical Part B
AARP says that the average premium for the monthly Part B (Medical) portion goes up by an average of $21.60 starting next year. This price increase will represent the largest jump in Medicare's history.
Plan decreases
Medicare Part D plans will decrease due to consolidation by at least 23%. That represents at least a 230 prescription drug plan drop from 2021.
More Things To Think About for Medicare Open Enrollment
Find out if you need Medicare
The first thing you should do is find out whether you need Medicare. If you are 65 or older, you are required to enroll in Medicare Part A or Part B. This is a decision that you will have to make prior to open enrollment. So, it is a good idea to make that call early so you can avoid the penalty for not enrolling on time.
Know your options
If you do need Medicare, you have many different options to choose from. So, you should be familiar with all of them so you can make the best decisions. Depending on how you are currently covered, you may have more options than if you were a traditional retiree.
To find out your options, you need to know if you are eligible for Medicare, what those options are, and how they are different from each other.
Plan your coverage for next year
Think about what you need, and the things you think you don't need, to take the guesswork out. The best way to prepare for Medicare open enrollment for 2022 is to plan for the big stuff before the end of the year.
Frequently Asked Questions
What is Medicare?
Medicare is the popular health insurance coverage for people over age 65 and it has been around for decades. The name Medicare refers to the original program that was created by the Social Security Act of 1965.
The program is completely free to enrollees, but you have to pay for Part A (deductible only), which covers in-hospital care, and Part B, which covers doctors' visits and services.
There are three parts of Medicare:
Part A (Hospital Insurance) is free, but you have to pay a deductible
Part B (Medical Insurance) covers doctor visits and outpatient services
Part D (Prescription Drugs) takes care of prescribed drugs and medicines
Are All Medicare Plans the Same?
Some of the plans will typically offer special deals for enrollment. Some of these deals are going to get better, but others may seem worse if you don't review your plan. You will need to look for deals with the coverage you want.
The Health Insurance Marketplace
The Health Insurance Marketplace will also offer people the opportunity to shop for a Medicare plan. This means that individuals can shop for their coverage on a website rather than by calling a health insurance broker.
Can I Fill Out My Medicare Application Online?
Yes, you can complete an application online. You will need to fill out an application if you are 65 or older. You can also fill out an application if you're younger than 65, but there is a special Medicare online enrollment for that.
For people aged 65 or older, you will need a Social Security number if you do not already have one.
You can get an application online by going to www.medicare.gov/ and clicking on "Apply for Medicare." If you get a password, use it to log in. Once you are in, you will be ready to fill out your application online.
Are you already enrolled in Medicare and curious if you could save money with a different plan? Check out our simple 3-step Medicare guide that could save you thousands in surprise medical bills or penalties.
Conclusion
Thanks for reading through our article about the top 5 things you need to know about Medicare open enrollment. Some of the tips we shared may seem basic, but if you have not reviewed your Medicare plan in a while, it may be helpful to review your Medicare options.
Here at Next-Gen Wealth, we've been assisting people just like you with their financial goals since 2001. We know that your personal finances may have a bigger part to play in your Medicare options in retirement.
Contact Next-Gen Wealth to get your free financial checkup today.