Welcome to the weekly roundup where I share with you interesting articles from across the web. I hope you enjoy and absolutely feel free to share and pass along.
Our Kansas City Financial Planner Weekly Roundup
Hope you were able to get back in the swing of things after taking some time off to spend with family and friends for Thanksgiving. I know it always takes me a little while to get back in the swing of things.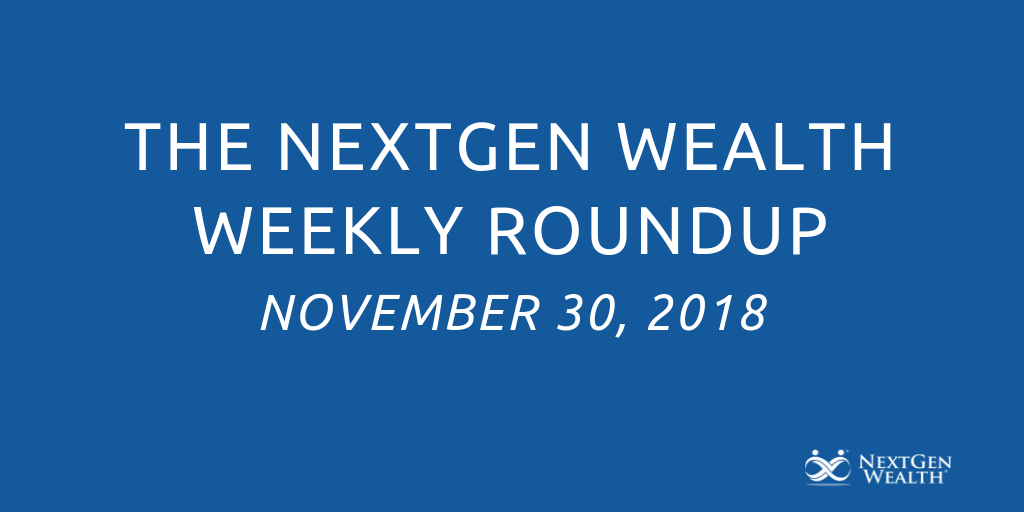 If you're in Kansas City (or the midwest for that matter), then you just experienced the biggest snowstorm we've seen in over five years...and wow, was it a doozie. Blizzard conditions with 40 mph winds. It was fun to see a nice snow.
As for the stock market, it has rocketed back after a miserable Thanksgiving week. I wasn't all that hopeful we'd see a Santa Claus rally, but these past few days have certainly shifted things in the right direction.
Enjoy the reads and have a great weekend!
How To Adult: Managing Your Money Like A Grown-Up
An awesome piece from Aaron over at Personal Finance for Beginners about how to manage your money like a grown-up - and trust me, it's not as easy as it sounds. Aaron shares some awesome tips from other financial bloggers so you can learn from what they did right but also from what they didn't do so right.
Have you ever wanted a blueprint on how to be an adult? As a child and teenager, it always appeared that the grown-ups in my life had this whole "adulting" thing all figured out. Of course, as I've become an adult myself, I've realized that adulthood isn't always so easy.
Financial Freedom Is Not About Money, It's About Living Your Best Life
Great guest post from Todd at Invested Wallet on Rockstar Finance. Financial freedom means different things to different people and it may even mean something different depending on the day. Regardless, and I agree with Todd, the foundation always comes down to living your best life.
By: InvestedWallet.com There is no doubt most of you reading this are quite familiar with the term financial freedom. It's a goal I'm actively pursuing and something most would like to achieve in their lifetime. We've also all have experienced an unexpected and expensive bill, whether that is a medical emergency, car repair, etc.
The Health Savings Account Guide + the Secret to its Wealth-Building Power
If you've ever read my blog before, then you know my love for Health Savings Accounts. Barb does an awesome job of explaining what they are, why they're so awesome, and why you should take advantage of one if you're eligible.
Several years ago, I was floored when my health insurance premiums topped $500. Oh, for the good old days. Last year, I paid over $700 per month. Recently, I gingerly opened next year's health insurance estimate to discover that in 2019, I'll pay more than $800 per month.
5 Ways to Save Money This Holiday Season
I mean, who doesn't want to save a little money this holiday season? Tori over at Victori Media gives us five awesome tips so we can save a little dough this season. This is a really nice quick and impactful read.
Hard to believe the holiday season is upon us already. And with it, comes added expenses like gifts, travel, events, decor, and more. It can be incredibly stressful to figure out how you're going to participate in everything, while also staying on budget. In preparation for your holiday celebrations
Our Blogs From This Week
While it's true that saving for college is easier the earlier you start, all hope is not lost if you waited a few years to get started. Despite the rising cost of a four-year degree, it's still an important asset for climbing the career ladder in most professional settings.
When the stock market takes a sudden turn downward, it can be easy to get worried about your investments. Market turmoil can cause even seasoned investors to take pause. Watching the value of your investments go down can certainly be disheartening.
Wrap Up
Thanks for taking the time to check out our weekly roundup Have an awesome weekend!
Follow us on social media and be sure to sign up for our monthly newsletter - I can assure you it's not the same boring financial newsletter you've seen before.