Welcome to the weekly roundup where I share with you interesting articles from across the web. I hope you enjoy and absolutely feel free to share and pass along.
Our Kansas City Financial Planner Weekly Roundup
Hello everyone and welcome to another edition of the NextGen Wealth Weekly Roundup. Hope you're having a great week!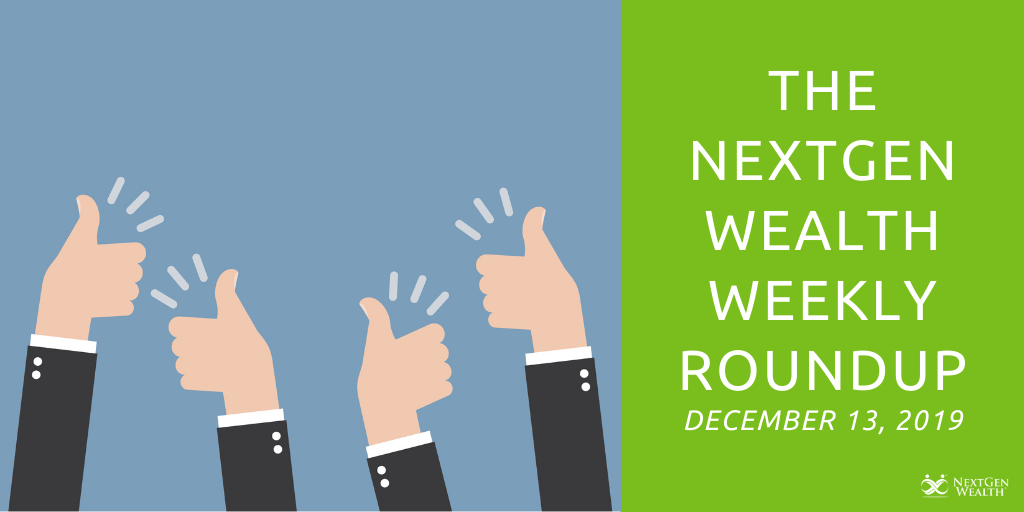 We are seeing stocks hit record highs today after it was reported that the U.S. and China have finally reached an agreement on the text of phase one of the trade deal. The Dow Jones, the Nasdaq and the S&P 500 all made major gains, hitting record highs.
Now, the next step in this trade deal seems to be setting a time for signing the deal and going through the legal steps. So we will have to wait and see when this would be happening.
It was also reported that the tariffs would begin to roll back in phases, and that they would increase their agricultural purchases. But, it was not specified by how much this would happen.
Trump confirmed that an agreement has in fact been made, that will mean no new tariffs on China and the current tariffs will be slightly reduced. Phase two will be going into effect immediately, he announced, and we can only hope it will also have a positive outcome!
So enough of my commentary, let's jump in and check out some of the best articles I ran across from the past week. Enjoy the weekend and find some time to relax.
The Best Places to Buy or Sell Used Wedding Dresses Online
First up, we turn to Budget Savvy Bride with a look at some of the most reputable sites to sell your wedding dress. The dress is a big chunk of the wedding budget, so the opportunity to resell and get some of that money back can be a great option. Check out this article for some of the best options to sell your wedding dress.
This post may contain affiliate links. Click here to learn more. This post is the ultimate guide to selling a wedding dress online. If you're considering selling your wedding dress, we've rounded up the best information to help you decide the where, how, and why so you can turn your used dress into cash!
Incorporating Reading Into Your Daily Routine
Next up, we turn to Be Three with a look into how you can incorporate reading into your day, as well as some suggestions to keep it budget-friendly. Taking time to read each day can give you a chance to unwind, and possibly learn something new. Be Three also shares some of her favorite reads from the past year, if you're looking for your next book.
This post may contain affiliate links, please read my full disclosure here. I love to read and I've worked really hard this year to incorporate it back into my daily routine. For me, reading is a way to put your phone down, unwind before bed, learn something new, or even let your imagination run wild.
How Mentors Can Advance Your Career
Next up, we turn to Keeping Up with the Bulls with some ways that a mentor can help to advance your career. Especially when you are early on in your career, you may be faced with some difficult decisions and be unsure how to handle them in a way that is best for your career. Continue reading for more information on what a mentor does, how you can go about getting one, and how to be sure it best benefits you.
A mentor can help you advance your career. Early in your career it's even more important to have a mentor as you will encounter new situations and need advice on how to navigate them. For example, shat do you do when you're offered increased responsibilities within your team but no raise or promotion with it?
Credit Cards for People Who Love Free Travel and Money
In our final read of the week, we turn to Physician on FIRE with some credit card options that could potentially earn you free travel and some money back. With so many options for credit cards out there, it's hard to know which one has the best benefits and would make the best fit for you. Physician on FIRE gives a look into which cards he has used and the benefits you could potentially receive from them.
Physician on FIRE has partnered with CardRatings for our coverage of credit card products. Physician on FIRE and CardRatings may receive a commission from card issuers. Opinions, reviews, analyses & recommendations are the author's alone, and have not been reviewed, endorsed or approved by any of these entities.
Things We Were Up To This Week
As a general rule, one of the biggest challenges to overcome when investing is trying to minimize your tax liability. Capital gains taxes can take a significant chunk of your gains if you're not careful. This is why you need to understand as much about various tax strategies as possible to minimize what you're paying.
Wrap Up
Enjoy the weekend and spend time with family and friends. Take a break from work and give your mind some well-deserved rest from the long week. Cherish the time you have with your family and I guarantee it will make your life much happier!
Follow us on social media and be sure to sign up for our monthly newsletter - I can assure you it's not the same boring financial newsletter you've seen before.