Welcome to a new feature on the blog, each Friday I will share with you interesting articles from across the web. I hope you enjoy and absolutely feel free to share and pass along.
Our Kansas City Financial Planner Weekly Roundup
If you live in Kansas City, then you just experienced our first snow of the year yesterday. And, in my opinion, hopefully, the first of many more to come. It's always fun to see snow on the ground.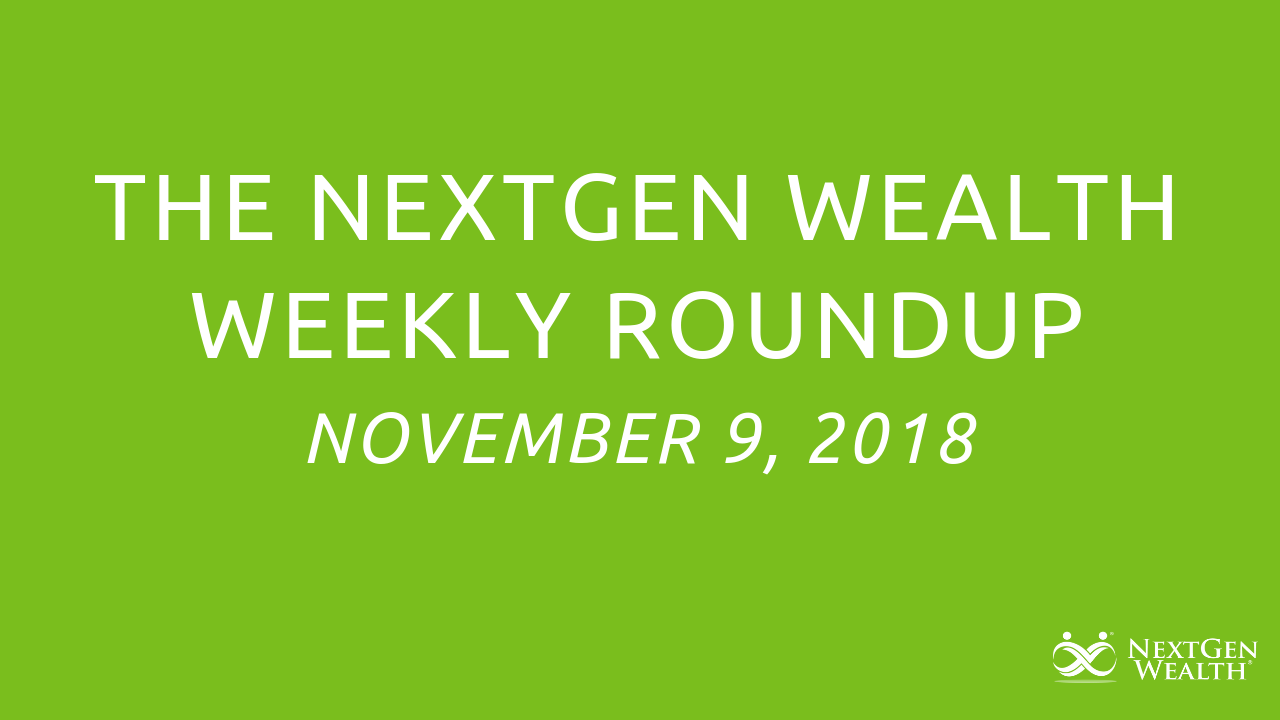 I heard on the news that we haven't had three inches of snow in Kansas City in over 1,700 days - since 2014. That just seemed like a crazy stat, but when I think about it, I guess we haven't had much over the last few years.
Moving on from the weather that most people probably don't care about - even those who live in Kansas City :-) - I am introducing a new segment on my blog. It's basically a quick roundup of some of the best articles I ran across and why I think they're must-reads - think of it as your weekend reading list if you get a few moments.
I hope you enjoy. Feel free to share on social media and let me know what you think.
And, guess what...no more political ads!!!
Have a great weekend.
How to Overcome a Learning Disability
Check out this amazing story of Steve Adcock (and his wife Courntey) and how he overcame a learning disability growing up to retire at 35 years old - and lives in a 30' Airstream traveling the United State no less. Just an amazing story of hope and perseverance that we can all learn from.
We continue our weekly interview series as we here a story from a very successful blogger and former IT guy on how to overcome a learning disability. Steve Adcock, authors the blog ThinkSaveRetire. Steve and I are part of a blogging group. We met and the recent FinC0n conference.
Mainstream Media Misses the Mark on the FIRE Movement
In our next recommended piece, Physican on Fire goes covers how the media isn't quite grasping what the FIRE (financially independent, retire early) acutally means. It's not all about living off food scraps and becoming a hermant. If you're looking to learn more and maybe even start the journey yourself, you don't want to miss this one.
FIRE has been featured prominently, but not all that well, in recent mainstream media articles. What's wrong and how to best make it right.
Great Holiday Gifts, 2018 Edition
If you're anything me, buying Christmas gifts can be painful. If that sounds like you, then check out ESI Money's 2018 holiday gift buying guide. From great books to travel to even workouts, this list has a little for everyone. Get to shopping because Christmas will be here before you know it.
Last year I posted several holiday gift ideas and the post went over quite well. It seems we all have those hard-to-buy-for people and a few extra suggestions were welcome. So like last year, I went into my Amazon order history and picked out some ideas based on what I liked.
The Ultimate Guide To Financial Freedom
While I might a little biased with this one, it's a piece I'm very proud to have written. If you're stuck in your financial life but you're ready to take control, then our Ultimate Guide to Finanical Freedom is just the thing to get you started. Check it out today and let me know what you think.
Want to achieve financial freedom? Check out our action-packed guide with steps to get you started today.
Guest Blogs
If you still have time, check out some of my guest post blogs for the week.
Do you have an epic vacation idea but aren't exactly sure how you're going to come up with the money? Perhaps a simple family trip that everyone's been wanting to do but just can't figure out how you're going to fit it into budget?
The following is a guest blog post: You learn a ton of things in school. Yet there's one subject that almost never gets discussed during your student life and that's "How to manage your money". In this article, I'll show you time-tested, proven and actionable advice that you can immediately apply as you get the ...
Wrap Up
Now that the election is over and we have some normalcy back in our lives, it's officially time for the holiday season to begin. If you're feeling lost in your financial life or wondering what to do next, then reach out to us anytime. We are here to help you take control of your investments and ensure you're doing the right things so you can reach financial independence on your terms.
Have an awesome weekend!
Follow us on social media and be sure to sign up for our monthly newsletter - I can assure you it's not the same boring financial newsletter you've seen before.