Are you in the market for a financial advisor and looking to know who are the best in the Kansas City area?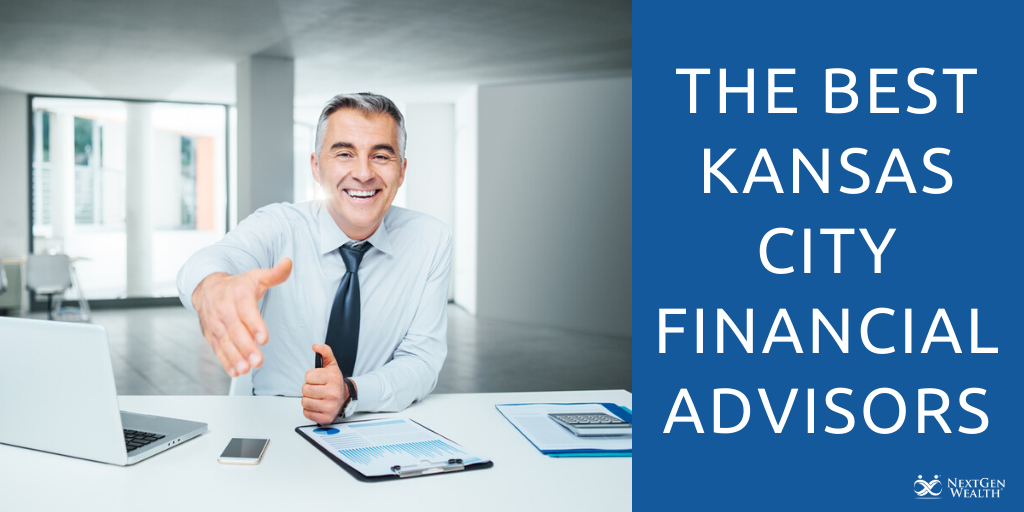 Well, you've come to the right place.
In today's post, I'm going to provide you with who I believe are the best financial advisors in Kansas City. I respect and admire all of these firms and individuals and would have no problem at all referring a family member (as long as they're a good fit, of course).
Before I get to that though, you're probably asking yourself why in the heck is this guy (who is a financial advisor) recommending other financial advisors. This is a fantastic question and one my wife asked immediately...and then looked at me like I was crazy.
The reason I'm putting this together is because, let's face it, NextGen Wealth isn't always a good fit for everyone. Believe it or not, but we just don't accept anyone as a client (which definitely isn't the industry standard).
We only work with individuals who are a good fit for us. If you're not familiar with what our company avatar is, here is who we ideally work with:
Generation X ages 40-55 years
Typically married with children and either one or both spouses are working
Successful professional who knows the importance of saving and has already saved at least $500,000
Knows enough to be dangerous but knows when it's time to call in a professional because they value family time in their lives as opposed to managing personal finances and investments
Understands the importance of having a financial plan and that it's not only based on investments
I could go on and on and continue to narrow it down, but I think you get the point. And, since everybody doesn't fit this mold, it makes sense for us to refer those individuals to other financial advisors in Kansas City who do fit their mold a little better.
How I Know These Top Financial Advisors in Kansas City
Having been a financial advisor since 2001 as well as living in the Kansas City area my entire life, I've met a number of financial advisors over my career.
Also, being a Certified Financial PlannerⓇ as well as a member of a number of financial services based associations, you tend to get to know people over the years.
Let's face it, we all hang in similar circles and attend many of the same events.
I've met many of them over time (some good and some not so good), so the Kansas City financial advisors I'm listing today are ones who I completely trust and endorse.
So, without further ado, let's get to the list.
The Best Kansas City Financial Advisors to Consider
Melissa Ellis, Sapphire Wealth Planning - Overland Park, KS
"I am passionate about helping women establish and maintain wealth. By exploring multiple options at the crossroads of their lives, I love helping assist women in making choices leading to financial independence. As a Certified Divorce Financial AnalystⓇ and a Certified Financial PlannerⓇ, I believe I have a unique specialty in assisting women facing divorce. We integrate the methodology of financial planning directly into the divorce process to find an equitable solution that not only works now, but also years into the future. We will expertly handle all financial aspects of your divorce while collaborating with your attorney."
Chuck Cooper & Jon Garlow, StrongBox Wealth - Lee's Summit, MO
"We are proud to serve lifelong savers, entrepreneurs, business owners, professionals, executives, and community leaders with balance sheets north of $1 Million. We embrace our fiduciary responsibility to our clients and look to enhance it through collaborating closely with their other trusted advisors, such as accountants and estate attorneys. As both a Certified Financial Planner® professional and a Certified Private Wealth Advisor® with 35 years of combined wealth management experience, Chuck and I offer a dual accreditation and tenure unmatched in Kansas City."
"We stand committed to delivering big-picture client solutions through active listening, collaboration, clear-to-understand advice, and personalized portfolio management backed by industry-leading resources. We chose StrongBox Wealth as our name because we want clients to envision us as a trusted "one-stop repository" for consolidating their assets with a secure, stable partner committed to safeguarding their financial objectives."
Stephen Stricklen, Wise Wealth - Lee's Summit, MO
"I believe that there are 3 "phases of investing" - the accumulation phase, the preservation phase, and the distribution phase. Investors typically spend the most years in the accumulation phase (10+ years prior to retirement) and the distribution phase (during retirement), but perhaps the most critical is the preservation phase (5-10 years prior to retirement). While we take on clients in all three phases, we focus on clients within 5-10 years of retirement."
"There are so many important decisions to be made during this phase that special care needs to be taken because of the new risks that lay ahead in retirement. Our specialty is retirement planning and we take a comprehensive and customized approach with each client. With our proprietary planning method and objective process, our interactions with clients are not transaction-based, but rather relationship-based. We believe in providing value to our clients through education before, during, and after becoming a client. "
Marc Shaffer, Searcy Financial, Overland Park, KS
"We serve successful individuals and families, business owners and retirement plan sponsors. Each client has their own needs, desires, roadblocks, and big picture goals. What they have in common is a desire to do the best for themselves and those around them – this could mean their family, their employees or their community. We help address the financial needs so our clients can spend their limited time nurturing relationships and exploring passions."
"We have a compassionate understanding for the needs of our clients and spend time walking them through any specific concerns they may have. Over the years, we have developed vast experience helping the following unique groups: multi-generational families, doctors and medical professionals and special needs families. Whether a client is looking for financial planning and investment management, or just needs help in specific areas, we have both full service and subscription service options available."
Kristin Schroeder, Fruitful Stewardship, Overland Park, KS
"Hi! I'm Kristin Schroeder, a CERTIFIED FINANCIAL PLANNER™ passionate about bringing clarity and confidence to your financial life so you can flourish. As a fee-only financial planner, I guide families to financial wellness and to live intentionally. Doing this well matters to me because I believe it truly makes an impact in our everyday lives, and the lives of generations to come.
Clients initially connect with me through community speaking engagements, the Fruitful Stewardship monthly newsletter, or by scheduling a complimentary discovery call at my website. Service options include a one-time planning package that addresses 2 of your most pressing financial questions, or a comprehensive financial plan that provides a complete picture of your current financial situation. I use a holistic approach in planning because our motivations, fears, and priorities are all connected to our values and beliefs. Let's connect today!
Doug Nelson, Doug Nelson Money Coach, Overland Park, KS
"Swimming from Alcatraz to San Francisco, Doug was told that, though he thought he was heading the right direction, the tide was pushing him beyond the Golden Gate Bridge, into the Pacific. And to think he was only concerned about hypothermia and the sharks! By refocusing on a landmark left of the destination, navigating the tide led him to his goal. The same is often true for clients striving to reach their goals. Doug's goal is to discover where clients are, their challenges, and where they want to go. His mission: provide "Guidance Through Turbulence."
"Doug has a broad perspective gained from creative, customized problem solving for clients including Gen Xers and Yers, Millennials, military, retirees, and families both traditional and non-traditional as well as unique property transfer situations. Doug has never been geographically isolated in an office. He makes himself available to clients where they are: home, office, video chat, wherever. Even the beach…but that's a different story!"
Commonalities of the Best Financial Advisors
As you can see from the list, all of these financial advisors specialize in working with specific clients and have specific areas of expertise. They know what they're good at and they know who a perfect client is for them.
So, while there are plenty of differences between the advisors, they also share a few commonalities that are extremely important when looking for a financial advisor.
They are fee-only or fee-based. This is very important especially if you want your financial advisor to always have zero conflicts of interest to ensure they're always working in your best interest
They are ALWAYS a fiduciary. Most people have no idea what a fiduciary is and why it's so important to be working with one. Let Tony Robbins tell you what a fiduciary is and why it's so vital that your financial advisor is a fiduciary.
They are a CFP® Professional or a candidate for the CFP® certification. Certified Financial Planners® must have a college degree, pass a rigorous exam, meet certain experience criteria, and more.
Certainly, this list of the best financial advisors in Kansas City isn't exhaustive. There are other great ones out there.
Regardless though, do your research and put in the time to find the best fit for you and your family. At the very minimum, make sure they meet the three criteria above.
Additional Resources for Finding a Financial Planner Where You Live
If you're still wanting some additional resources to do a little more digging to find a financial advisor that's just right for you, here are a few I recommend:
Finding the right financial planner who's the right fit for you and your needs is important. My recommendation would be to interview 2-3 different ones before making a decision.
The three questions you should ask each of them are:
How do you get paid?
Are you a fiduciary 100% of the time?
Who do you specialize in working with and what does your financial planning process look like?
If these basic questions can't be answered to your liking (or something just seems off), then move on. Don't take a chance when it comes to your personal finances.
Hiring a financial advisor is a big decision. If we can be of any help or if you believe we might be a good fit for you, then please call us at (816) 287-4780 or
set up an introductory 15-minute phone call here
.