What is it that they say? That the clothes make the man?
Well, while I don't believe that clothes have any bearing on your competence as a professional, I think we can all agree that appearances do matter. As a general rule, people will treat the well-dressed and well-groomed better, and looking your best can provide a big confidence boost. So, it's important to have an elegant, polished look at work, to make the most of your time at the office and maximize your chances of success.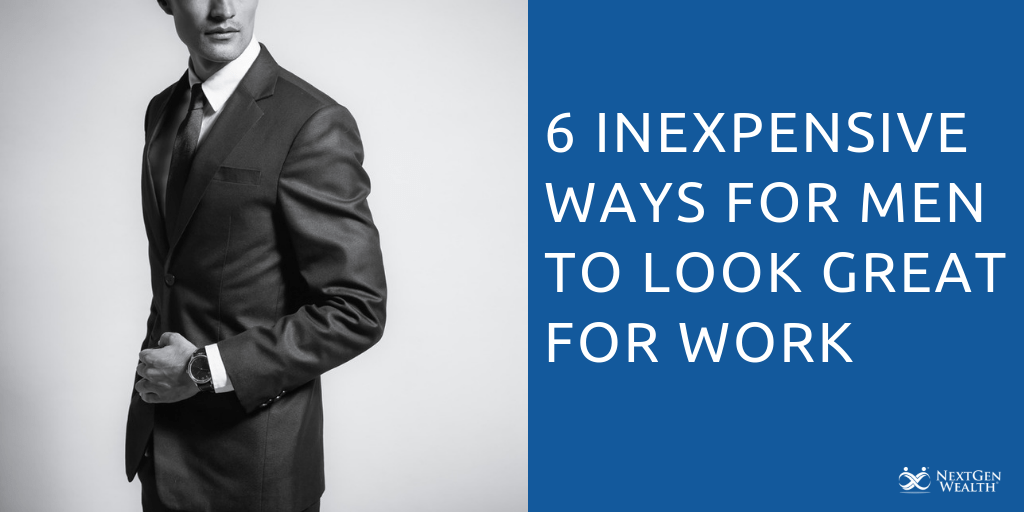 However, it's equally crucial to protect your bank account by making sure you don't spend thousands of unnecessary dollars on overly expensive threads that you don't really need. With this in mind, I've gathered some wisdom from nearly a decade as a practicing lawyer, to help you get the best work outfits for the least amount of money. Here goes.
6 Inexpensive Ways for Men to Look Great for Work
1. Buy Your Suits and Shirts from Joseph A. Bank
Suits
Ever since I started practicing law, I've bought pretty much all my suits at Joseph A. Bank. They've served me well both in the office and in the courtroom, and I've even gotten compliments from people far fancier than I.
The trick is to buy from their high-end collections when they're on sale (which is frequently) or from the clearance section. If you do that, you can get a great, high-end suit for $500-$600, or even less. I know that's a lot of money, but a designer suit from a brand like Ermenegildo Zegna can easily cost you more than $3,000.
Make sure that the suit features pick-stitching (visible stitches on the lapel). It's a mark of a quality suit, and suggests that both sides of the lapel weren't glued together.
Oh, and be careful with suits from designer outlets. It's not uncommon for outlet stores to carry lower-quality, made-for-outlet merchandise than the brand's boutiques.
Shirts
Like my suits, I buy my shirts mainly from Joseph A. Bank, though I don't hesitate to buy their cheapest lines. The fact is that shirts tend to take a beating, plus only a small part of them is visible underneath a suit jacket. Therefore, I won't invest a lot in fancy shirts (or at least not as much as I'll invest in a suit), and instead choose to make them the "low" part of my high-low getup.
With shirts, I won't hesitate to buy from outlet stores, under the same reasoning. Only a small part is visible when you're wearing a jacket, and they will frequently get worn down or stained. So, while quality is important, it's not as essential as it is with suits.
2. Buy Your Shoes from Cole Haan
Cole Haan is known for making comfortable, high-quality shoes at a good price. Sure, you can buy amazing footwear from Salvatore Ferragamo or Gucci, but expect to easily pay more than $500. By contrast, a great pair from Cole Haan can run you around $250-$300, and sometimes even less than $100 (especially if you buy it from a third-party merchant like Amazon).
If you don't like Cole Haan or don't want to pay their prices, I find that Clarks is also a good source for work shoes. They're classy, comfortable, elegant, and quite well-built.
3. Have At Least One Automatic Swiss Watch (But Buy It Used)
A nice, elegant Swiss watch will class up any look. I recommend that you buy a timepiece with a simple, timeless design. For example, a TAG Heuer Carrera or Rolex Oyster Perpetual in stainless steel, which have classic looks that won't go out of style.
You can buy one of these watches at a store like The RealReal or Tourneau for less than $2,000, especially if you purchase it certified pre-owned.
Get it with a smooth automatic movement (as opposed to the stop-and-go of quartz). It's fancier, and since it recharges with the movement of your wrist, you'll never have to replace a battery.
Unless you're buying the watch "for yourself" (as opposed to for work), I would avoid more niche designs like Rolex Submariners, since they are more limiting than simpler styles, in that they don't work well with as many looks.
4. Check if Your Employer Has Corporate Discount Programs
Many employers have deals with stores such as Brooks Brothers wherein you can get a corporate discount card for free, and have a permanent discount at the store. So, check with the store or your employer.
If they do participate in a discount program, you should get a card that you can show at the store to claim your discount.
5. Favor Simple, Classic Styles
Unless you have a great sense of style and are sure you can pull off more daring looks, be conservative. Favor dark suits and white or blue shirts that are solid-colored or feature simple patterns. You can be a bit bolder with ties and socks, but I recommend that you still stay on the conservative side overall.
This will keep you looking great and will help you avoid wasting money on garments that you won't wear often. I learned this the hard way with a light brown suit that I only wore like 3 times!
6. For Designer Stuff, Buy At A Big Discount From Farfetch
If you still want to buy high-end designer goods, don't swipe your credit card until you check out the offerings from Farfetch. There, you'll usually find stuff for about 20%-35% off retail, frequently shipped to you from boutiques in Europe and all over the world. (I've gotten DHL shipments from stores in Poland and Italy, for example).
For instance, a Ferragamo tie will run you about $145 on Farfech, while Ferragamo will sell it to you for around $190.
Summing It Up
You don't have to spend a king's ransom to look elegant and sophisticated at work - all you have to do is know where to shop and what to buy. As a rule of thumb, I'd advise mostly avoiding garments and shoes from high-end fashion designers, and focusing more on brands like Joseph A. Bank and Cole Haan. They're affordable, high-quality, and look great.
Oh, and to save some additional cash, shop online whenever possible, and use money-saving browser extensions such as Honey and the Camelizer.
Miguel A. Suro is the Florida lawyer and blogger behind The Rich Miser, where he and his wife Lily share practical tips, life hacks, and reviews to help you live well for less.
This is a post from Clint Haynes, a Certified Financial Planner® and Financial Advisor in Kansas City, Missouri. He is also the founder and owner of NextGen Wealth. You can learn more about Clint at the website NextGen Wealth.