No, this isn't some kind of get rich scheme that I'm pitching but rather something everyone who has a savings account should really consider. According to gobankingrates.com, as of April 2016, the average savings account interest rate was only .06%. That's right, only .06%!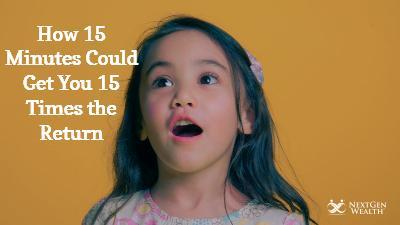 Believe it or not, though, I have seen many clients who branch at their local (insert giant bank name here) earning a measly .01%. That means if you had $50,000 sitting in a savings account there, your annual interest would add up to a whopping $5!
However, if you are lucky enough to get the average interest rate, we're now talking a massive $30 of interest every year. Obviously, the point I am trying to make is having your savings account at a local brick and mortar bank might not be the best idea if that's the interest you are earning.
What we recommend for our clients at NextGen Wealth is an online savings account. Currently, a number of online saving accounts are paying a 1% interest rate with a few others paying even more. Plus, the majority only have a $1 minimum with no strings attached e.g. no minimum amount of deposits, no minimum amount of debit card transactions, etc.
These types of savings accounts only take about 15 minutes to setup and get the funding process started. There's really no difference between this type of savings account and your local bank. They are completely FDIC approved and you can simply link up your local checking account to move money back and forth.
Now granted, 1% isn't exactly setting the world on fire, but in this day and age of low interest rates, that's just about the best you are going to find. The difference between 1% and .06% on $50,000 is $470 a year. That's right, $470 a year! A few minutes of your time can literally earn you an extra few hundred dollars every year.
While it may sound like I am working for one of these online banks, I can assure you I am not. I simply want to see people make the most out of their hard earned money. This is one of those things in life that you really should find the time to explore. Best of all, though, it really doesn't take much time at all.
At least entertain and consider the idea. The worst thing that can happen is you'll have to pay a little more in taxes every year since you'll be earning a much greater rate of return. Make the savvy money decision and take control of your savings account today.
For more information on your interest rates for online savings accounts, check our nerdwallet.