If you're approaching retirement and looking for ways to beef up your monthly income, there are many strategies to consider. You could pick up part-time work or start a side hustle like tutoring or delivering groceries. Or, you could just rent out your home or part of your home for cash and travel the world.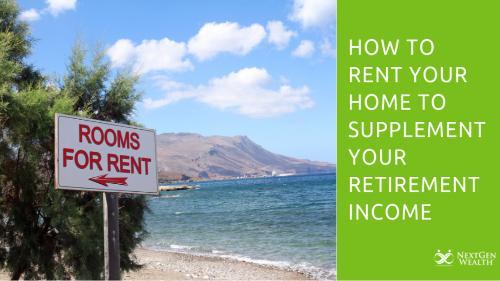 If you think that final suggestion is intriguing, you're not alone. Thanks to technology brought to use by companies like Airbnb and VRBO.com, it's more common than ever for senior citizens or anyone approaching retirement to use their home as an income-producing asset so they can do…well….whatever they want.
According to Airbnb's own research, 10 percent of Airbnb hosts worldwide are over the age of 60. Out of this older generation of Airbnb hosts, 15 percent host to stay active, 28 percent host to stay socially connected, and 49 percent host for financial reasons. Those all sound like legitimate reasons to rent a bed or your entire place to strangers, don't they?
Still, that doesn't mean becoming an Airbnb host is for everyone. If you're on the fence about the idea, keep reading to learn more about how Airbnb works and the pros and cons of becoming a host in retirement.
Becoming an Airbnb Host
While many Airbnb listings are for entire properties, others only include a room or a few rooms while the owner continues to occupy the rest of the home. Currently, Airbnb has more than 4 million listings worldwide ranging from gritty flats in historic cities like Mumbai and Rome to rural ranches in Wyoming, New Zealand, and Tuscany.
Heck, you can book a lagoon front home in Bora Bora on Airbnb. If someone lives somewhere, chances are good you can find a listing on Airbnb somewhere nearby.
With that being said, one of the biggest misconceptions about hosting on Airbnb is that you need to live in a place that has a ton of tourist traffic. This is simply not true. The reality is, you can host an Airbnb no matter where you reside.
Even if you live away from a big city, you may find people willing to rent your place for reasons you don't expect. For example:
Families often need temporary lodging while someone moves from one home to another
Anyone could need a place to stay while visiting family and friends who live nearby
Someone could need a place to stay while they search for a home to buy
A business traveler who doesn't want to stay in a hotel while they're in town for work
Considering the scenarios above, it's easy to see how someone might book an Airbnb in a town like Boise, Idaho or rural Arkansas for that matter. No matter how "unpopular" you think your city is, chances are good someone needs to stay there.
The good news about renting your home on Airbnb is that you set all the terms ranging from what is available for use in your home to the nightly rate and the dates your home is available. You will have to pay fees for listing your home on the Airbnb website, however, and these fees usually only add up to around 3%.
Renting a Room in Your Home
Before you decide to become an Airbnb host, it's crucial to determine how you want to go about it. Do you want to rent out a room? A few rooms? Your entire home while you travel abroad? The choice is entirely up to you.
One way to become an Airbnb host without turning your world upside down is by simply renting out a room or two — or perhaps a basement or upstairs you don't use very often. The advantage of hosting this way is that you don't have to leave your home. You can simply set the dates you're willing to rent out part of your home and make yourself and your property available during that time.
Of course, the downside with this option if that you never really know who you're renting to. You could end up with a pleasant traveler who stays out of your hair or a loud, messy maniac who loves rock music and keeps odd hours. You'll also need to make sure your personal belongings and sensitive information is put up and away from prying eyes.
At the end of the day, it's up to you to set house rules for your guests that make your Airbnb business a success. Just know that any time you're dealing with the public and sharing your roof, there's a chance something could go awry.
Renting Out Your Entire Home
The alternative to renting out a room in your home or part of your home is renting out your entire place. This can be a smart move to supplement your retirement income since you'll obviously earn more money this way, but there is one obvious problem — you have no choice but to leave.
Still, renting out your home can make a ton of sense if you plan to travel for extended periods. This is especially true since Airbnb and other peer-to-peer rental companies let you set dates your home is available and block out dates when the home cannot be rented.
Let's say you and your spouse plan to slow travel the world for several weeks or months at a time once you reach retirement age. In that case, you could prep your home as an Airbnb rental and rent a storage space for most of your personal belongings. From there, you would make your home available for the dates you'll be gone and collect income for renting out your property while you're traveling the world.
Depending on the rental rate for your property, you could even earn enough rental income to turn a profit while you travel. At the very least, you could aim to cover your travel expenses with rental income with the goal of preserving your retirement nest egg.
Final Thoughts: Should You Become an Airbnb Host?
It's always smart to find ways to increase cash flow in retirement and becoming an Airbnb host is one way to do just that. Not only does this platform let you earn money with an asset you already own, but it also puts you in control.
You get to set your own rates, your own availability, and your own house rules. After a lifetime spent working for someone else, that probably sounds like a dream come true, right?
Unfortunately, renting your home on Airbnb isn't a foolproof gig. You'll have to clean up after people or hire someone else to do it, and you'll have strangers in your home at least part of the time. You may also need to pack up your stuff and move it elsewhere when you're not staying in your home, which could be a pain.
But, the spoils go to those willing to sacrifice their time and effort. If you want to have your home working for you in retirement, renting it out is one way to do it. Airbnb can make it happen, but you're the one that will have to make it work.
Want More Great Information Like This Sent To You Monthly?

This is a post from Clint Haynes, a Certified Financial Planner® and Financial Advisor in Kansas City, Missouri. He is also the founder and owner of NextGen Wealth. You can learn more about Clint at the website NextGen Wealth.