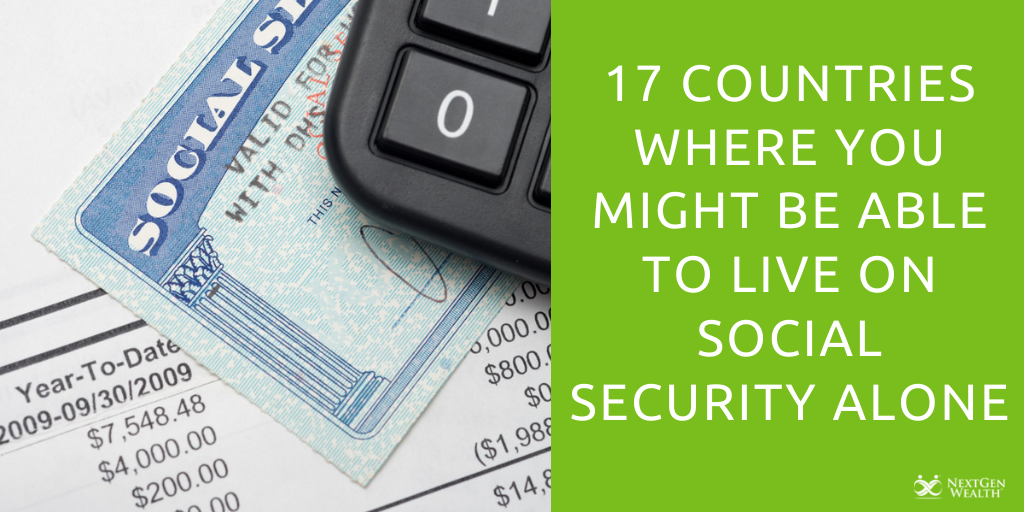 Retirement should be fun, and make life a bit more simple. You shouldn't be struggling to live off of the money you have.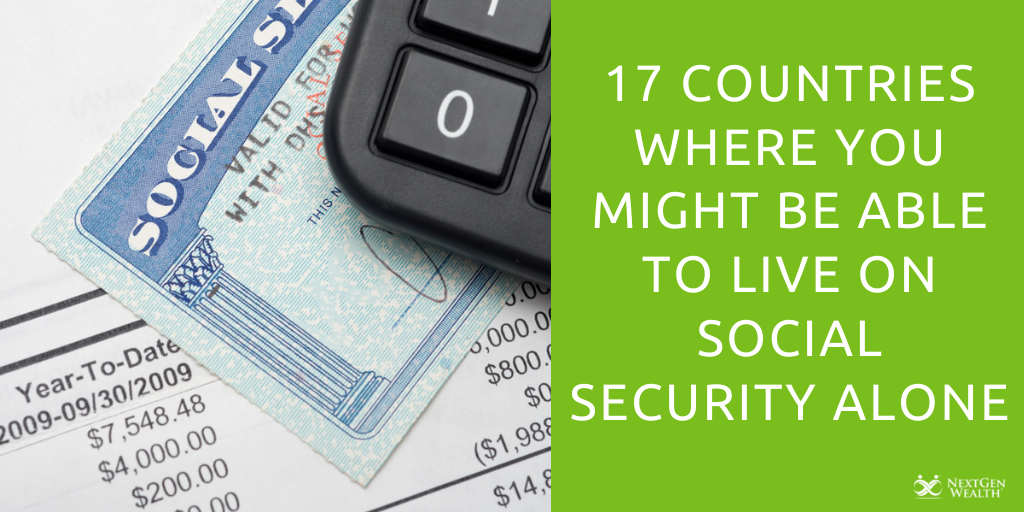 How do you expect to get by after retiring? You may only rely on a small income from your social security.
Or maybe you want to use your savings to enjoy life while using your social security check to pay bills. Any of these situations make retiring in the U.S. quite difficult. But retiring overseas, now that's a different story.
In several different countries, the cost of living is so small that relying on your social security check will be more than enough. It isn't the best retirement plan, but it can ensure that you retire in style and for cheap. You don't have to worry about budgeting and cutting back when living abroad.
These affordable countries located all around the world fit the bill for ex-pats when looking for the best retirement retreat. You can enjoy a relaxed lifestyle, good healthcare, and great weather. You may even join an ex-pat community or meet friendly natives.
The average social security benefit check for 2021 is $1,543 per month. That's more than enough to get by in places where an apartment is about $300 and a night out is about $10. Although, it helps to know which countries are affordable enough to live in using just your social security benefits.
So, get ready to embark on an adventure of a lifetime and explore new passions. Here are 17 countries where you might be able to live on social security alone.
Need Help Navigating Your Social Security Options? Learn more about our FREE Social Security Optimization Review.
Vietnam
In Vietnam, the infrastructure and cities are quickly developing. The economy grows stronger by the day. You'll find welcoming people and quality healthcare.
Vietnam has a countryside landscape, wild islands and paradise beaches. It includes oceans and mountains within a few hours of traveling. Vietnamese people are known for their hospitality and consider everyone to be a member of the family.
In this country, it's possible for two people to comfortably live off of $1,500 or less. This even goes for Vietnam's two biggest cities, Ho Chi Minh and Hanoi City. Also, English is widely spoken there, so it'll be easy to get by.
Ecuador
This country has a comfortable climate all year round. Besides its great weather, Ecuador is also quite affordable. There's also no shortage of retiree perks either.
Apartment rentals are only a few hundred bucks a month, including two-bedroom apartments. Ecuador provides abundant fresh food at a cheap price, a welcoming ex-pat community, and an affordable healthcare system. Those over 65 years of age also get up to 50 percent off public transportation and certain events.
With the senior citizen discount for 65-year-olds, the annual property tax is down by 50 percent and all notary fees become free. With cheap transportation, you could save much more if you leave your car payment and auto insurance requirements in the U.S.
France
France is one of the most popular countries in Europe, and the capital of high fashion. They have good food, good culture, and excellent healthcare. Not to mention the glamorous city, Paris, as a bonus.
You'd be surprised at how budget-friendly this place is to retire. Although, electricity, cable, and water bills are a similar price, sometimes higher, to that of the U.S. Plenty of other things are much cheaper.
The price of bread, wine, and cheese are all below $5. There are also many beautiful properties in villages and country towns for very affordable prices. France's rental prices are 37.67 percent lower than that of the U.S.
One-bedroom apartment rentals come down to about $500. France also has the best healthcare in the world. A visit to the doctor costs about $30 and after three months of residency, you can get 70 percent back.
Mexico
Mexico is another country where you might be able to live on social security alone. It offers a wide range of options for seaside living. They provide established ex-pat communities in several areas as well.
The dollar has a strong position against the Mexican peso. This makes the cost of living an even better value. Ex-pats live well on as little as $1,200 per month including the cost of rent and healthcare.
With a social security benefit of $1,543, you'll have a few hundred dollars left over to spend on whatever you'd like. Mexico has vibrant and colorful culture, inspirational food, beautiful colonial towns, and sterling beaches. With that, you can make the most out of every cent of that social security check.
Spain
Spain has one of the lowest costs of living in Western Europe. It stands out because of its laid-back lifestyle and superior infrastructure. It also has a world-class health care system.
The cost of living in Spain is 17.61 percent lower than in the U.S. The estimated cost of living is $743. The rent for a small one- or two-bedroom apartment is about $500 a month.
You'd be spending about $1,243 a month, leaving you with $300 a month leftover. Additional perks include the Mediterranean diet and first-world, Western European living standards. There are also several areas with big English-speaking ex-pat communities.
Nicaragua
Nicaragua is the largest country in Central America. It has languid beaches and a stunning pacific coastline. Nicaragua is the perfect destination for those of you wanting to snorkel, swim in lakes, or explore caves.
There have been major infrastructure improvements in the past few years. There's also great health care and little traffic. Nicaragua has a very low cost of living, with rent being over 92 percent cheaper than in New York City.
A couple on a budget can live comfortably on about $1,500. The monthly rent in a nice neighborhood ranges from $400 to $700 for two- or three-bedroom homes. A three-course meal for a couple is just around $25.
Malaysia
If you want to eat well in your retirement, Malaysia is the perfect destination. And it's a recent arrival on the American ex-pat scene. Malaysia's multicultural society has a fusion of cultures and tolerates all religions.
As for the cost of living, you can rent a two- or three-bedroom apartment for about $550 to $650 a month. In Penang, meals go as low as $2. The cost of Malaysia's healthcare is so low that people pay out of pocket, while few ex-pats don't even have health insurance.
You could easily live here for less than $2,000 a month. It's also easy to get around seeing as English is Malaysia's first unofficial language, and road signs are in both Malay and English. This country is full of picturesque islands and beaches and is the perfect attraction for ex-pats.
When it comes to Social Security, there's a wealth of information out there. The problem is that it's often misleading or incorrect, so it's easy to make mistakes that rob you of your government-guaranteed income. Learn more about our FREE Social Security Optimization Review.
Colombia
Colombia has spring-like weather all year round. Its lush green coffee plantations, mountains, and beautiful beaches offer an enchanting escape. How's that sound for a retirement destination?
Two people can live here on as low as $1,030 a month. Utilities are much lower here than in the U.S. Phone, internet, and cable combined are only about $30 a month in Bogota.
Healthcare is excellent in Colombia. Rent for two-bedroom apartments is as low as $325. For an American ex-pat looking to retire, this is the best place to live for a bargain price.
Cambodia
Cambodia is a tropical paradise and is full of sunny days, palm trees, and beaches. It's also perfect for your bank account.
Rent for a one-bedroom apartment outside the city center starts at $310 a month. For a three-bedroom apartment in the city center, rent starts at about $1,234 a month.
Costa Rica
Costa Rica is another country where you might be able to live on social security alone. It's a popular place to retire and is famous for its ecotourism. It has a low cost of living, affordable healthcare, and budget real estate.
It's also the best place to live if you have a love for nature. Costa Rica has long green hills that give way to mountains and an endless sea. It has breathtaking landscapes and unspoiled beaches that fuel this country's popularity among many travelers.
For retirees, the cost of the healthcare system is only a fraction of what you pay for in the U.S. Rent is about $450, and transportation, utilities, food, healthcare, and more are each under $200. The average cost of living including the things mentioned above is $1,285.
Panama
Panama is a modern country only a short plane ride from the U.S. The weather is warm and tropical with plenty of Sun. The currency is the U.S. dollar, so just bring you and your money right on over to Panama!
Panama is also very affordable with a cost of living as low as $1,120. Come in with a pension of at least $1,000 a month and you'll get a whole series of government benefits including residency. This is designed to make life cheaper and easier.
Portugal
This country is where ex-pats can truly feel welcomed. Its gracious people, brilliant sun, and captivating beaches make this country more appealing than ever to many people. And of course, it's very affordable, otherwise, it wouldn't be on this list.
Portugal is the third safest country in the world and the second cheapest country in Europe. A meal will cost about $10 with rent costing as low as $375 a month. A couple can do well living on just $1,700 a month.
Guatemala
In Guatemala, renting a 900 square foot apartment averages at about $700 a month. At a casual restaurant, a meal is as low as $5. Overall, the cost of living in Guatemala is about 40 percent lower than in the United States.
Guatemala has universal healthcare coverage. It also has beautiful landscapes as well as beautiful mountains and coastlines. Guatemala is a beautiful country that attracts an increasing number of retirees.
Peru
Peru is another country where you might be able to live on social security alone. It's a good choice if you're looking for a retirement filled with adventure. The cost of living is cheap depending on the location.
The estimated monthly cost for a single person is about $446 without rent. Rent is to be about $700 a month. Peru also provides quality healthcare services.
Southeast Asia
Southeast Asia offers great value for the money. It's a place where your retirement dollars will stretch much further than they will in the U.S. It offers a low cost of living, picture-perfect beaches, and a fascinating culture.
You can expect to spend about $470 a month for a two-bedroom condo and less than $10 for a good meal. Also, their quality healthcare service is much cheaper than in the U.S. Doctor visits cost $15 on average.
Indonesia
Indonesia is a retirement option for those of you in good health. It has a vast network of islands, so the nearest hospital will be a bit far away. This is unless you move to one of the big cities.
Indonesia is a vacation hotspot with a low cost of living. A one-bedroom apartment will only cost you a few hundred dollars. A single dollar will even get you a decent meal like a plate of well-made noodles.
Thailand
Thailand is one of the most vibrant, colorful, and exciting cultures in the world. Retiring here will offer you a lot and for pennies on the dollar compared to the U.S. You'll find white sand beaches in the south and mountainous hot springs in the north.
A night out can cost less than $5. Rent is as low as $230 a month. Altogether, the cost of living ranges from $800 to $1,200 a month.
What's the worst that could happen if you draw Social Security retirement benefits at the wrong time (or the wrong way)? You could lose an average of $111,000 in your government-guaranteed income. Ouch. Don't let this happen to you. Learn more about our FREE Social Security Optimization Review.
Conclusion
As you can see, there are plenty of places to choose from when deciding to retire overseas. In fact, you were just provided with 17 countries where you might be able to live on social security alone.
In these countries, your social security check has got your back! For more information,
contact us
today to get your free Financial Assessment.