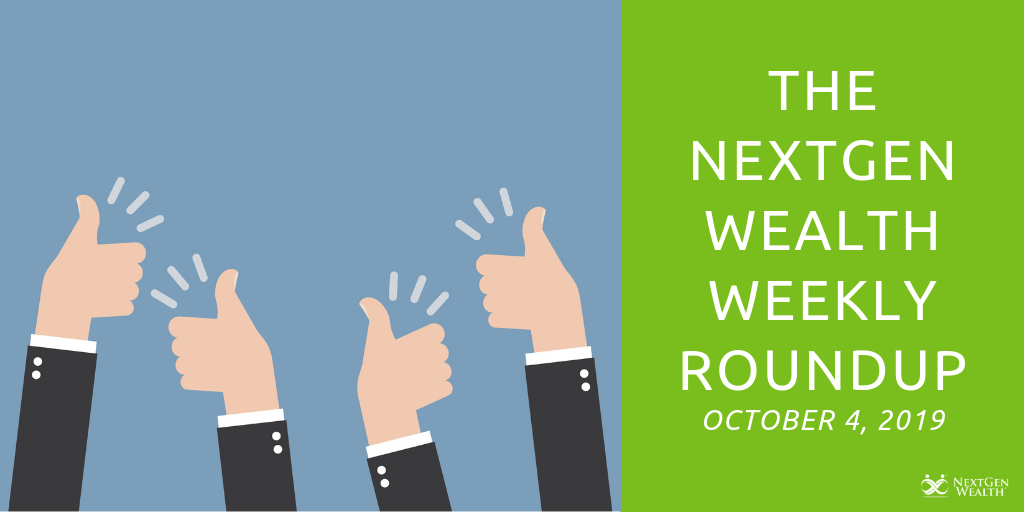 Welcome to the weekly roundup where I share with you interesting articles from across the web. I hope you enjoy and absolutely feel free to share and pass along.
Our Kansas City Financial Planner Weekly Roundup
Hello everyone and welcome to another edition of the NextGen Wealth Weekly Roundup. Hope you're having a great week!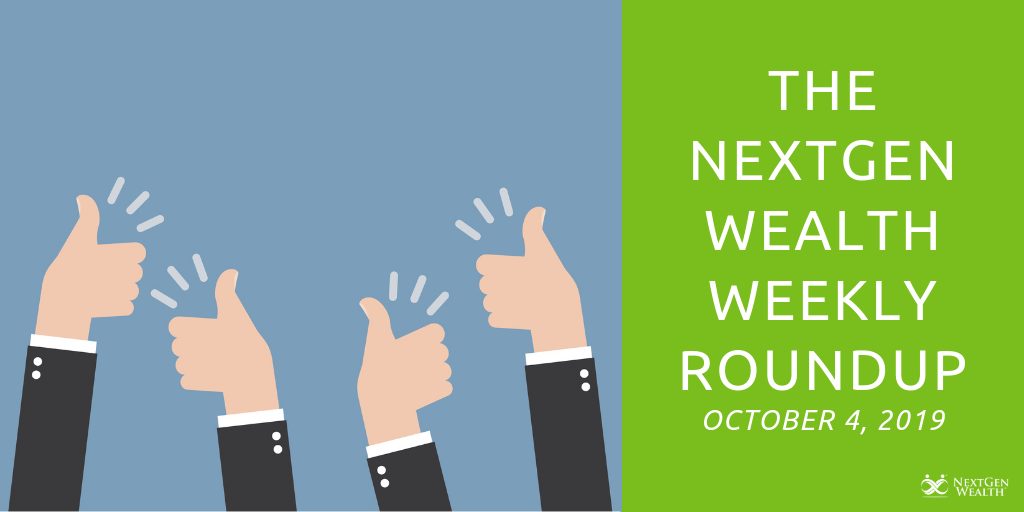 Well after a rough week of losses in the market, we saw stocks climb as the latest job report was released today. The report showed the U.S. job market is continuing to grow, although slowly. It is growing enough though for the unemployment to drop to a record 50-year low from 3.7% to 3.5%.
The number of jobs added last month was slightly less than expected, and below the pace set from the 168,000 jobs added in August. The growth in worker's wages was also weaker with zero growth. But, on a positive note, hiring in prior months was stronger than expected.
If the job market can continue to remain strong, it would allow households to continue spending. Consumer spending has been the stronghold of the economy recently, especially with the trade war happening.
Rate-cut expectations have been high as of late, but we will have to wait and see the outcome of the Federal Reserve meeting set for later this month.
So enough of my commentary, let's jump in and check out some of the best articles I ran across from the past week. Enjoy the weekend and find some time to relax.
The 19 best ways to generate passive income in 2019
Next up, we turn to LADDERS with a helpful list of 19 different ways you can generate passive income this year. More and more people are looking for ways to "make money in their sleep" and passive income is just that. This list gives ideas for "truly" passive income (no work needed), semi-passive income, as well as residual income.
Making money while you sleep has a beautiful ring to it. I mean, who wouldn't want to be making some extra money while playing with the kids or while watching a game? The only problem is that most 'passive' income... The only problem is that most 'passive' income ideas that you'll come across are not passive at all.
How One Couple Quit Their Jobs to Resell Bras on Amazon
Next up, we turn to iLikeToDabble with an interview with a couple that quit their teaching jobs to sell items full-time on Amazon. This couple wanted to become parents, but living off one income wasn't going to work for them so they decided to start their own business. Continue reading for some more info on how they started their business and some tips for starting your own.
September 30, 2019 This page contains affiliate links and we may receive compensation when you click through, purchase or sign up for anything through those links. Read the full disclaimer for more information. This is the 9th article in my newest series, Entrepreneur Stories.
12 Real Estate Investment Calculations Every Investor Should Know
In our final read of the week, we turn to Wealthy Nickel with the most important real estate calculations that investors need to know. The math behind all the calculations involved in real estate can usually be pretty simple, but the terms can often be confusing. If you're looking for the basic real estate calculations that you need to know, this article is where you can find them!
Looking for a one-stop shop to all of the basic real estate investing calculations you'll ever need? Then you're in the right place! The math behind real estate investment calculations is really pretty simple.
Things We Were Up To This Week
What kind of legacy are you going to leave when you die? If you haven't pondered that question yet, now is the perfect time to start. If you have money or any property that you want to pass on, it's well past time to get a plan in place for when the inevitable happens.
Wrap Up
Enjoy the weekend and spend time with family and friends. Take a break from work and give your mind some well-deserved rest from the long week. Cherish the time you have with your family and I guarantee it will make your life much happier!
Follow us on social media and be sure to sign up for our monthly newsletter - I can assure you it's not the same boring financial newsletter you've seen before.