Welcome to the weekly roundup where I share with you interesting articles from across the web. I hope you enjoy and absolutely feel free to share and pass along.
Our Kansas City Financial Planner Weekly Roundup
Hello everyone and welcome to another edition of the NextGen Wealth Weekly Roundup. Hope you had a great 4th of July!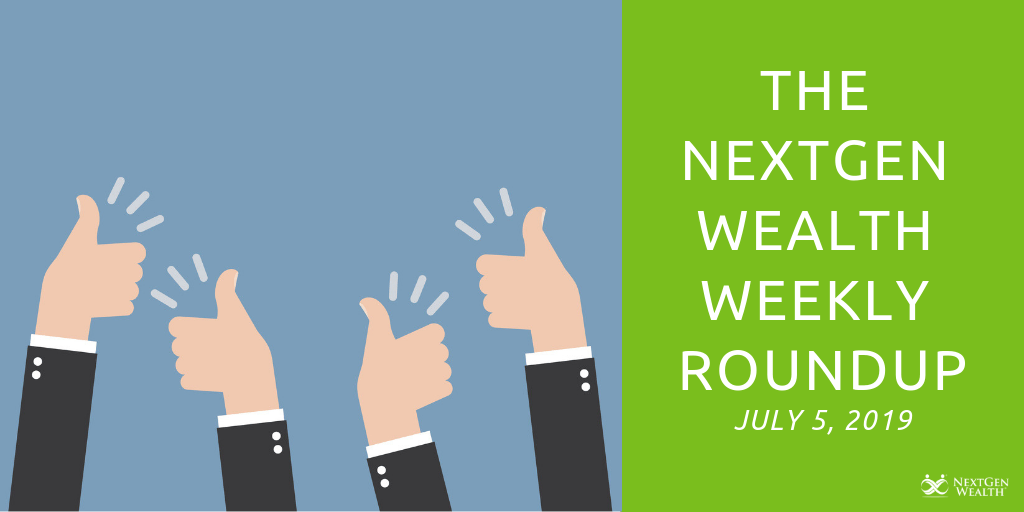 Although the stocks fell today after jobs data dampened the hope of a Fed rate cut, they did reach an all-time high before the holiday with S&P 500 rising 0.77%, Dow Jones rising 0.67% and Nasdaq increasing 0.75%.
Economists had predicted the U.S adding 165,000 jobs in June, but the number was high above that at 224,000 jobs. This has been the best growth since January, recovering after a shockingly low 75,000 jobs in May. The unemployment rate did edge slightly higher to 3.7%, but is still near 50-year lows.
So enough of my commentary, let's jump in and check out some of the best articles I ran across from the past week. Enjoy the weekend and find some time to relax.
Budget-Savvy Wedding Tips from 9 Recent Weddings
First up, we turn to Jessica from The Budget Savvy Bride with some practical ways to stay under budget for your big day. An owner of a venue in LA shares some of the ways couples have saved money on their weddings, such as DIY invites, beginner photographers, and all-inclusive venues. Read on for some more tips to have a budget-friendly wedding day.
This post may contain affiliate links. Click here to learn more. From flowers to the venue to the dress, there are always areas where couples can save. No one knows this more than someone who sees hundreds of weddings a year-a wedding venue owner.
Hey Boeing -- There's No Wrong Time to Do the Right Thing
Next up, we turn to MikedUp Blog, sharing some thoughts on the recent crisis with Boeing. Compared to the way Starbucks handled their recent crisis, Boeing seemed to push their crisis aside and beat around the bush. It makes you want to think twice about which aircraft you choose for your next flight!
This post may contain affiliate links that help Mike keep the posts coming but cost you zero extra. Please see my disclosure page for more details. In this Current Events Friday's Post (CE-Friday's), we're revisiting our friends at Boeing and asking why a company so large (and successful) can't seem to get its act together with this international safety issue they've got going on.
9 Pros and Cons of Refinancing Student Loans
Next up, we turn to Debt Free Doctor with a look at some pros and cons with refinancing student loans. As with most financial decisions, it is important to determine what is best for your current situation. There are many positives that can come from refinancing, but the negatives also need to be considered.
Pros and cons of refinancing student loans - Typically, one of the worst parts about becoming a medical professional is starting off with a huge amount of student loan debt.
Bias for Action: Benefits and Risks for Financial Independence
In our final read of the week, we turn to Principal F.I. for a look into what bias for action is and how it can affect your pursuit for financial independence. Bias for action can bring about some potential risks involving investments, consumerism and losing sight of the path of financial independence, but it can outweigh the risks with some helpful strategies.
This post may contain affiliate links, which allow us to earn money at no additional cost to you. For more information, please read our Disclaimer. How do you respond when you find yourself stuck in a freeway traffic jam? Do you just sit and move slowly growing more frustrated?
Things We Were Up To This Week
When you buy a house, the resulting mortgage can feel like a weight on you - mentally and financially. If you end up with a surplus of cash, you may wonder if it's better to pay off your mortgage or invest the money in the stock market.
Wrap Up
Enjoy the weekend and spend time with family and friends. Take a break from work and give your mind some well-deserved rest from the long week. Cherish the time you have with your family and I guarantee it will make your life much happier!
Follow us on social media and be sure to sign up for our monthly newsletter - I can assure you it's not the same boring financial newsletter you've seen before.