Welcome to the weekly roundup where I share with you interesting articles from across the web. I hope you enjoy and absolutely feel free to share and pass along.
Our Kansas City Financial Planner Weekly Roundup
Hello everyone and welcome to another edition of the NextGen Wealth Weekly Roundup. Hope you're having a great week!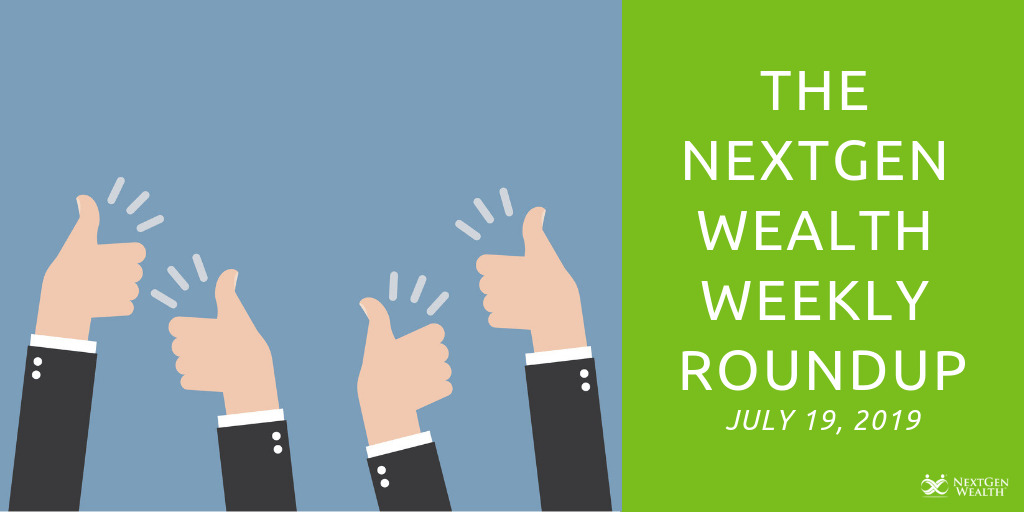 Stocks rose slightly this morning after some losses this week. Investors are assessing the latest corporate earnings reports and so far the results financially have been mixed. The S&P 500 closed at a record high on Monday, but then fluctuated from there.
Microsoft was a big contributor in the technology sector, which led these large gains early on. Soaring past the profit forecasts, they reported solid growth due to it's cloud computing business. Industrial stocks and the financial sector also pushed higher, with Boeing rising 3.7%, Caterpillar rising 1.5% and Capital One rising 3.2%.
Major indexes were down most of the day Thursday after Netflix announced a decrease in new subscribers, which sank it's stock and took other communications companies with it. A recent price increase with the streaming service seems to have scared away a lot of subscribers; roughly 126,000 canceled their subscriptions this spring. New streaming services are expected to compete with Netflix, and offer lower monthly rates.
Major indexes are on track for their first weekly losses after two weeks of gains. Stocks are still expected to have solid monthly gains, which would extend the year-long winning streak. The S&P 500 is up 19.6% for the year and the Nasdaq is up 23.9%.
So enough of my commentary, let's jump in and check out some of the best articles I ran across from the past week. Enjoy the weekend and find some time to relax.
Is Credit Karma Safe?
First up, we turn to The Money Mix with some information about the popular credit score site, Credit Karma. It's so important to know your credit score and see your credit reports, but you need to be sure that the site you're using is credible. The Money Mix dives into why knowing your credit score is important, what Credit Karma provides, and if it is safe for you to use.
Seeing your credit score and viewing your credit reports has become a necessity in this day and age. Everything is becoming digitized, and new websites are launching all the time. But it can be hard to know if sites and apps like Credit Karma are safe or if they are a scam.
Your 'Something Borrowed' Shouldn't Be Your Wedding Funds
Next up, we turn to Jessica from The Budget Savvy Bride on the topic of wedding loans and how to avoid them. Couples shouldn't be worried about paying off their wedding for years to come, and Jessica gives some suggestions on how to keep a wedding under a realistic budget. Read on for some helpful tips to plan a wedding you can actually afford.
This post may contain affiliate links. Click here to learn more. Which is why the recent article in the Washington Post about Wedding Loans got me all fired up and led me to write the following post.
Debt Elimination: How to Harness the Neurological Power Behind the Debt Snowball
Next up, we turn to My Best Friend the Money Guy with some information about what the debt snowball method is and some problems associated with it. There are benefits to this method of paying off your debt, but it needs to be done in the correct way and part of that includes setting realistic goals. The Money Guy even suggests doing something stressful, or "good stress", because it can help motivate you and put you in the right mindset for your debt elimination goals.
Have you heard us personal finance bloggers mention a guy named Dave Ramsey? If so, your mental image is probably of a bald man cutting up credit cards and shouting about a snowball system, baby steps, and the Financial Peace University program.
Do You Manage Your Household Like a CEO?
In our final read of the week, we turn to Max from Max Your Freedom giving an interesting look at how you can manage your household as a CEO manages a company. A CEO's most important job is creating a strategy for a company and carrying out that vision and strategy. Max gives some practical ways to carry out a strategy in your home to best benefit your financial health.
Practically everyone is familiar with the role of a Chief Executive Officer (CEO). Most companies will have someone in charge to help manage the organization, and that's typically the CEO. A CEO is a generalist type of role. This means they're involved in all aspects of an organization but leave the expertise or detail management of specific functions to other leaders.
Things We Were Up To This Week
While becoming a millionaire in your 40s may seem difficult, it's something that many people can achieve. All it takes is the right mindset and a laser-sharp focus toward building wealth and increasing your net worth. There is something about knowing that you have a million dollars that shows you that you are on the right track financially.
So who exactly am I at NextGen Wealth? It definitely seems like I can hold many different titles depending on the day, but for my bio's sake, I will stick with my professional title of Financial Planner - although you could go with Financial Advisor, Financial Consultant, etc., they're really all one in the same).
It's reported that more than half of small businesses fail within the first five years. What many small business owners fail to take into account when starting their businesses are their payment terms. These are the conditions in which payments are to be expected and the conditions on the payments.
Wrap Up
Enjoy the weekend and spend time with family and friends. Take a break from work and give your mind some well-deserved rest from the long week. Cherish the time you have with your family and I guarantee it will make your life much happier!
Follow us on social media and be sure to sign up for our monthly newsletter - I can assure you it's not the same boring financial newsletter you've seen before.