Welcome to the weekly roundup where I share with you interesting articles from across the web. I hope you enjoy and absolutely feel free to share and pass along.
Our Kansas City Financial Planner Weekly Roundup
Hello everyone and welcome to another edition of the NextGen Wealth Weekly Roundup. Hope you're having a great week!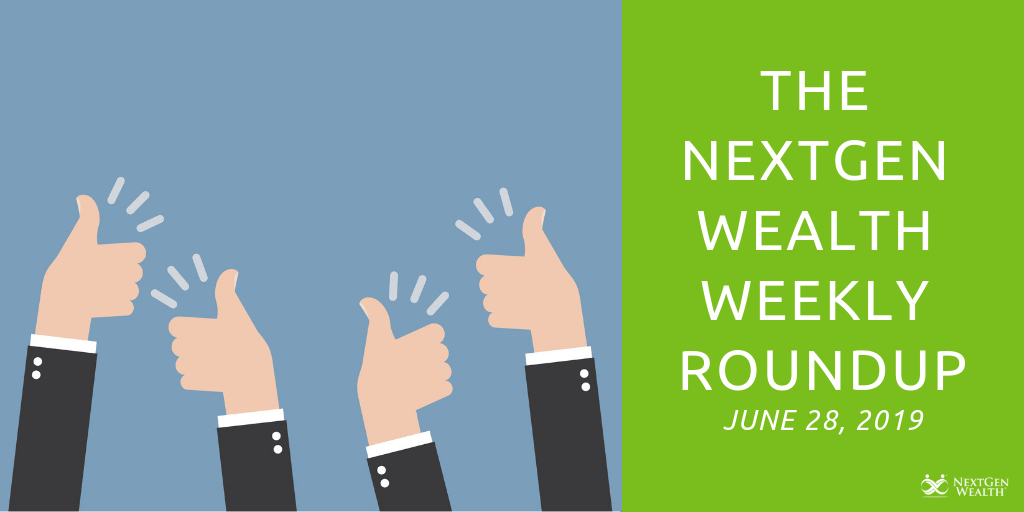 The S&P 500 is about to have it's best half year it's had in the last ten years and the Dow Jones Industrial Average is having it's best June in over eighty years. A big part of this rally is due to the Federal Reserve's shift towards rate cuts this year.
This comeback in June also has a lot to do with a potential trade deal with China that may be worked out at the much-anticipated G20's Leader's Summit taking place in Japan on June 28-29. President Trump and Chinese leader Xi are expected to resolve trade negotiations between the two countries and we expect to see a change in the market with the results.
So enough of my commentary, let's jump in and check out some of the best articles I ran across from the past week. Enjoy the weekend and find some time to relax.
How Can You Plan a Realistic Budget to Save Hard-Earned Dollars?
First up, we turn to Peerless Money Mentor with tips on how to have a realistic budget in order to save a considerable amount on a monthly basis. You'd think earning a higher salary would mean you'd automatically save more and stay out of debt, but that's not necessarily the case. A budget needs to fit your specific earnings and it takes some planning and patience to do so.
How Can You Plan a Realistic Budget to Save Hard-Earned Dollars? Today we have another guest post written by Good Nelly. Do you think budgets are sexy? I hope you do after reading this highly informative post on how to create a realistic budget! Take it away, Nelly.
How To Get Out of Debt Living Paycheck to Paycheck
Living with debt can be extremely embarrassing. If you're living paycheck to paycheck, it can seem like you're the only one with money issues. In addition, you can't figure out how your friends can afford their cars and vacations when you make the same amount of money.
Next up, we turn to Ryan from Arrest Your Debt with some practical ways to get out of debt when you're living paycheck to paycheck. Yes, it is possible! Debt is an easy thing to fall into, but there are many small things we can change to get rid of it. This is a must read for anyone looking to break the cycle of debt.
Things We Were Up To This Week
Who wants to become a millionaire? Many people would love to reach this seven-digit goal and know they can give themselves that title. But is it possible? While a million dollars may seem out of reach, accumulating wealth is not as difficult as it seems. There are many ways to become a millionaire and build your net worth.
Have you ever considered how much do you really need to retire? While this is a simple question, the answer is anything but clear cut. There are many factors that go into your retirement target number. As a financial planner, this is one of the questions that I often get from clients.
Wrap Up
Enjoy the weekend and spend time with family and friends. Take a break from work and give your mind some well-deserved rest from the long week. Cherish the time you have with your family and I guarantee it will make your life much happier!
Follow us on social media and be sure to sign up for our monthly newsletter - I can assure you it's not the same boring financial newsletter you've seen before.