Welcome to the weekly roundup where I share with you interesting articles from across the web. I hope you enjoy and absolutely feel free to share and pass along.
Our Kansas City Financial Planner Weekly Roundup
Hello everyone and welcome to another edition of the NextGen Wealth Weekly Roundup.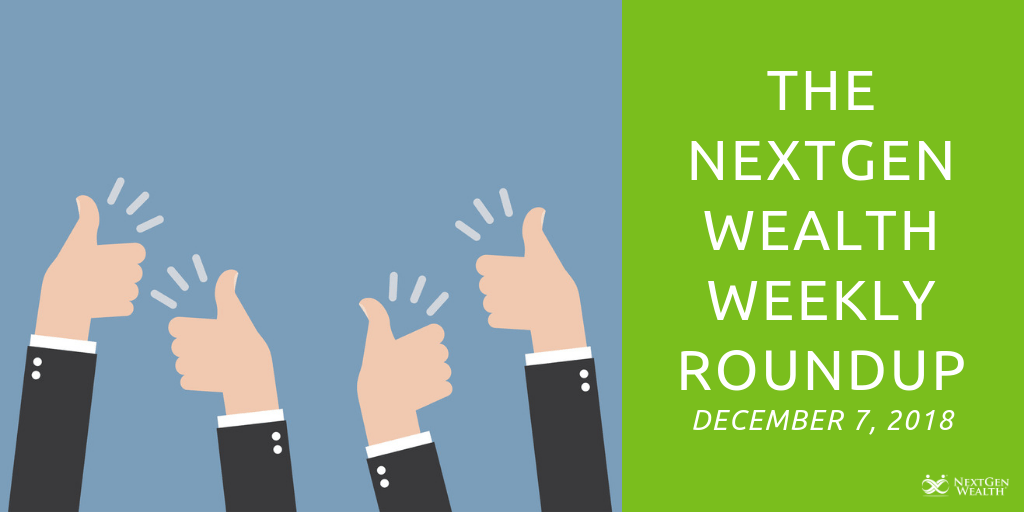 The stock market continues it's crazy roller coaster ride keeping us on our toes every single day. You never know what you're going to get from one day to the next.
My recommendation would be not to look at your accounts on a daily basis. If you do, with the amount of volatility we're experiencing right now, it's going to drive you crazy. And, if you're not careful, it could cause you to do something that's not in your best financial interest i.e. trying to time the market.
With that said, try to tune out the noise as much as you can. We're here to help with some great reads from the past week. So, settle in with a nice cup of coffee and enjoy.
Have a great weekend.
GAZELLE INTENSITY: THE UNHEALTHY PATH TO FINANCIAL FREEDOM
Melissa over at Perfection Hangover shows us what not to do when it comes to seeking financial freedom. This is a must read in my opinion simply because financial freedom doesn't mean leading a miserable life just to get there. As she states so eloquently, "Gazelle intensity leads to burnout." If you don't know what that means, then you have to check this one out.
Have you ever tried a strict weight loss program that forces you to make extreme changes to your diet and exercise in order to lose excessive amounts of weight? This is considered gazelle intensity.
High-income debt: Why high income earners still struggle to build wealth
Next up we turn to Steve Adcock over at ThinkSaveRetire for our next must read for the week. Steve dives in to why folks can make a lot of money but still struggle with bad spending habits and debt. As the saying goes "the more you make, the more you spend." A better version should be "the more you make, the more you save and spend…proportionately."
As adults, it's funny to think about the things that we believed as kids. We took a very literal perspective of the world. No gray area. Things we saw, experienced and felt were gospel, through and through. For me growing up, I believed in a simple financial construct: The more money that you earned, the more money you had.
How to Survive Growing Up Poor in Urban America
In this piece, Fred over at Money With A Purpose shares a great interview with Jerry from the blog Peerless Money Mentor - and wow, is it a good one. From growing up poor to the lessons he's learned over the years, everyone is sure to take something away from Jerry's story.
I'm excited for today's interview with Jerry over at Peerless Money Mentor as he talks about his experience growing up poor in urban America. I've followed Jerry's blog for some time. We had the opportunity to meet in September at the FinCon conference in Orlando.
How to Save Money on Lyft while Earning Travel Rewards
In our final read of the week, we turn to FI Introvert to show us the in's and out's of how to dominate Lyft. I had no idea the amount of money you can save and rebates you can earn just by using Lyft. If you're not a regular user of the service, you might just be after reading this.
Have you all been holding out on me? The past two weeks or so have been a Lyft bonanza. Over Thanksgiving, I learned how to save money on Lyft by earning rebates and travel rewards. I use Lyft exclusively for my business and personal rides so these tips are really valuable to me.
Our Blogs From This Week
According to the American Research Group Inc., the average American intends to spend $992 this holiday season. For some, this could end up breaking the bank if they're not careful. With all of the pressure to spend during the holidays, it's easy to go into debt.
As an investor, you're always on the lookout for the best possible returns with the least amount of risk. It just makes sense. But many experts say that paying off high-interest debt is one of your best investments - and I completely agree.
Wrap Up
Enjoy the weekend and spend time with family and friends. Take a break from work and give your mind some well-deserved rest from the long week. Cherish the time you have with your family and I guarantee it will make your life much happier!
Follow us on social media and be sure to sign up for our monthly newsletter - I can assure you it's not the same boring financial newsletter you've seen before.